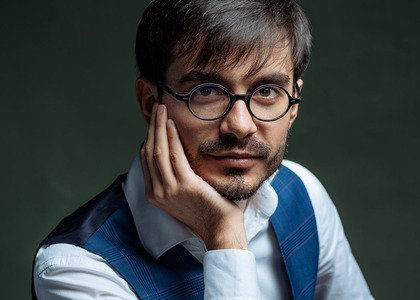 Guest of the week – Sebastian Androne, composer of the year at the 2022 International Classical Music Awards
Monday, 31 January 2022 , ora 14.30

Romanian composer Sebastian Androne was guest of the week on Perpetuum mobile on Wednesday, January 19th. On January 18th, the 26 prizes were announced for the 2022 edition of the International Classical Music Awards. The independent international jury selected the winners from a list of 377 nominees and a great variety of artists and record labels.
"Our winners represent the expression of the highest artistic professionalism, and their list shows that our jury does not settle for a superficial analysis of the musical industry and examines it in-depth instead. The list of winners includes well-known names, but also lesser-known ones, representing no less than 17 record labels." - said Remy Frank, the head of the jury.
Conductor Adam Fischer has won the Lifetime Achievement Award, clarinet player and conductor Martin Frost was nominated for Artist of the Year, and Sebastian Androne became the first Romanian composer to be awarded a prize by the ICMA jury, being named Composer of the Year 2022.
"He is a true talent, showing creativity and versatility in contemporary music as well as in soundtracks for film and theatre." - noted the ICMA jury about Sebastian Androne.
More about this prize in an interview with Sebastian Androne immediately after the results were announced:
Who is Sebastian Androne?
Sebastian Androne is a father, a husband, a son and a composer who writes music for concert, film, theatre, video games and media.
What really is music for you?
It is another realm, which is why I've always felt as if composing was (also) a form of escapism for me. It is not just an ineffable medium of expressing oneself and of communicating something to another, but an entire enrapturing dimension that transcends our space-time.
Why did you choose to write contemporary (serious) music, but also incidental music and soundtracks?
Contemporary music is the pinnacle of compositional craft, encapsulating every possible technique, style or strategy. Therefore contemporary music offers you the highest level of creative freedom (if one ignores the ephemeral stylistic constraints which usually appear regionally as a result of different factors). This is the main reason why I chose this path and why I will never stop writing contemporary music. At the same time, the vast majority of my compositions from this category share a propensity towards `visual descriptiveness`, a desire to connect the musical with the extramusical. So I thought that it would be easy for me to compose incidental music and soundtracks, but I was mistaken. The function of a film music composer is totally different from the one of a concert music composer. The processes of composing can be quite different too. A concert music composer can be viewed as a Demiurge, an unquestionable provider of musical matter that is going to be materialized by the conductor and/or performers, while the film composer is just one of the pillars which supports a massive collaborative endeavor, having to adapt his music to the bigger needs of the project. I like both roles and having the compositional tools acquired through my contemporary music studies is a welcomed advantage in film music writing, even if one must pay much more attention to the foreground-background dosage of the music.
Where do you find your inspiration?
At first I was focusing on my interests, mainly on astronomy, quantum physics, literature or metaphysics, but I gradually realized what one of my first composition professors tried to teach us, mainly that we should allow ourselves to be inspired by the mundane too. Of course that there is no "output" without an "input", but I do not need to search for the "extraordinary" in order to compose. There is a lot that can inspire us in the "ordinary" too!
How do you see the future, as a young composer?
Despite my struggles and professional results, there is no certainty that I can continue with my life-long passion in the same manner. Being hard-working and somewhat talented is not nearly enough to be successful. Moreover a stable financial certainty for a full-time composer has become increasingly difficult in our current status quo. And this stability is something which is quite desirable when one decides to take the leap from a bohemian style of life to a family-focused one, as I did several years ago. Even until now it would have been impossible to become and continue to be a composer without the moral and financial help of my family, who went above and beyond to support me financially during my years of never-ending musical training. In time, certain conditions and a slow-forming overbearing pressure led me to actually consider the pursuit of a `real job` (as some recommended not too long ago) and to switch from full-time composing to Sunday-composing. If the need arises, I might have to do just that and as bleak as this future might look, it is a possibility that I need to prepare for. Of course that another possibility is that I will win an Oscar for the best film soundtrack. :-)
Sebastian, you were named Composer of the Year by the ICMA jury. What were things like for you up to the announcement?
I'm really happy to be able to talk about this with you. First, Mrs. Comandașu contacted me and told me she'd nominated me for the ICMA awards. And I, I have to admit, didn't know anything about these awards. I looked up some information and I thought... wow, what a good opportunity to promote my work! I thought it would be stepping stone in my career. After that, of course, I forgot about the whole thing right away, because the projects just pile up, and about a year later, I think Mrs. Comandașu said to me: "Well, Sebastian, I have good news for you!" She told me I was chosen as Composer of the Year for 2022. Of course, I had to keep silent about it for 6-7 months. I wasn't allowed to say anything. And, there we have it, yesterday they announced these great news.
How did the jury make their decision?
I only had to send a few representative works. I sent pieces from my concert music repertoire, so avant-garde music, as well as from my film music repertoire. One of these works was Happiness, the short film by Steve Cutts, for which I composed the soundtrack and for which I won the prize at the Zurich Film Festival in 2018. And it seems they liked this combination a lot, I suppose. This was the selection process, based on the portfolio of each composer who was nominated.
The ICMA Gala will take place in April this year, and one of your works will be played there. What is it about?
The work that will be played is The Dark Blue Flower, which I wrote for my doctoral thesis and for a festival contest in China, which took place in Shanghai. It was first played there, in 2018, and this one will be a slightly modified version of that work, where instead of an erhu, a Chinese instrument, I'll be using a solo violin. I'm delighted that Adam Fischer will be the one to conduct this work.
And now we get to the prize itself. What does this distinction mean for you right now?
That's a question I've thought about a lot and, to be honest, I can tell you I've received quite a few distinctions and prizes. Some of them made me a little overconfident, kind of took it to this extreme... oh, look what a great composer I am! But at the same time, I remember I took part in more contests than I won. And, on the other hand, one contest won isn't necessarily proof of one's value, of an upside in their career. Still, such a distinction is a kind of pat on the shoulder for me... "You can keep this up, you can go forward, what you're doing is worth it. You're not a waste of space!"... because, especially in these times with the pandemic, where some countries are recommending that artists find other jobs, this kind of confirmation also makes me put notes to paper with more certainty behind it.
What are you doing after the ICMA Gala?
Right now I'm trying to adapt to the real world of art. I mean to collaborate with people, to start working on projects bigger than myself and not just pieces that will never see the light of day. What does that mean? Well, for example, I'm very excited because I'm working on an opera for the Opera in Your Pocket project. Mr. Dan Dediu is coordinating it and it's a wonderful project where I'm collaborating with the author of the libretto, with the singers... It's absolutely wonderful! Besides that I'm working on music for a play that will be staged in Konstanz, Germany; it's called Nosferatu. They chose me as composer because they needed someone to tap into that Romanian lifeblood and bring some Bran Castle influence, probably. These are the biggest projects I'm focusing on. So far I've had quite a lot of animated films that I wrote music for, but I also have chamber music projects I want to work on, especially a few commissioned by Ștefan Diaconu.
You spoke about participating in contests. Will you continue to take part in composing contests?
I really want to take part in other contests, and especially this absolutely huge one in Basel, for orchestra. Although, I don't know if I can find the time for that now that I have an eighteen months old baby, but we'll see how I manage to organize my time. That's the big problem, time management, not the baby.
What are you working on now?
I am currently working on two projects concomitantly: a theatre play and an opera.
The play is called "Nosferatu. Eine Schauermär für lebendes Ensemble und Blaskapelle in vierzehn, teilweise schrecklichen Bildern" and it is an adventurous reimagining of the well-known movie with the same name. The text is written by Stephan Teuwissen, one of my professors at the Zürcher Hochschule der Kunste and a true mentor for me. It will have a fanfare-like small ensemble and it will be premiered (in open air!) in Konstanz (Germany) in June.
The opera is called "Ciorba primordială" (or "The Primordial Broth" in a rough translation from Romanian). It is part of the "Opera In Your Pocket" project organized by the Romanian Goethe Institute. Three composers were selected to write a 25-minutes opera based on a libretto specially written for this occasion by three selected libretto writers. It will be performed in Bucharest (Romania) this autumn.
....................................................................
Radio România Muzical has requested a statement about this award, Composer of the Year 2022, from Sebastian Androne's teacher, the composer Dan Dediu:
"From his very first years as a student, Sebastian Androne knew what he wanted and he has proved that his vigorous talent can be shown to the world through continuous work. In fact, I believe these are also the two characteristics that describe him - talent and hard work, because in composing music you have to work, you have to work every day and you need to outdo yourself every day. I hope to instil this spirit in all my students and right from the start Sebastian knew how to gather all the gifts nature has blessed him with and transmute them into musical gold. After all, the fact that he was awarded many prizes from the very beginning and then throughout his career, during his master's and doctorate as well, proves that the value of his musical compositions has been and is recognised both nationally and internationally. Of course, he is like a sponge and absorbs every single influence, but he can discern what he has to do, when it comes to symphonic music as well as concert music, chamber or vocal music and, last but not least, in music written for film and theatre for which he has also received several important international distinctions; I am referring to the Zurich film award, but also awards of great professional importance, such as the Enescu Prize for symphonic music. This shows that this prize Sebastian Androne now wins from a reputable institution, theInternational Classical Music Awards' Composition Prize, is no accident. Behind this hides a stubbornness and determination to work as well as possible and to outdo himself and, of course, a great talent."
Photo credit: Florin Ghenade
Lucian Haralambie
Translated by Cristina Fliter,
University of Bucharest, Faculty of Foreign Languages and Literatures, MTTLC, year II
Corrected by Silvia Petrescu