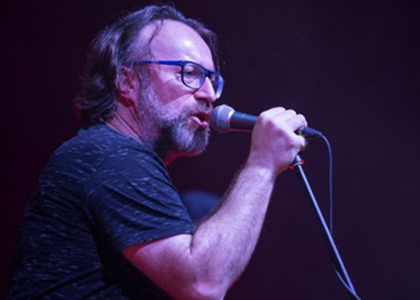 Berti Barbera invited to Perpetuum Mobile in dialogue with Gabriel Marica
Monday, 31 January 2022 , ora 14.46

The guest of the week at Perpetuum mobile is the actor, musician and director of radio and TV shows Berti Barbera.
Good evening, Berti!
Good evening!
As you know, Berti Barbera performs the Jazzy Hour show on Radio România Muzical. Our radio station turns 25 this year. Berti Barbera, since when do you collaborate with Radio România Muzical?
So, I remember the shows I was doing in the late '90s. In '98, '99 I was doing shows, but first I did them on Romania Tineret when it was still broadcasting on the air. And then there was an honourable proposal from Radio Romania Muzical to do a show ... which had more names, more profiles and, for over ten years, I should look in the archives to give you more accurate data, this type of show. The idea is that I have been delighted for many years since I have this fluent, beautiful and beneficial collaboration with România Muzical. And I mean it. I am very happy that for so long, I have been able to share the good news that I receive from music and the albums that I have in my personal collection. And at Jazzy Hour, in addition to the classic albums and the history of jazz so well documented on Radio Romania Muzical, I come up with new things for this year. If we enter 2022, this year we will also be listening to new albums, albums that appear in 2022 from artists related to the extended language of jazz, which has developed in a hundred and something years, has gained more languages, assimilated improvisation platforms. We talk about swing, jazz, the influence of blues in American jazz, we talk about what is happening in Europe, the fabulous rise of Scandinavian artists, who came with their sounds. And I observe this whole phenomenon fascinated and I'm glad that I manage to illustrate it at the weekly Jazzy Hour, with news from very young artists or legends. They all take place in the same crucible and I am very glad that I manage to do this, especially since as long as the show continues, this is beneficial, it is appreciated.
Your delightful status as a radio host is appreciated. It has an audience with Radio România Muzical. But we don't necessarily want to talk about this mainly, but about your stage condition, that is, that of a musician-performer, because tomorrow you will give a special concert at the Radio Hall. Basically, you're going to celebrate your birthday on stage, aren't you?
Exactly. This is the special aspect, although there are several reasons to celebrate. But first of all, I don't think there's a better time to celebrate my 50th birthday. A concert with the Big Band Radio at the Radio Hall is almost all I could want. The proposal came, somehow, at a time when I was wondering what to do for my birthday, I organize something, I don't organize, I do it with my family, I go to a club and I give a concert there ... This proposal also came it couldn't be better. There will be a concert with the Big Band Radio in which we will sing our songs that we have sung before, but we will also add a repertoire oriented towards swing, towards jazz, which is also the trend that I will have in future, with the orchestra and Ionel Tudor. The guest will be Nicu Patoi. He is my oldest collaborator and the one with whom I have the most albums. We will have a moment together, we will have a moment with him and with the orchestra. It was difficult for me. It was normal to think of several people with whom I marked my musical existence in 30 years, but it is complicated, because finding or making scores for orchestra in such a short time is practically impossible. And we gathered the resources we had to mark this event that celebrates life, celebrates an even age of both life and musical activity. I sing what I like, it will be public, it will be friends. In fact, practically, the public as it is, under the conditions given by the pandemic ...
Yes. Under the given conditions, the hall will be 30% occupied.
But, for sure, you will have more audience on Radio România Muzical, for we will broadcast this concert live, as well as on the internet.
Yes. I announced some friends who couldn't come and will listen. I am glad that at the age of 50 I have the biggest party both numerically and in terms of the number of guests, but also in terms of significance. It's a reason to encourage everyone, to invite them to celebrate life first and foremost.
"50 and swinging", that's what this concert is called.
"50 and swinging" I thought of calling it 50, but there was also this variant which means the pulsation of the swing, that alternation between contracting and relaxation which, practically, represents a rhythm in life, not only in music. "Swinging" ... because it remains one of my favourite beats in music; rhythmically, I feel really good and, as you said at the beginning, the stage for me is the place where I feel the best, the safest, the place where even though it takes a lot of concentration and I'm never afraid of it, it's the place where you can give your best. Decanted, cumulated, to gather the best of you ... and, of course, exactly where you can't be in any way altered by anything. You are the one who can give what the audience wants, a good mood, and create that flow that is always formed between the musicians and the audience. This is always the most important thing for me, to share these moments when I feel best, most confident.
50 years. If you draw a line, are you satisfied? Artistically speaking, at least.
And if I'm not satisfied, what good is it?! Obviously I am very happy, but first of all I am grateful that in these 30 years of my career I have managed to carry on the passion I have had since I was a child and the conviction that I can't fail, that whatever it is, whatever I do, if I do what I love and with passion, somehow, somewhere, something happens, somehow it happens. And of course, things have happened that have given me satisfaction, others - no. Obviously, it is a cycle that includes absolutely all emotions and events. With ups and downs ... it's the best. And because of this, the elements of gratitude, the mistakes from which we have learned, all turn into gratitude. I have absolutely no reason to complain, I don't have that attitude of a drama queen in which something always happens and alas, how bad the world is, no! Life is unfair anyway and we have to get the best out of it, use what we have - education, intelligence, talent, work ... to get the best out of it so that at some point we can have something to we are grateful. And, thank God, I have something to be thankful for. Yes, there is a time when I can draw a line and say thank you.
Let's look to the future. Apart from a new edition of Jazzy Hour - a show that you can listen to on Tuesday, from 20.00 and, in replay, on Saturday, from 18.00 - what's next for Berti Barbera, the musician, after tomorrow's concert?
I always want concerts to go well, because if it goes well, the audience will want more and the orchestra welcomes me again with pleasure. Because, among other intentions, I want to continue this extraordinary experience of singing with a large, strong, organic ensemble, with which to have an exchange of experience and good intentions and talent. I want to do a jazz recital with the radio orchestra. If you kept asking me, my intention goes even further, in the direction of the Radio Chamber Orchestra, for which I have a repertoire that targets great songs and great artists from the area that we can call pop, but pop is not necessarily a musical genre. , is a language with generalized address, not at all simplified, because an experience like this requires a lot of concentration and musical knowledge. I am always very happy with this idea. Concerts are coming, of course ... I hope to get back to any normalcy, to adapt, to go back to concerts, to have the opportunity to sing with Nicu Patoi, to present our blues album. There will be, again, experiments as a percussionist. I have a couple of files open ... maybe, maybe, at some point, I manage to publish a book. I'm not telling you, you're probably in the same situation, with whole stacks of books and records that I'm going to dig into. I need about five more lives! But if we keep the proportions, the future looks very good if it depends only on me. So I focus only on what I can control, I enjoy any invitation and I try not to procrastinate, and to take advantage of every moment to celebrate the things I am good at, the relationship with others and to keep some results - a book, a record, a good concert, a contribution to what the world I belong to means, the movement, the phenomenon I observe from within. This makes me very confident and I believe that from now on I will do things that we will remember as much as possible.
Berti, I wish you in advance Happy Birthday! I'm sure that tomorrow, in the hall, you will also receive applause and cheers from the spectators.
Gabriel Marica
Translated by Elena Patricia Măroiu,
University of Bucharest, Faculty of Foreign Languages and Literatures, MTTLC, year I
Corrected by Silvia Petrescu