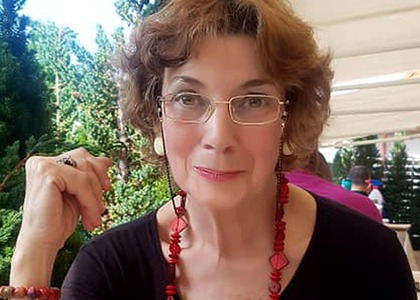 Interview with Mihaela Tomulescu, the president of ''Remember Enescu'' Cultural Foundation
Monday, 7 February 2022 , ora 12.26

Throughout these two years marked by the COVID-19 pandemic, ''Remember Enescu'' Cultural Foundation has carried on their projects, though some of them took place online. Mrs. Mihaela Tomulescu, the foundation president, updates us on their activity.
It's been two years since ''Remember Enescu'' Cultural Foundation - that you are in charge of - has been running projects in formats adapted to the current pandemic. And Radio Romania Music has constantly helped promoting these events. The Recital and Concert Season is actually in development at this very moment whereas the 12th edition of the ''Ada Ulubeanu'' Piano Competition - that you have decided to hold online - has only reached the registration stage. Looking back, how would you appreciate the activity of the foundation within the past two years?
I'd say it is good and very good. Naturally, at first we had to explore different possibilities and try to resume contacts after such a long break. Our traditional partners could no longer comply with our requirements. At that point, the ''Brancovan Palaces'' Cultural Centre in Mogosoaia acted as a lifesaver for us - they offered us one of their halls, and not just any hall but Scoarțelor Hall which has a large, high quality piano to the pianists' enjoyment. Starting August 1st 2020, we have held our regular weekly season at the ''Brancovan Palaces'' Cultural Centre in Mogosoaia, so our foundation members were offered the opportunity to complete their projects in this lovely venue. And it is not just them, but guests of our foundation, as well, especially those who had won contests that we held. Those who had given outstanding performances were glad as well as honoured to accept our invitation to come and perform at the ''Brancovan Palaces'' Cultural Centre in Mogosoaia. As well as that, given the pandemic restrictions, we had to switch from in person to online contests. Sure enough, there was a lot to learn from it all. In December 2020, for instance, The ''Stefania and Dan Cumpata''Performing Competition was held online for the first time. It was then followed in 2021 by the ''Ada Ulubeanu'' Piano Competition, and we even started a new competition, the ''Nottara'' Competition, which addresses young people currently studying both music and theatre. We are going to hold them online as long as there is no other way. Of course, we are trying our best to keep our permanent season going. Also, we have been invited to participate in the Young Talents' Festival that will be held in May this year by the ''Ion Dumitrescu'' Philharmonic Orchestra in Ramnicu Valcea. It will not be our first time working with them - we started running projects with this philharmonic a long time ago. We contribute to this festival with a recital given by some of our foundation members and we also have soloists performing in the gala. In the previous edition of the festival, three members of our foundation were the soloists and their outstanding performances did not go unnoticed by the director Petrut Constantinescu. As a matter of fact, these soloists have received official invitations for the entire season of the Philharmonic in Ramnicu Valcea, not just the festival. What's new here, however, is our intention of developing together a bigger project concerning the restoration of the ''Paul Constantinescu'' Memorial House in order to render it to public use. Within this project, our foundation is responsible for the musical part, for organizing the ''Paul Constantinescu'' Festival- so we are looking forward to the first edition which is scheduled to take place in April 2023. So there is plenty of time for us to organize a high-class international festival involving artists from Norway given that the project is run with Norwegian funds. Apart from the financial aspect, we would also like to establish close cultural connections with the Norwegian part. The festival will be held in Ploiesti in partnership with the County Council. Apart from these competitions that I have mentioned - that is The ''Stefania and Dan Cumpata'' Competition, the ''Ada Ulubeanu'' Piano Competition and ''Nottara'', respectively - we shall obviously hold ''Remember Enescu'', which is our most important event. It happened online for the first time in November last year with the gala being held with the ''George Enescu'' Philharmonic Orchestra (The Studio Concert Hall). The winners of the three sections of the competition participated and I think it was a success.
The projects that the ''Remember Enescu'' Foundation runs are mainly aimed at young musicians, both school and university students. As the president of the foundation as well as a teacher, how would you assess the impact of this pandemic on young musicians' activity and development?
For those who had already achieved some degree of recognition, the pandemic situation must have acted as an incentive. It is really hard to prove and maintain your value, to achieve your dreams and goals, but I'd say that young people, teenagers even, have managed to cope rather well. They were not at all overwhelmed by everything going on and managed to carry on their plans and projects. They kept studying, they performed whenever possible, and they participated in master classes - they have proven themselves resilient and determined to succeed. Sure enough, these are the hard workers and the big dreamers that I'm speaking of, those who aim high. As for those who still need a lot of work and encouragement in order to advance in their careers, they must have learned from the category above mentioned. And I'd also like to point out that teachers have also played their part in keeping their students' motivation high, they have ensured that their desire to perform on stage is still there. And here are the medium-level students that I have in mind. They too need to get motivated somehow. Under no circumstances, should we give up in the face of adversity, but carry on working towards our goals. This is what the foundation has tried to provide these young people with. There was a lot of effort involved but we have managed to keep this season going for them which, I think, is kind of unique. As far as I know, we may be the only foundation which did not suspend its activity - despite all the challenges we had to face - , and that's because we wanted these young musicians to be able to further and complete their studies, to excel themselves and eventually achieve their targets.
Florica Jalbă
Translated by Elena Florea,
University of Bucharest, Faculty of Foreign Languages and Literatures, MTTLC, year II
Corrected by Silvia Petrescu