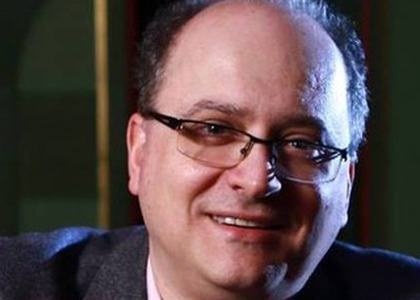 Interview with composer Dan Dediu
Thursday, 17 February 2022 , ora 8.49

This week, Cristian Măcelaru and the WDR Symphony Orchestra of Cologne will be premiering a piece composed by Dan Dediu, at the request of the orchestra itself. More details about this collaboration and about the piece, titled Formido, in the following interview with Dan Dediu.

The piece titled Formido, which you've composed at the request of the WDR Symphony Orchestra of Cologne, will be performed for the first time on the world stage by the ensemble on February 18th under the baton of conductor Cristian Măcelaru. How did this collaboration come to be?
It's a project started in 2021 by the Cologne WDR, titled Miniatures of Time, Miniaturen der Zeir. The project consists of 12 requests sent out by the Cologne WDR to composers from around the world: two Americans, one Japanese, Europeans, Australians and so forth. Of course my pieces have been conducted by Cristian Măcelaru before, and it is through his recommendation that I received this request. Actually, they asked me if I wanted to compose a five minute long piece, since that's the template, and have it be played at the beginning of one of the orchestra's concerts. I accepted, of course. It was quite a challenge to compose a five minute long piece, since it is known that classical music usually goes on for longer than that. That's pretty much the story of Formido, which means terror in Latin. In fact, that was the starting point. Each miniature must relate back to a characteristic of the current times. So I conjured up music that illustrates the feeling of anxiety we all feel when threatened by something we don't understand, such as this virus. That's about it. I enjoyed composing this piece, even though it is an expression of fear, since I gave all players a part, thus creating an instrumental twirl where virtuousness is king. Of course, the orchestra is very talented and will be studying the more difficult parts, but I think it'll be worth it.

As you were saying, Cristian Măcelaru has conducted other premiering pieces of yours in the past, such as Levante and Grana, both performed under his baton at the Cabrillo Festival, in an American debut. There are certainly reasons why you've entrusted him with this responsibility, if you could elaborate on this in a few words.
Cristian Măcelaru is an extraordinary musician. I met him a few years ago, when we had a conversation about music. In fact, Cristian only speaks about music most of the time, he lives in it. This is obvious in what he does, he breathes music and he is a unique person, not to mention his incredible professionalism. When he sees a score, he skims it and immediately understands the form, where to put emphasis, what the main characteristic of the score is. So I'd say he's a radiologist of musical scores, which he studies, learns and then interprets. Besides all this, he's also a special kind of person, he's so modest and I'm very glad that he likes and pomotes my music.
Interview by Alexandra Scumpu
Translated by Bianca-Maria Ciucașu,
University of Bucharest, Faculty of Foreign Languages and Literatures, MTTLC, year I
Corrected by Silvia Petrescu