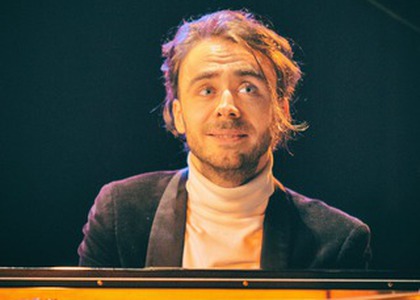 Interview with pianist Daniel Ciobanu
Monday, 21 February 2022 , ora 10.33

On Thursday, February 17th from 9:30 pm, Romanian pianist Daniel Ciobanu, awarded the Silver Medal and the Audience Prize in 2017 at the prestigious Arthur Rubinstein competition in Tel Aviv, was soloist in the concert performed by the BBC Orchestra of Wales at St. David's Hall in Cardiff, where he performed Concerto no. 3 in C major, Op. 26 by Sergey Prokofiev. The Mexican conductor Carlos Miguel Prieto stood at the desk.
Radio România Muzical live streamed the concert, and during the break I had the pleasure to talk to the young pianist:

Good evening, Daniel!
Good evening!

What's the atmosphere like, there, in Cardiff? I saw the audience was extremely enthusiastic after you wonderfully performed Concerto no. 3 by Prokofiev, but especially after that totally unexpected bis you offered.
Yes, as you might have heard, it was a Woodstock atmosphere - if we want to match the theme of the land we're in. Tonight I had the pleasure to perform two of my favourite pieces that I kept playing in Tel Aviv and in numerous other concerts. The Concerto by Prokofiev somehow fits my personality like a glove and I was very lucky and honoured to have an absolutely amazing conductor at the desk, a conductor who understood my directions at once and managed- even though we only had a single rehearsal - to create a custom made suit for this concert in real time.

Have you played with the BBC Orchestra of Wales and Carlos Miguel Prieto before or was this the first time?
It's the first time with this orchestra. Last year in May I played as well with the BBC Philharmonic in Manchester, and now with the Wales and maestro Prieto.

You had a very warm and receptive audience, but who may not even guess how much work lays behind a high quality performance, especially when your program is changed a couple of days before the concert. You should have played Rhapsody in Blue by George Gershwin, however, you played Prokofiev. It's quite a big difference. Why did this change take place?
Because of the restrictions. There was an established number of orchestra musicians that didn't allow us to play the instrumentation for Gershwin. Yet we had some sort of a boogie-woogie moment at the end, as we called it, that had some kind of pheromone for a future collaboration where we could play Gershwin.

Where will you wend your way to starting tomorrow? What projects are coming up? What concerts are next in the following period?
We should've also had a concert tomorrow with the same program, but surprisingly it was cancelled not because of the pandemic, but because of a storm, a code red. Tomorrow I'm heading for Berlin where I'll arrange a tour for Israel in March, followed by a tour in Romania in April. I will be back at the Romanian Athenaeum within the residence, with Prokofiev's no. 3 as well, on April 7-8; this will be followed by a fabulous concert in Brașov and Târgu Mureș.

Does it happen to you to miss Piatra Neamț, your hometown, when you're on the great stages?
Sure it does. It is always there in my subconscious, and I look forward to coming back to normal, pandemic-wise, restriction-wise and finance-wise, so that I can begin my artistic activity again in Piatra Neamț, with the festival and other concerts.

What would you want to tell your listeners from Piatra Neamțwho must've watched you, probably the same listeners that used to came to Neamț Music Festival in the past years? What are your thoughts for them?
I would like to thank them for their time in the first place, and then to tell them not to lose their hope because Daniel Ciobanu will come back to Piatra Neamț with fresh forces and new ideas for all kinds of effervescent events, the way I used to do

When do you plan to organize the next edition of the festival you founded, Neamț Music Festival?
I'm still waiting. Everything is still pretty unclear and I didn't venture to propose anything for this year. I hope next year we'll manage to consolidate a new edition, which would be the fifth one - a rather important edition.

Thank you for your presence at Radio Romania Musical. Congratulations and good luck in all your future endeavours, in all the concerts you'll perform!
Interview by Laura Ana Mânzat
Translated by Alexandra Lica,
University of Bucharest, Faculty of Foreign Languages and Literatures, MTTLC, year II
Corrected by Silvia Petrescu