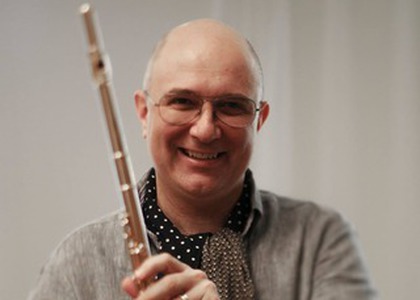 Interview with the flutist Ion Bogdan Ștefănescu
Friday, 25 February 2022 , ora 9.37

The George Enescu Philharmonic Symphony Orchestra holds two seasonal concerts on the stage of the Romanian Athenaeum. The soloist will be Ion Bogdan Ștefănescu, in the Concerto for flute and orchestra by Carl Nielsen. In the second part, the Bucharest orchestra will perform the Suite op. 46 Pelléas and Mélisande by Jean Sibelius.

Ion Bogdan Ștefănescu, you will be the soloist of the concerts on Thursday and Friday, February 24th and 25th, supported by the George Enescu Philharmonic Symphony Orchestra. How would you describe the collaboration with the orchestra?
I know the orchestra very well because I have been playing in this orchestra for almost 30 years as a first flutist. Now, for two or three years, since I got the position of soloist, I had the duty to sing in front of the orchestra. It's a very important thing for me because it's not always easy to sing in front of colleagues. I respect them very much. They are musicians with a well-practiced acuity, so my responsibility is very high. I think it will be a concert with very high artistic ratings. We will only meet at rehearsals on Wednesday. I am convinced that everything will take place in an artistic atmosphere that is as pleasant and beneficial as possible. All the premises are in favor of a high-profile artistic act.

You will perform the concerto for flute and orchestra by Carl Nielsen, which reflects the modernist trends of the 1920s. The work generally has a neoclassical style but is structured in only two movements instead of three. How do you approach the work from an interpretive point of view?
It's true, there are two movements, but they are very broad and certainly require the performer to the maximum.In fact, we call it a must, meaning you have to perform this concert if you are a professional flutist. I'm glad that this concert can finally be performed freely, it's no longer under the dome of copyright, because honestly, I've wanted to perform it since I was a student, but I hit it off. always about the issue of rights and now you can sing. I sang it once more, in Iași, so I'm even more eager to perform it in front of the Bucharest audience. It is indeed a piece of music that can sometimes seem annoying to me, but there are very large portions of music of incredible sensitivity and beauty, which will surely impress the audience. The concert has a public audience, for sure. The audience shouldn't judge, I know, why you said it was 1920's music of the last century, but sure, with the characteristics, the specifics of that period, but it's an act of bravery for the professional flutist and for orchestra because the concert is designed in such a way that many of those who accompany it receive a solo role in the dialogue with the flute, these roles are very difficult to put together. It is difficult to conduct this concert.In fact, he is on the list of concerts required in conducting competitions, not just the flute. In the big flute competitions, the concert is in all the final stages. There is no competition that is an exception to this rule, a serious competition. But even when conducting, it has become a touchstone for the conductor precisely for these very sensitive moments, very well thought out, very well written, but very difficult to put together, to lead and then, of course, the one who manages to perform with this concert in conducting he will always be successful and win the case. So, I hope it will be a joy, both for the audience and the performers because we will have reason to enjoy each other through these musical gestures, which the composer entrusts to us.

It is well known that you are a promoter of contemporary music. What is the story of this affinity?
That's right, you guessed it. I approached this music, I think I was in the 8th, 9th grade, in any case, very, very young, 13-14 years old, thanks to Doina Rotaru. She was a teacher of theory, of harmony at the music high school where I studied and one afternoon I received the supreme gift from Doina Rotaru, a flute piece called Legenda funigeilor, now she gave up funiga, it's just called Legendă ,a splendid piece, which for me was also a meeting with an abstract beauty, which I had never encountered before, but it was also a shock because the proposals of singing technique were bright and surprising and this piece won me over. the part of contemporary music for life. Since then, I have not thought of any recital or appearance, which does not contain, especially Romanian music, but necessarily contemporary music, because I believe that what today's creators have brought in addition to the composers The classicized period is that it gives the performer a chance to become a little creative. The well-educated performer in this area can afford to bring not only interpretive grace but can also come up with certain sound ideation.Composers usually agree with this type of collaboration. In fact, a lot of works, as happened for example with Doina Rotaru, in collaboration with me, later appeared works with an incredible timbre richness, precisely because we had time to talk, to discuss, and to imagine in my turn as a performer, all kinds of timbres, which gave birth to certain techniques of singing, blowing. The collaboration between the performer and the composer is very important. It led to some really spectacular results. So, honestly, I had this amazing chance to meet Doina Rotaru and then to be loved, especially by Romanian composers, but also from abroad, who dedicated works to me year after year. I don't think there is a Romanian composer who hasn't sung it. Hence my respect and the admiration and love I have for Romanian composers in general and my total closeness and my total artistic dissolution in this type of music, which I consider the most spectacular in the history of music. Honestly, I may be shocked, but I think the twentieth century has given us the most genius in music. More than in the period of classicism and even romanticism.

The program will be completed by Suite op. 46, Pelleas and Melisande by Jean Sibelius performing the orchestra. How do you see the combination of the two opposites in the program?
It is a perfect match and a happy coincidence because the program should have contained Ceaikovski's Fifth Symphony, but that symphony involves a large distribution and in these conditions of a severe pandemic, my colleagues were afraid to enter the stage in such a large number and we had to change the schedule, but this change eventually led to a perfect mix of music. To be honest, I did not know this work. It is a work for the first time, I think it will be for the Romanian public as well. It is very refined. Here, too, the instrumentalists will have large portions of solo performances and chambers. So it's a very delicate, clothed music, it's like lace, like a well-woven gossamer, so I think it fits very well and can come in some contrast to the seriousness of Nielsen's music, which creates a mood for you. sometimes heavy, such a tumult that smells, and there will be an outpouring of timbre, in perfect harmony, I think. Two composers belong to a common geographical area, in the north, I would say. I think it will be an evening that is not very often heard on the Romanian music scene.
Interview by Maria-Isabela Nica
Translated by Georgiana-Carmen Rădulescu,
University of Bucharest, Faculty of Foreign Languages and Literatures, MTTLC, year I
Corrected by Silvia Petrescu