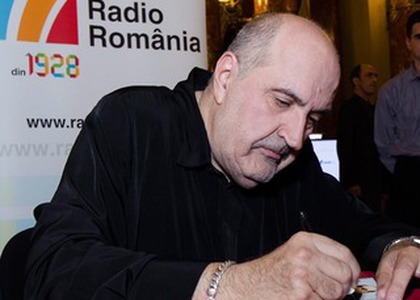 Interview with pianist Dan Grigore
Monday, 28 February 2022 , ora 9.12

Soon, we will be able to listen to a CD recording that puts maestro Dan Grigore at the forefront: Piano Concerto no.2 by Johannes Brahms, recorded at the Romanian Athenaeum in 1986. For the first time, the pianist spoke about this project and about the fascinating story of the 1986 recordings in an interview with Andreea Kiseleff.

Maestro Dan Grigore, we here at Radio România Muzical are happy to announce the upcoming premiere of a discography bearing your signature: Piano Concerto no.2 by Johannes Brahms, recorded by Electrecord on vinyl, alongside the George Enescu Philharmonic Orchestra and conductor Mihai Brediceanu in 1986. Soon it will be rendered on CD using the best technical conditions. Personally, I'm not familiar with the hardships that culture, music and yourself have endured during those years. Could you tell us a bit about this recording and the context it was made in?
The concerto was recorded in October 1986 at the Athenaeum, only now being release on CD after many years and many attempts of certain friends, emboldened by my friend Dan Creimerman. I'm proud to say that I am the only Romanian pianist to perform both Brahms concertos in the same evening, two days in a row, alongside the venerable conductor Emanuel Elenescu. We recorded them in three or four days I believe, at the Athenaeum in 1986.
Through releasing this pair of concertos, two milestones of piano concert music are finally being reached, and I daresay, though I have plenty of experience and humbleness, that this recording holds up to any other well known interpretations. So on one hand, this was an exercise in emotional gymnastics and moral alpinism for me and on the other circumstance made it so that in a time of cultural embargo I was able to find a lifeline for the Philharmonic Orchestra. It was a time when self-funding was quite a hit on our budget and the salaries for the orchestra members were not ensured in '86. That's when I suggested to the then-conductor and director of the Philharmonic, Mihai Brediceanu, to make this recording for Electrecord. The money from the contract we signed with them gave us enough money to pay all members of the orchestra. So it was sort of a daredevil act to put our trust in this artistic endeavor, a performance in and of itself if you ask me, considering the short amount of time we had and the whirlwind of events in those troubling times.
I also made sure, through great effort, to maintain the grand form of the piece, to fill in any precious details of expression for the interpretation of such formidable music, and to look out for the coordination of the tempo since Brediceanu, as is well known, did not have a great sense of tempo. All this made working on the recording terribly exhausting, but the result makes me proud; not only as part of the orchestra, but as part of a musical milestone that brings me joy and, if it were to be listened to by a competent person, capable of making distinctions, it could find itself in the line-up of other well-known versions, as I said before. And, of course, there's one more benefit to listening to this CD. It's a spiritual and emotional treasure, enriching the minds of any who will listen. So all that's left is to try it, those that wish to have the privilege.
Interview by Andreea Kiseleff
Translated by Bianca-Maria Ciucașu,
University of Bucharest, Faculty of Foreign Languages and Literatures, MTTLC, year I
Corrected by Silvia Petrescu