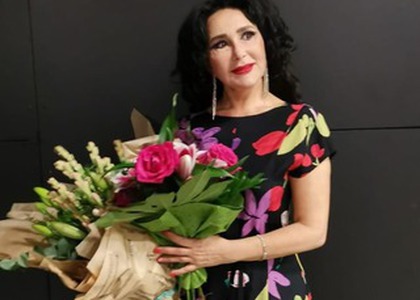 Interview with the soprano Carmen Gurban
Wednesday, 9 March 2022 , ora 11.49

The Bucharest National Opera presents on Saturday, March 5th, 2022, at 6.30 pm, the show "Tosca" by Giacomo Puccini. In the main role, the audience will watch the soprano Carmen Gurban.
We find out more details about the show from the interview with soprano Carmen Gurban:

Saturday's show, "Tosca", gives you a new interpretation of Puccini's score, as well as a new collaboration with the Bucharest Opera, you being the soloist of the Romanian National Opera in Cluj-Napoca. How is the preparation for this performance and how was the reunion with the artists from Bucharest?
I greet you and warmly embrace you and your listeners! I am very honoured, very happy to collaborate with the Bucharest National Opera once again. Thanks to the management of the Opera for this. It's been a few years since I was here; last time it was "Otello," if I recall correctly. And now I return with great pleasure, and I am meeting my colleagues again, as well as great artists, the master TiberiuSoare, Valentin Vasiliu, who will play Scarpia and with Alin Stoica, the performer of Mario Cavaradossi.

As you stated, in the main roles you will have partners as the tenor Alin Stoica and the baritone Valentin Vasiliu, and the musical direction will belong to the conductor TiberiuSoare. You also sang "Tosca" with Valentin Vasiliu in Cluj. Have you collaborated with Alin Stoica and TiberiuSoare before?
I have never collaborated with Alin Stoica in shows, but we know each other, we are good friends. And with the master TiberiuSoare, yes, I have also collaborated, if I'm not mistaken, in "Aida", in Iași and something vocal-symphonic as well.

How do you view the role of Floria Tosca and what does this score mean to you?
Floria Tosca is a touchstone for sopranos. Represents a maximorum of the work of each performer who approaches this role. It is a complex role, but it brings a lot of possibilities to express yourself. I am very fond of it.

You are also an appreciated teacher at the "Gheorghe Dima" National Academy of Music in Cluj-Napoca. In this pandemic context, which I hope we will overcome soon, what does this year's agenda look like for you?
Let's hope we get over it as soon as possible! My agenda from the soloist's point of view is as follows: I will have a "Tosca" in Cluj, on the 25th, and after that, I will start working on "Fanciulla del West", which will be a premiere in May (if I'm not mistaken), in Cluj. And from the teacher's point of view, I prepare with my students for all kinds of international competitions. They have already won several prizes in competitions; I am very proud of them, and we are still preparing. From my mother's point of view, I'm training with my son, who also followed in my footsteps, he's a baritone.

The baritone Eduard Ferenczi Gurban.
He is currently receiving a scholarship to Nice; he's been there for six months and these days he's just auditioning in Italy and I'm a little excited for him. But I hope it will be okay.
Interview by Florica Jalbă
Translated by Roberta Ana-Maria Gulerez,
University of Bucharest, Faculty of Foreign Languages and Literatures, MTTLC, year I
Corrected by Silvia Petrescu