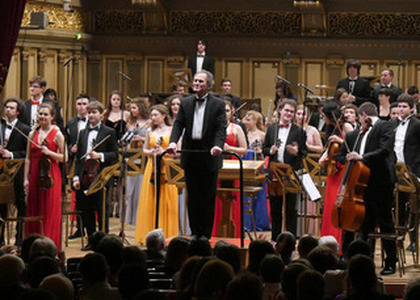 Interview with conductor Cristian Mandeal
Tuesday, 15 March 2022 , ora 14.11

Tomorrow, March 12th 2022, the Romanian Youth Orchestra, accompanied by violonist Mincho Minchev and pianist Ludmil Angelov, will be performing a programme comprised of Mozart and Beethoven pieces, under the baton of conductor Cristian Mandeal. The general rehersal at 12:00 is open to the public as part of the Classic is fantastic stage. More information about this performance was given to us by conductor Cristian Mandeal in the following interview.

You will be conducting the Romanian Youth Orchestra on March 12th at the Romanian Athenaeum, in a concert and public rehersal that are part of the Classic is fantastic stage. What do you think about returning to the ensemble's rostrum?
I return quite often to this ensemble. On one hand, it is nothing new, in the sense that I am familiar with the general ability. On the other hand, I always meet new youngsters, as this is the entire philosophy of this youth orchestra, a continuous refresh. As such, each meeting is a challenge as well as a cause for joy.

The event precedes the ensemble's participation in the March Music Days International Festival in Ruse. How did you receive this invitation?
The invitation is an old one. It was postponed a year ago because of the virus. So we are returning to a much older invitation and fulfilling our duties now. Actually, our participation in this old and established festival has been a constant for a few years now. I think this is the fourth or fifth time, something like that.

The programme contains, among others, a piece by Mozart - The Concerto for Violin, Piano and Orchestra in D Major, unfinished by Mozart himself but later completed by Philip Wilby. Why did you choose this piece?
In general, I focused on a very classical programme that would not carry the risk of needing a big orchestra, in case some unfavourable gathering conditions were to return. So the programme is comprised only of Mozart, Beethoven, with Mozart being considered a normal choice in this context, and this double concerto for the violin is new and unique for any music lover. Although it's not a recently rediscovered piece as it's been known for a few decades now, it's still a practically unknown piece in Romania and Bulgaria. So it's good to bring back Mozart, and we always do, in order to bring some novelties.

Who are the soloists? Have you collaborated in the past?
With Mincho Minchev, yes. I've met him maybe 30 years ago, the only time we performed together at the Brahms Concerto with the Transylvania State Philharmonic Orchestra in Cluj. I am not acquainted with the pianist.
Interview by Alexandra Scumpu
Translated by Bianca-Maria Ciucașu,
University of Bucharest, Faculty of Foreign Languages and Literatures, MTTLC, year I
Corrected by Silvia Petrescu