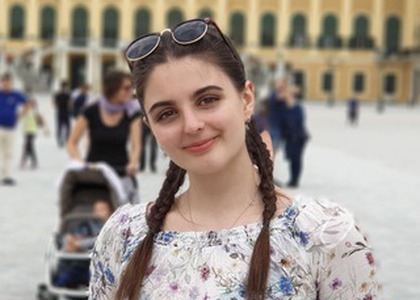 Interview with percussionist Sara Gheorghe
Friday, 18 March 2022 , ora 13.36

Currently a student at the Academy of Music and Arts in Vienna, percussionist Sara Gheorghe is among the finalists of the 2021 edition of the competition for the "Scholarship The Heirs of Musical Romania"; a project developed by Radio România Muzical in partnership with Rotary Club Pipera. The young musician was given the opportunity to give two concerts - one with the Brașov Philharmonic Orchestra and another in the company of the Radio Chamber Orchestra.
We find out more details about these two concerts from the percussionist Sara Gheorghe:

On Thursday, March 17th, you will be on the stage of the Brașov Philharmonic, where you will be accompanied by the institution's orchestra, the conductor being the Croatian Andrej Vesel. It is the first concert you will hold as the winner of a special prize at the "Heirs of Musical Romania" Contest, organized by Radio România Muzical and Rotary Club Pipera in 2021. And on March 23 you will perform in the company of the Radio Chamber Orchestra during a concert that will take place on the stage of the Radio Hall, with conductor Radu Popa in charge; an event from the series of those who will mark 25 years since the establishment of the Radio România Muzical station. On both occasions, two other finalists of the competition will take the stage - soprano Aida Pascu and pianist Dominic Ilisz.

Sara Gheorghe, how important are these concerts offered after participating in the competition for your professional evolution?
For a young musician it is a huge opportunity for which I am grateful. I am very happy for my debut in these two cities. In Bucharest I also sang, but only with the "Ioan Slavici" Theatre in Arad, at the National Theatre Festival or at the national musical performance Olympiads. So, as a soloist, in collaboration with the Radio Chamber Orchestra, and in Brașov with the Brașov Philharmonic it is a great, great honour. I am glad that thanks to these opportunities I will collaborate with famous musicians.

What did you choose to perform in the two concerts and what were the selection criteria for each program?
I chose two different repertoires, because in Bucharest I will play with the Chamber Orchestra, and in Brașov with the big orchestra. Because the instrument I will play is the marimba, a fairly recent instrument, there are not many works with orchestra, most of which are for solo marimba. So, for Bucharest, I chose some arrangements for marimba and orchestra made after well-known works, from violin, guitar and piano. I really like to include music from as many different peoples as possible in my repertoire, so in the program we have a Japanese arrangement for Libertango, we have Rondo a la turca - Mozart, Asturias by Isaac Albeniz and others.
I want to highlight the marimba and show why it is capable because not many people know it. I hope to be able to get as many people as possible to fall in love with its unique sound and rhythmic or even lyrical music.
Then, in Brașov, I chose to perform the Russian Marimba Concerto, composed by Ukrainian percussionist Serghei Golovko, who lives in Australia.
Given the times in which we live, we consider this work to be an ode to peace and hope. It is the Russian cultural heritage seen through the eyes of a Ukrainian. I really like this concert - the three parts are unique and very beautiful - and I think it highlights the marimba; being an extremely expressive tool with a lot of potential, I think, not yet fully reached. Also, the orchestral part of this concert is wonderful. Since I've known this work, it has never seemed more relevant to me. That's why I'm so happy to have the opportunity to speak my word the only way I can, which is music.

You are a student at the Academy of Music and Arts in Vienna. What does your professional agenda look like this year, both in terms of studies and in terms of concerts?
I can say that, at least until July, my agenda is quite full. We have a lot of projects at the University, we have all kinds of collaborations. Besides, there is a lot to study. I have many teachers - one for each instrument. I have a lot of courses. So, I come up with ideas, and to see them flush it out, it's really fun. Even in these times, culture is important and there are people who take care of it and bring it to the forefront, which is very important for students like me, still in development.
Interview by Florica Jalbă
Translated by Elena Patricia Măroiu,
University of Bucharest, Faculty of Foreign Languages and Literatures, MTTLC, year I
Corrected by Silvia Petrescu