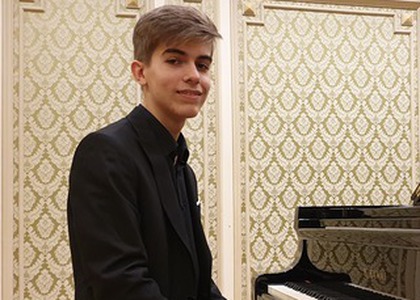 Interview with pianist Dominik Ilisz
Friday, 25 March 2022 , ora 14.51

On Wednesday, March 23rd, on the stage of the Radio Hall, a concert is held by the finalists of the competition for the scholarship The Heirs of Musical Romania, 2021 edition, together with the Radio Chamber Orchestra under the baton of Radu Popa. The young pianist Dominik Ilisz is among the soloists of Wednesday evening.

Let's talk a little about participating in the contest for the "Heirs of Musical Romania" Scholarship. How did this idea come about?
In the first place, I would like to thank Radio România Muzical and Rotary Club Pipera for these wonderful opportunities. It is a great honor to hold two important concerts. For a young musician, it is very important to have the opportunity to introduce himself to the audience, but the opportunities to play alongside the orchestra are extremely few. For this reason, I participated in the "Heirs of Musical Romania" Scholarship.

Why did you choose Ludwig van Beethoven's Concerto No. 3 for Piano and Orchestra for Wednesday's event?
I chose Concerto No. 3 because it is my favorite concerto from the composer whose music is closest to my heart. It was also a decision in agreement with Radio România Muzical.

How would you say that you have marked the period of the pandemic that we have been through?
It was a very difficult time because I didn't have the chance to present myself in front of the audience. And now I'm focusing on the exams that await me in the near future. It's a tough year for me because I have the baccalaureate exam, I still have to take entrance exams at universities.
I chose to apply at the Vienna University of Music, as well as at the "Barenboim-Said" Music Academy in Berlin, where I also passed the first phase, which was held online. And in May, the final exam in physical format awaits me.
Interview by Petre Fugaciu
Translated by Beatrice-Andreea Porumb,
University of Bucharest, Faculty of Foreign Languages and Literatures, MTTLC, year I
Corrected by Silvia Petrescu