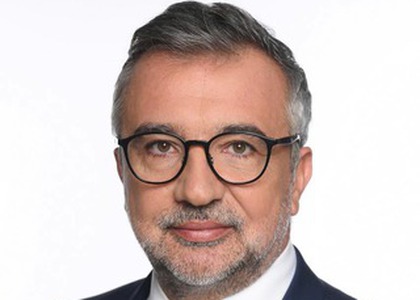 RRM 25 - Interview with Lucian Romascanu, Minister of Culture
Wednesday, 30 March 2022 , ora 8.50

Mr. Lucian Romașcanu, I am talking to you for the first time, the occasion being a happy one for Radio România Muzical, which turns 25 years old; and, of course, you are our guest as Minister of Culture. However, I would start from the exchange of messages that preceded this discussion, in which you wrote that Radio România Muzical is not at all unknown to you, that you still listen to it. Does this experience hold any official interest, such as the fact that you have been chair of Parliament's Culture and Media Committee? I'd be glad if you said no andthat it is something you also did previously.
I do not want to rob you of your joy, and I say no, because it is before I have any political position and it is related to my desire and joy to have a pleasant environmentin the areas where I am.I must admit this, I'm not trained in classical music, I'm not a detailed connoisseur of classical music, but there are areas that I agree with; and then of course the main destination is Radio România Muzical and I congratulate you, because, I understand, talking to some connoisseurs, that the archive that Radio România Muzical has is rare, even worldwide. And the fact that we can have such easy access to such a thing is a great joy and a merit that is entirely due to you.

Indeed, objectively speaking, Radio România has the most complete audio and musical background, at least from the perspective of Romanian composers and performers. What else draws your attention, in a positive sense, when you think, as a listener, a lover of classical music, of the radio station we are talking about? And of course, please tell us what critical remarks you have, if any.
I have no critical remarks becauseit is not my place to do so. I'm sure there are competent people who can give you advice in this area. Things must be seen from a democratic perspective, in the sense that art and culture, in their various manifestations, are for everyone; and always, my messages, and from the official position I have now, and from other positions I have held, to the people of culture, has been to address everyone, because that was the original purpose of any artistic manifestations.Unfortunately, the cult area of art, classical music, painting at a certain level have moved away, perhaps by placing themselves voluntarily in an elite, which has removed the artistic phenomenon from the rest of the world. If you tell a man now, let's go to the opera in the evening, or let's see an art gallery, he'll say, "It's not for me!" No, it surely is foreveryone and we need to build bridges between the cultural phenomenon of whatever level it is and people. For me, listening to România Muzical or România Cultural - I spend quite a lot of time when I'm not at the office, in the car - is a way to fill my environment with something pleasant. And, in the end, this is the meaning of art, to give you a feeling, to let you dream, and Radio România Muzical is this type of partner.

You have a consistent experience in our media market. You know we are talking about a ruthless field with its actors. How would you interpret the 25 years we are celebrating, from this point of view? Does it mean much, does it mean little?
For the constancy of a niche radio station, after all - and I urge its democratization, it means a lot and it means the dedication of the team that created the archive and everything that can be found in your playlist, hoping for the best and hoping that what you do, and I am convinced of that, will reach as many people as possible. Radio România, in general, has spaces that are in the top of audiences. It is the mission of Radio România, as well as the mission of National Television, to address the entire segment of viewers or listeners, and the cultural part is an extremely important field, which cannot live in the context of an extremely aggressive market as you said, in a state-subsidized area. The state does its duty to the radio, sometimes better, sometimes less well, and the radio, in turn, does its duty to the public - so, once again, congratulations on that!

As Minister of Culture, I am sure that there are common points between the program you propose in this term and the purpose of our only classical music station. If I'm right, what are those commonalities?
Radio Romania, through the various channels it manages, is our first partner in all cultural events organized by the Ministry of Culture - and why not mention the largest cultural event produced by the Ministry of Culture, the "Enescu" Festival. But not just that. The opera invites you and you are close to it every time, the Philharmonic, and so on. So, we have been partners for a long time now and we are glad that through you, not only does what is produced within the institutions sponsored by the Ministry of Culture reach a wider audience, but it is also archived for future joy, because this is the most important thing - and I would like to find the way to be able to support more.At my level, one of the personal advisers of the Minister of Culture deals with the relationship with Radio România and Television, because we understand this great bilateral responsibility that exists.

For the future, we want all Romanian listeners to benefit from receiving the on-air station, a complicated objective at the moment, because the legislation does not allow another frequency, with national coverage, for Radio România. Beyond that, what do you want for Radio România Muzical for the next, say, 25 years?
First of all, on the concrete side, of course there areonline platforms that you have at hand and you can use them successfully, whenever something happens,there are applications, you are present in many of the radio content aggregator platforms, so in addition to the on-air distribution, you can certainly get to the rest of the channels where you don't get on-air. And on your anniversary, I can only wish you to continue to be the reliable partner of the Romanian musical culture, to transmit, but also to keep for future generations, what is happeningduring our life and, let's say, during our active career. Everything we hear now will be available in years to come - and that is why I wish you "Happy Anniversary!"
Interview by Ștefan Costache
Translated by Elena Crețu,
University of Bucharest, Faculty of Foreign Languages and Literatures, MTTLC, year II
Corrected by Silvia Petrescu