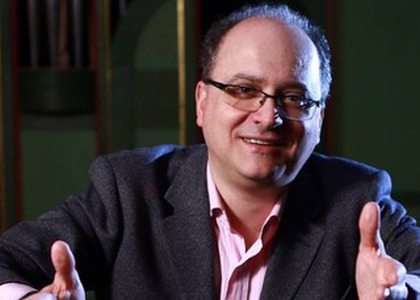 Interview with the composer Dan Dediu
Thursday, 7 April 2022 , ora 15.30

Music on bread - about the beauty of the classical music is the project's title proposed by the Kitharalogos Cultural Association in partnership with the Museum of Bucharest and ACCUMM Foundation which will take place at Suțu Palace in Bucharest starting with 5th aprilie of 2022. Among the invited musicians are Costin Soare, Verona Maier, Diana Moș, Cristian Lupeș and Steffen Schlandt. There will be eight conferences, the first and last of which will be given by the composer Dan Dediu.

On 5th April the series of conferences Music on bread will begin. How do we listen to classical music and how do we comment on it? This is the first evening's theme. What will those present at this concert-conference find out?
Of course it is a first step in knowingly entering into what can be called the tradition of attentive listening. Meaning, asking ourselves when hearing music, how do we listen to it, what should be pay attention to. I will talk about the necessity of repetitive hearings and even successive notations of the important elements. Also, about the criteria which must be taken into consideration, instruments recognition, instrumental combinations, genre, form, language, character, themes, motifs, modulations, types of accompaniment, etc. It is certain I cannot fit all this information in a single concert-conference, but I hope that through examples I will be able to take a first step through which we will succeed to talk more into detail about the musical line and especially of classical music…because that's what I'm interested in, the field after the 4 minutes we're used to in pop music.

As you said, the lectures also include a musical part. Can you tell us what you chose for the evening of April 5th, so that it reflects the theoretical part?
There are many pieces which I will perform. I will have pieces from Mozart, Beethoven, from the romantic music - Chopin, Schumann, Brahms and we will even get to Stravinski, Messiaen, moreover to Romanian composers.

Sources of inspiration and the imaginary of classical music is the title of the second conference that you will hold in November and which ends, actually, the Music on bread series. What do you intend to point out in this lecture?
I would like to conduct a journey through the various sources of inspiration of classical music; from natural sources to the cultural ones. Also, I will get more into detail and I distinguish between what we call absolute music and programmatic music, music which is based on an extra-musical program that can be a text, a picture, a poem or something else, even a movie. And then, I will talk about the inspiration that comes from the exact sciences, for example, in modernity. Through various examples and I hope as intriguing as possible.

Finally, I would like to ask you how did you receive the invitation to participate at this series of conferences named Music on bread?
I was simply asked by Costin Soare - the one who organizes this and I have known for a very long time to be a worthy organizer of musical events, gifted guitarist, a very good teacher - and then I trusted his flair and in his idea of bringing closer and trying to explain the classical music and the tradition of classical music to a music-lover audience eager to dig deeper into the depths of musical sense.
Interview by Alexandra Scumpu
Translated by Ioana Negrea,
University of Bucharest, Faculty of Foreign Languages and Literatures, MTTLC, year I
Corrected by Silvia Petrescu