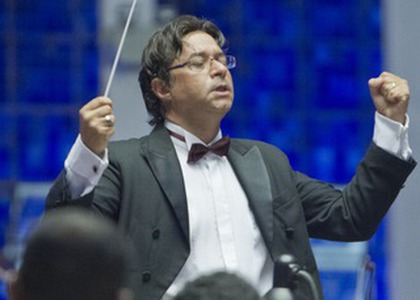 Interview with conductor Claudio Cohén
Thursday, 7 April 2022 , ora 15.41

The Radio Chamber Orchestra will give a concert on April 6th under the baton of conductor Claudio Cohén. The event is organized in collaboration with the Brazilian Embassy and marks the bicentennial of the country's independence. Details about the evening's program and about his first visit to Bucharest were provided by the conductor of the evening - Claudio Cohén.

Mr. Claudio Cohén, on April 6th you will conduct the Radio Chamber Orchestra in a concert with Brazilian music. Are you in Romania for the first time?
Yes, I am in Romania for the first time and I am very happy to be here. I have been conducting orchestras in the area for many years - from Bulgaria, the Czech Republic, Germany, but this is my first time in Romania.

How was your first contact with the Radio Chamber Orchestra? How are rehearsals going?
The musicians are professionals and I think they like Brazilian music. I like this orchestra, it gives me a good energy.

The evening's program is built around the significance of the event that will be celebrated on this occasion - the bicentennial of Brazil's independence. The public will therefore be able to listen to a program composed entirely of works signed by Brazilian composers. What were the criteria according to which you selected the works?
I tried to create a panorama of Brazilian classical music. So I chose to start with Carlos Gomes - a 19th century Romantic composer. Carlos Gomes was the best known Brazilian opera composer, lived in Italy and worked at the Scala Theater in Milan. His works are well known in Brazil and abroad. I will start with Carlos Gomes, then I chose a work by our most famous composer, Heitor Villa-Lobos. Next comes Cláudio Santoro - a 20th century composer, famous in Brazil, who has a vast creation - composed many symphonies, chamber music, electronic, dodecaphonic and obviously national. I even had the opportunity to work with Cláudio Santoro, because he founded the orchestra I lead today from the position of principal conductor and artistic director - the Symphony Orchestra of the National Theater in the Brazilian capital.
I also tried to include in the program some works by contemporary composers. I chose a work signed by Ney Rosauro - one of the most famous percussionists in the world. He is of Brazilian origin, but has a rich career abroad. We chose a very rhythmic piece by him, so that we could show the audience our Brazilian rhythms, with a large orchestra involving wind instruments, percussion and strings. We will present two more works by Alexandre Guerra and Ricardo Calderoni - the youngest composer in this selection. From his creation we will present Brazilian Lands - a work that encompasses multiple styles of Brazilian music.
Interview by Alexandra Scumpu
Translated by Elena Patricia Mãroiu,
University of Bucharest, Faculty of Foreign Languages and Literatures, MTTLC, year I
Corrected by Silvia Petrescu