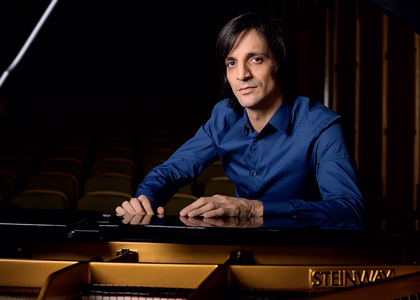 Interview with pianist Mariano Castro
Tuesday, 12 April 2022 , ora 16.05

On Tuesday, the 12thof April, Mariano Castro, Argentinian pianist and guitarist, will give a recital entitled "Buenos Aires from the Piano".
Mr. Mariano Castro, you will give a recital entitled "Buenos Aires from the Piano" on Tuesday, the 12thof April, and you'll be playing both the piano and the guitar. What can you tell us about the pieces you will be performing during this event?
The repertoire consists of 100% pieces from Buenos Aires, the capital of Argentina and also my hometown. My wish is to show the specific rhythms of Buenos Aires: tango, waltz, milonga and, a little more contemporary, the music of Astor Piazzolla, which represents our cityvery well, this being a kind of soundtrack of Buenos Aires.
You are a messenger of Argentinian music in Romania, where you've been living for several years. How does the Romanian public receive this type of music?
I am very satisfied with the Romanian public. I had the chance to sing all over the country and I enjoyed it. People have always been very happy and I believe that they have formed an emotional connection with our music. Our music, especially that from Buenos Aires, is very emotionally charged. It is the work of many emigrants who missed their countries. That's why, at that time when something important was needed, they came up with this type of artistic manifestation. And I believe that this is one of the reasons why the audience relates a lot to this music that is passionate, emotional and high-quality. Therefore, I am always very pleased with the public we have here, because, generally, it is very open to this kind of music and culture.
Interview by Ana Sireteanu
Translated by Translated by Cristina-Bianca Ion
University of Bucharest, Faculty of Foreign Languages and Literatures, MTTLC, year I
Corrected by Silvia Petrescu