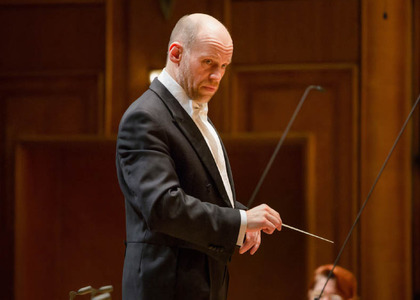 Interview with conductor Julien Salemkour
Tuesday, 12 April 2022 , ora 16.16

The conductor Julien Salemkour returns to the rostrum of the National Radio Orchestra to conduct the concert on Friday, April 8th, 2022, at the Radio Hall. The soloist will be the pianist Daria Parkhomenko, the winner of the "George Enescu" International Competition, 2018's edition.
About this concert, with a full program Sergei Rachmaninoff we find out more information from conductor Julien Salemkour.
Welcome back to the Radio Hall! First of all, please tell us what is like to be here again to collaborate with the National Radio Orchestra?
It is great to be here again. It's been a while since the last collaboration and a lot of things have happened in the meantime. We have been through a pandemic, now there is war ... I am grateful we can keep on doing our work. I am very happy to have met the musicians in the Orchestra again.
There will be a Sergei Rachmaninoff evening. The program will open with the third piano concerto of its work, a creation considered one of the most difficult in the standard piano repertoire. Soloist - Daria Parkhomenko, winner of "George Enescu" International Competition, 2018's edition. How do you view this score?
I am truly fascinated by this concert. I believe that Rachmaninov's music is marked by liturgical music based on both Orthodox music and traditions. He composed two extremely relevant works for Orthodox religious music - "Liturgy of St. John Chrysostom" op. 31 and "Vespers" op. 37. I think everything has to do with the stylistics of Byzantine music, for example, the opening of Concerto no. 3 for piano and, I suspect that these sounds are also heard in the opening of the Third Symphony.
This third Symphony is considered the work in which the influence of Russian music is the most noticeable in Rachmaninoff's creation; it received positive reviews only four decades after the first audition. How would you describe this score?
From the point of view of musical language, Rachmaninoff is considered a conservative. You know that idea, "There are only two types of music: good and bad," so good compositions and bad compositions. I think there is no doubt nowadays that Rachmaninov's mastery lies in his ability to compose coherently and expressively. Indeed, when a piece of art is new, as you know, many make various criticisms. As was the case with the opera "Carmen", which at the premiere was considered a disaster. However, all this does not matter in the end, because a valuable score will always stand the test of time and will always be received by the public enthusiastically. Some works need more time to be appreciated, as in the case of Mahler's symphonies or Schönberg's compositions. Also, Rachmaninov's Third Symphony, compared to the Second Popular Symphony, needed more time to be appreciated. It is much denser and more complex, with a brilliant counterpoint and moments with sounds that suggest either an atmosphere full of sadness or solemnity.
There is an enigmatic tragedy in this score. I don't know if it is a reflection of Russian music, I personally don't believe in certain labels. What matters is what you like, as a listener. Because you don't listen to music thinking it's German, French or Czech. Music speaks directly to your soul and, in a way, it eludes your understanding intellectually, because music should not be understood that way, and this is a fascinating aspect of music. The relationship between music and us is like that between a Muslim and God - there is no priest or other intermediary between the two. I think so is the relationship between our hearts, that of music lovers, especially musicians, and music - a direct communication; and I think that's normal.
Are there any plans for future collaboration in Romania?
Not yet, but I'm interested in discussing a new collaboration. There are many great things about the National Radio Orchestra. I hope or if we have talked about religion, to pray that this orchestra will be considered very important for the institution, but also the Romanian cultural life. What needs to be understood is that this orchestra approaches a new program almost weekly. It's about four times more than a German radio orchestra. The same program is played there in several concerts. This frequency here is a very important gain for the professional level of the instrumentalists. Thus, they became very good readers at first sight, because they currently have to assimilate much more material than their fellow members of similar orchestras in Europe. So the musicians of this orchestra must be properly appreciated, and in society, appreciation also translates into earning; to have enough money for a decent living, concerning the contribution made to society. I hope that Romania, this wonderful country, with such an important historical value for Europe, will be able, through its leaders, to appreciate the people of this institution.
Photo Credit: Alexandru Dolea
Interview by Florica Jalbă
Translated by Translated by Roberta Ana Maria Gulerez
University of Bucharest, Faculty of Foreign Languages and Literatures, MTTLC, year I
Corrected by Silvia Petrescu