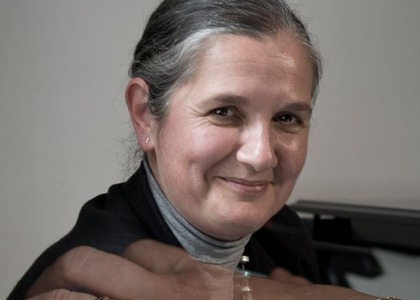 Interview with pianist Verona Maier about the concert-conferance ''The Vivid Colours of Sounds''
Thursday, 5 May 2022 , ora 8.58

Mrs. Verona Maier, you're the protagonist of the third concert-conference which is a part of the project ''Music on Bread''. The event on the evening of 3rd May is entitled ''The Vivid Colours of Sounds'' and will take place at Suțu Palace. What are the subjects you are going to cover?
In my opinion, the evening will point out, on one hand, to what makes the subject of my belief, namely that we are talking about the most beautiful area, the chamber music. For me, it is a lifestyle. It isn't just a work matter, it is the belief that it is the way in which we learn to live together, in general. I think that the musical language, beyond the secrets that musicians are obliged to know, addresses to a number of people who figure it out by making connections, even if they don't have a background in music study. One of the most obvious connections is the one we make with colours, in general. And when I am talking about colours I don't refer to red, yellow and blue - the most fundamental colours, yet I am talking about all shades and especially about colours of emotion, namely the colour of sadness, the colour of happiness, the somber colour, the exalted colour or the fragile colour.

What is the repertory with which you are going to musically illustrate the covered subjects?
I will be joined by a very young clarinetist - Ioana Tomescu, and a young cellist - Alexandra Căplescu. They will help me to come up with some of the most interesting sound combinations together. Each of them will play accompanied or not by the piano, and among the works that will be performed are "Salut d'amour" by Elgar, which has a special colour, or Variations by Jean Francaix for clarinet and piano, which have a multitude of special colors. And together, in three, we will pass fragmentarily, unfortunately - because the evening will not only include music, but also a lot of thoughts about what color means in music - through Beethoven's Trio op.11.

What can you tell us about the two guests of the evening?
The two guests who honor me with their presence are also a source of energy and permanent youth for me - this is also a color! Ioana Tomescu is still an 11th grade student at the "George Enescu" High School in Bucharest and is already a musician of a depth and maturity that we sometimes do not find in much older people. Alexandra Căplescu, in her turn, the cellist who will accompany us, is a master's student at UNMB and has a very special way of talking to sounds. I would say that it is one of the most artistic natures I know, given that for her music is certainly an occasion for ascension, not an occasion for the statutory of a social position, but it is a way of expression that use it without ostentation and with discretion.
With such partners I can only be happy that I will be able to talk to those who will be on Tuesday, May 3, at 19.00, at the Suțu Palace, about the vivid colours of the sounds.
Interview by Ana Sireteanu
Translated by Mara-Sabina Rolea,
University of Bucharest, Faculty of Foreign Languages and Literatures, MTTLC, year I
Corrected by Silvia Petrescu