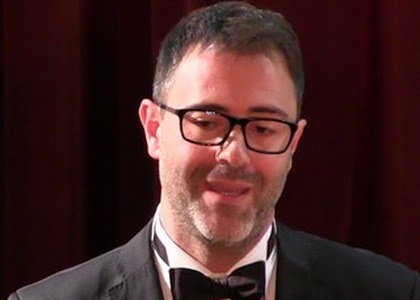 Interview with pianist Ștefan Doniga
Thursday, 5 May 2022 , ora 9.00

Mr. Stefan Doniga, between the 5th and 27th of May, you are going to visit alongside violinist Diana Jipa 10 Romanian cities, within the Romania Universalis tour, which celebrates 15 years since Romania joined the European Union. How did you envision the structure of this tournament?
Romania Unversalis became a brand for us, because this is already our fifth edition of this series of recitals. Each time, we've used them to represent the Romanian culture in relation to an international event, as is the case of as this important event in the recent history of Romania: Romania's accession to the European Union. We've envisioned it from the perspective of what we consider necessary for the Romanian and foreign audience to see, because we will also have the pleasure of taking this performance abroad. This is how we envisioned the structure. We all know that art is a mirror of reality and the reality of the past weeks, months and years tells us that we should value diversity, and openness to everything that is European and universal, hence our vision for the performance. The repertoire includes works composed by Romanian composers of various ethnicities. There are eight different composer, precisely in order to prove this openness of the Romanian culture, this necessity of being receptive to influences as diverse as possible, of embracing all kinds of cultures, of rejecting a certain type of unidirectionality and one-sided isolation. We believe this to be very, very important, especially in the current context, and especially when celebrating 15 years in the European Union.

Unity in diversity is the motto of the European Union. How do you intend to send this message to the audience who will attend the concerts within the Romania Universalis tour?
As I was saying, the repertoire includes works of very diverse origins, but they are all subsumed under the broader Romanian culture. We have George Enescu, the tutelary composer of our repertoire, and obviously of Romanian music as well, followed by the works of Bela Bartok, Walter Klepper, Theodor Rogalski, Alfonso Castaldi, Mihail Jora, who was Armenian, Hilda Jerea, representing the Hebrew community. In other words a very broad spectrum of influences, which we wanted to assemble precisely as a sign of appreciation for the idea of unity in diversity - very valuable in the European Union - and as a means of showcasing it to the public. But we are happy to go on this tour and, aside from the ten different national stages, to be invited by the Romanian Embassy in Morocco to perform in Rabat on May 13th. Therefore, the very broad spectrum will be extended beyond the limits of the European Union.

After this tour, can we expect you to make available in the online environment, videos of the music you performed, as you have done in the past?
This time we will not be filming. Some pieces are already online, but I think what you mentioned now is a good idea, to make videos out of all these works, which are indeed very near and dear to the public, I would say. I would add that beyond this repertoire, which I would call, in quotation marks, classical… Well, no Romanian music is classical, stylistically speaking, but we've added to this repertoire some very valuable contemporary compositions too. We will perform works by Adrian Iorgulescu, Dan Dediu, Ulpiu Vlad and even by younger composer Roman Vlad, in order to provide a full perspective on the Romanian culture and its music, thus, we might add, covering more than 130 years of music. I also thank you for your support, because Radio România Muzical is a dear partner of ours, and we look forward to you covering our journey and us going together to other beautiful places as well.
Interview by Petre Fugaciu
Translated by Ioana Diana Sandu,
University of Bucharest, Faculty of Foreign Languages and Literatures, MTTLC, year I
Corrected by Silvia Petrescu