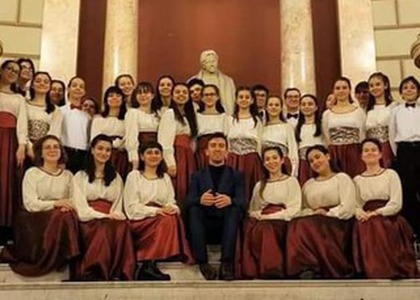 Interview with Răzvan Rădos, conductor of the Radio Kids' Choir
Thursday, 12 May 2022 , ora 10.06

Saturday, May 7th, the Radio Kids' Choir will be performing a concert titled Prayer.On Sala Radio's main scene, the ensemble conducted by Răzvan Rădos will be performing the works of Johann Sebastian Bach, Dragoș Alexandrescu and Gabriel Faure among others, accompanied by pianist Magdalena Faur.
The programme was chosen by taking a brief incursion into our repertoire - we've participated in events that required a repertoire containing sacred music before - and by adding a few pieces that we believe will please the public, since the concert's programmecalls for a long journey: from 18th century Germany to the works of Leonard Cohen and the French romanticism. We believe that this diversity, united under the umbrella of beautiful Christian music, will be a great opportunity for the public to get a taste for the genre.
During the pandemic, both the children and ourselves, their instructors, were faced with a situation in which we had to use our imagination in order to find as much beauty as we could around us, so we could hang in there both psychologically and musically. We realised that all this beauty and all this goodness we are searching for precisely in order to feel okay all around could be interpreted as divinity. So then, we figured that this music, expressing the search of man in hopes of reaching divinity, could be put on stage and the public will enjoy it alongside us.
All these leaps are, somehow, bound together via recordings that play between pieces and that either end or maintain this state of meditation. Otherwise, it would have been quite difficult to make such leaps from one era to another, from one style to another. But we benefit from the help of our colleagues in sound design - I would like to mention sir Dan Corjos, who helped us create an entire multimedia brochure that will help pinpoint different moments during the concert.

Tell us a little about the guests.
We have three wonderful voices; all currently practicing here, at the Radio - three sopranos: Ramona Mardare, Codruța Poșchină and Georgiana Simonov, that will be putting together a very beautiful moment, Ave Maria by Franz Biebl. Then we also have two instrumentalists of great renown: Eduard Antal-the organ player of the Saint Joseph Cathedral, and Alexandru Anastasiu - a well-known name playing the timpani drum and the organ. They will, we believe, build alongside us a great manifesto for peace.
Interview by Petre Fugaciu
Translated by Bianca-Maria Ciucașu,
University of Bucharest, Faculty of Foreign Languages and Literatures, MTTLC, year I
Corrected by Silvia Petrescu