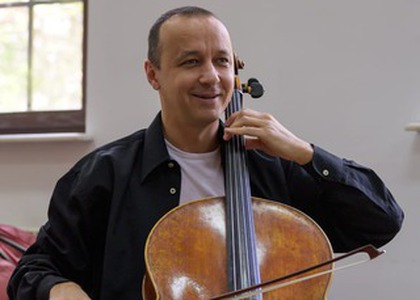 Interview with cellist Razvan Suma, initiator of the CellEAST Festival
Thursday, 12 May 2022 , ora 10.07

On Monday, May 9th, on the stage of the Romanian Athenaeum, as part of the CellEast Festival, a concert is held by the Romanian Youth Orchestra conducted by Noam Zur, which will have as protagonists the cellists Mircea Marian, Razvan Suma and Ștefan Cazacu. More details about CellEast and about tonight's concert we find out from Razvan Suma, the initiator of this festival.

I'd like to talk a little bit about the initiative called CellEAST. What does this project entail?
"CellEAST" is the first cello festival ever happened in Romania. I say this because cellist events have been made in Romania before; we have already played two concerts of a hundred cellos on the stage of the Athenaeum, but this is a concept that exists almost all over the world. I was invited to six cello festivals in Europe, then in America... even in Vietnam there is an initiative like this. In Germany there are about 4-5 festivals that are dedicated to this wonderful instrument - the cello.
I'd like to talk a little bit about the general concept. We are talking about 12 cellists, who not only appear on important stages in Bucharest, but it is about the educational part, which is very, very important. It is called "Future Cellist" and has two components: "Mini Cellos", which is a part dedicated to children, very young cellists (not beginners, because I am afraid to talk about this term "beginner", but children until the IVth grade); then there is this "Future Cellist", where 9 teachers are invited. In the small section, by Mini Cellos, there are 3 teachers - Ani Marie Paladi, Ella Bokor from Romania and, from Bulgaria, Teodora Atanasova. At "Future Cellist" there are 9 teachers: Marin Cazacu - who is also the initiator with me of this project, Stefan Cazacu, and foreigners... Denis Severin, Valentin Radutiu, Atanas Krastev, Dragan Georgevici; and the Romanians... I, the undersigned Răzvan Suma and Mircea Marian.
The students are of different ages and from different areas. I can list a few countries - Germany, Bulgaria, Serbia, Armenia, Kazakhstan, France and, of course, Ukraine. Ukrainians have scholarships offered by the CellEAST Festival to help this people.
At the Romanian Athenaeum, on the 5th and on the 6th of May, the extraordinary concerts of Andrei Ionita, Denis Severin and Valentin Radutiu took place, who sang extraordinarily on both evenings! Absolutely sublime moments! And for me, as a cellist, I can say that I learned a lot not only from each of the guests of the "CellEAST" Festival, but I learned very, very much - which I also do at the University of Music in Bucharest - from the students.

On Monday, May 9th, you will hold a concert on the stage of the Romanian Athenaeum. How attractive do you find this pairing between Robert Schumann, Dan Dediu and Friedrich Gulda?
The cello is the main vein of this concerto. I am very glad that we have a representative of the Romanian composing school - the very famous, well-known and extraordinary Dan Dediu, a very good friend of all cellists. He wrote a lot for the cello and I think he's going to write more because he's going to realize the potential for promotion, because we're really doing to promote this tool and we're trying to attract as many young people as possible. Mircea Marian is an extraordinary cellist who has played this concert in Germany before and it will certainly be a collaboration between the Romanian Youth Orchestra, Noam Zur as conductor and Mircea Marian.
I will sing my beloved Schumann Concerto, which I also printed with the National Radio Orchestra and conductor Cristian Orosanu. For me, this concerto is a masterpiece, one of the most sensitive, most complex, most fantastic works ever written for the cello.
The evening will be finished apotheotically by Ștefan Cazacu, who will sing a concert... many consider it unserious, so to speak. It's a combination of jazz, fanfare music... the audience will simply dance to this music written by Friedrich Gulda. It should be noted that this concert is amplified, that is, we get a little closer to commercial music, rock music, and Stefan has a character that will be the most suitable for this concert of all the cellists invited to the CellEAST Festival.
Interview by Petre Fugaciu
Translated by Beatrice-Andreea Porumb,
University of Bucharest, Faculty of Foreign Languages and Literatures, MTTLC, year I
Corrected by Silvia Petrescu