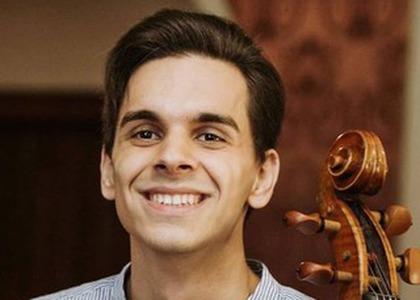 RRM 25 - Interview with cellist Cornelius Zirbo
Friday, 13 May 2022 , ora 17.00

Cornelius Zirbo, in March, Radio România Muzical celebrates 25 years of existence. You are 23 years old. What was the first meeting with Radio România Muzical?
My first meeting with Radio România Musical happened in 2015. I was the tenth grade at the Dinu Lipatti National College of Art when I was proposed for the international competition Concertino Prague, where I had the honor to represent Radio România Muzical at the gala concert in Prague and I thank Radio România Muzical, in this respect, for this chance I received. This was my first intersection, so to speak, with Radio România Muzical. For those who do not know, this contest is a contest that evaluates a series of special prints made by the radios in the competitor's country, and I had the opportunity to perform with the help of the Radio, a session of special prints for this contest, and then evaluated by a specialized jury, the best prints are nominated and a ranking is made, and I managed to get the second place and as a result I was invited to perform on the South Bohemian Festival tour and to perform with the Prague Radio Symphony Orchestra, during the gala concert of the competition.

Do you remember how you were selected?
Honestly, it remains a mystery. I do not know by what circumstances I was nominated, by what circumstances I was appointed, but I can only say that I thank that person for the trust offered, I thank Mrs. Octavia Galescu for the help she offered me during that period. Being a minor at the time, I was accompanied by her, who was like a mother to me in those weeks that I was in Prague, but I have to admit that I do not remember or do not know exactly how I was proposed.

This was your first connection with Radio România Musical, as a musician, but as a listener how was it?
As a listener, of course I was knowledgeable, I knew about this radio, I listened whenever I had the opportunity, I came to the concerts of the National Radio Orchestra and I can say that it is an institution with which, somehow, I grew up as a listener, that's what my relationship with this institution meant.

Do you listen, for example, to Radio România Muzical when you are in the car?
How not to. Even for a year I can say that I am a driver and the only radio station that is listened to in my car is Radio România Muzical and I often have the pleasure to listen to songs and works about which I did not know. Yesterday evening I was coming home and I was just listening to a work that I understood to be called Turkish Bolero by ȘerbanNichifor, in the interpretation of my teacher Marin Cazacu, Mrs. Alexandra Gutu, Olga Manescu and Razvan Suma, if I'm not mistaken and I can say that it was a work, I even listened and I said: "Wow, what a successful work", and I sent to a friend of mine, I told him to listen that it was a must and deserves tolisten to what is unfolding now on Radio România Muzical. So, yes, I listen to Radio România Muzical. I think it's absolutely interesting how you listen to works that I knew about, but being in traffic, I literally have the opportunity to listen to them more closely and I get acquainted with them and I can even say that I load all these auditions in a very beneficial way.

After the recordings for Concertino Prague, what other events followed related to Radio România Muzical?
I could say about the Tuesday night seasons in which we performed on several occasions and Radio România Muzical broadcasted each recital. Apart from this, I can say that I managed to win a scholarship, a financial support, which helped me a lot in all my development, even recently. Two years ago I applied for the first time for the Scholarship Heirs of Musical Romania, in partnership with the Rotary PiperaClub. I first entered this competition in 2020, where I managed to be among the finalists, but I did not win the scholarship. However, I received the opportunity to perform as a soloist with the Transylvania State Philharmonic, as a prize for my performance in the contest, and a year later, that is, in 2021, I signed up again and was declared the happy winner of the scholarship. I was supported with 4,000 euros for my professional development and besides that, right now in January, together with my good friend CadmielBoțac, I held a tour in Cluj, Timisoara and Bucharest with the sonatas by Franz Liszt and Serghei Rachmaninov and I can say that it was an absolutely unique experience and I thank radio Romania Muzical with all my heart.

We must tell the listeners that this was the first tour initiated by the Heirs of Musical Romania and that the last stop was in Bucharest on the stage of the Radio Hall.
That's right. In Cluj-Napoca we had the opportunity to perform in the Transylvania State Philharmonic Hall and in Timisoara in the Capitol Hall. All the conditions were incredible, a numerous audience, we benefited from an incredible promotion. All the radio stations were announcing this tour. Those were the conditions under which I had the privilege of performing.

How did you choose the schedule for this tournament?
Cadmiel and I were thinking about several variants of repertoire for this tour, of course, the Rachmaninoff Sonata was somehow among the first proposals, we aimed for a type of repertoire that would represent us in this phase of life in which we find ourselves, that would help us to send the public a message as authentic as possible and of coursesome works that I considered that the Romanian public should listen to more often than they probably have the opportunity, because there are two sonatas that are not played very often in our country. Last time I listened to them in the performance of cellist Valentin Radutiu and pianist Per Rundberg, who also sang them after not playing for a very long time in the country. So, those were probably the first considerations by which I chose this repertoire.

You were saying that the money you earned through the Heirs of Musical Romania scholarship were useful for your personal development. For example, CadmielBotac, who also won, said he was purchasing an instrument. What did you do with this money? How were they useful for you?
First of all, I managed to purchase myself a cello bow. It's a bow created by Jerome Thibouville-Lamy, it's a very important bow that dates back to the early 1900s, it's a bow that has helped me a lot in my growth as a musician and as a performer. Clearly it made a huge difference. Apart from this bow that I am very, very pleased with, I applied to several masterclasses that I managed to attend and recently I was invited to audition at a center of excellence, a training center for young soloists, very important, in Belgium, under the high patronage of the royal family in Belgium.It's called the "Queen Elizabeth Musical Chapel" and I will have the opportunity at the end of March to audition there and we hope that I will present myself as best as I can and live up to expectations so that I can continue to work with Professor Garry Hoffman and have his guidance in the future.

In January, if I'm not mistaken, you also participated in a contest.
That's right.

What was that experience like?
It was a very beautiful experience. I was three weeks old in Pretoria, South Africa, where I participated in the "Unisa International String Competition", a member competition in the World Federation of International Music Competitions in Geneva. It was a very interesting competition in terms of the fact that cellists and violinists were competing in the same category. It's a string competition, not a cello competition, so I competed with both cellists and violinists at the same time. I managed to finish in the top 6, I entered the semi-final, unfortunately I did not manage to enter the final, but I am very pleased with how I managed to perform in the three stages in which I had the opportunity to sing. In the semifinal I also sangthe Rachmaninoff Sonata, which, a few weeks before, I had sung on the stage of the Radio Hall and I can say that I experienced some very personal moments on the stage of the contest and probably this was one of the greatest achievements, the fact that I managed to detach myself from the pressure of a contest and sing exactly as I sang a few weeks before for the Romanian audience.

You have a music career on the rise. Certainly, Radio România Muzical will remain for you a road partner, both audio and as an evolution partner. What projects do you have for 2022 related to Radio Romania Muzical?
Related to Radio România Muzical, what could I say more than to want, in my turn, how I was supported, to be able to a small extent to support Radio România Muzical, either by listening to this station while driving and by coming and listening to the concerts of the Radio Orchestras. I want all more young musicians to know about this position and the possibilities it offers to young musicians, because, we have to admit, it is about the only institution, almost the only one, that leans towards the needs of the young generation of musicians and this is definitely something to appreciate and something to mention and I want to be closer and closer to this institution and to be able together to make a lot of good music and to convey this to people, to listen and to get in touch with what we can offer.

That's really what I wanted to ask you. What advice would you give to your young fellow musicians? For example, to participate in the Scholarship Heirs of Musical Romania or now there is a campaign on the Radio România Muzical website for young musicians, amateurs or professionals, to send musical materials that will be broadcast on the Facebook of Radio Romania Muzical. It's a way of promoting talent.
Absolutely. I also noticed that what has just been posted about the third edition of the Contest Heirs of Musical Romania and I have already talked to many colleagues, I recommended them to register, categorically, and I think they should know about this contest and to register in a way as promising and as convincing as possible so that they can win and get in touch with what this contest can offer. Yes, I have already recommended this contest to my colleagues. Absolutely.

In conclusion, I would like you to convey a thought for Radio România Muzical on the anniversary.
I want as many successes as possible and very importantly, the authorities and the Romanian state should support this institution and as much inspiration as possible in everything they do. That's what I wish them on their anniversary.
Interview by Jeanine Costache
Translated by Beatrice-Andreea Porumb,
University of Bucharest, Faculty of Foreign Languages and Literatures, MTTLC, year I
Corrected by Silvia Petrescu