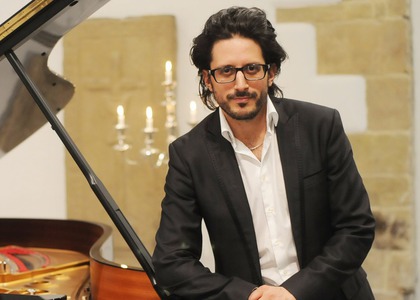 Interview with pianist Aimo Pagin
Monday, 23 May 2022 , ora 9.04

The first part of tomorrow evening's concert, performed by the Radio Chamber Orchestra under the baton of conductor Toufic Maatouk will mainly feature pianist AimoPagin, Bösendorfer artist. We find more details about the pianist Aimo Pagin from an interview done by Florica Jalbă.

You come back to Romania for the first time after the pandemic, in a concert that will mark the first collaboration with the Radio Chamber Orchestra. How do you see this collaboration?
That's right. This is the first time I'll sing with the Radio Orchestra. I came to the Athenaeum one time during the pandemic to perform a recital. Back then it was still the rule with 25% of the people who could enter with the mask on and everything that was then. Yes, this is the first time with the Radio Orchestra. I'm very excited to play Mozart's Concerto with them because I never did it before.

You chose to perform Concerto no. 23 KW 488 in La major. What was the selection criterion and what do you consider to be the particularities of this score?
I was not the one to choose this concerto. The organization chose it, probably in collaboration with the conductor and they suggested that I should play this concerto. It was either a Mendelssohn concerto or Mozart's, something to go with the Chamber Orchestra. I said you're welcome. Mozart 23 is a beauty and it fits very well on this occasion with the Chamber Orchestra, it has a very elegant and fine music. It is a masterpiece, a very important concerto in the repertoire of classical music, of piano, it is extremely varied and I can't wait to play it.

What projects do you have for the next time period? Will you also perform in Romania?
I will have a concert in Ploiești; I don't know exactly when, but surely this year. And also in Bucharest, probably at the Athenaeum. The next concert will be in Paris.

How important is it for you to perform in your mother's country of origin, the acclaimed violinist Silvia Marcovici? I appreciated the Romanian language which you speak without being born here.
I probably have the French accent when I speak Romanian, you can tell… My mother… every time I arrive in Romania I think of her. I came here with her in the beginning, now I come alone because she is in France teaching piano lessons and she can't be with me all the time. So I'm very happy to be here.
Interview by Florica Jalbă
Translated by Ioana Negrea,
University of Bucharest, Faculty of Foreign Languages and Literatures, MTTLC, year I
Corrected by Silvia Petrescu