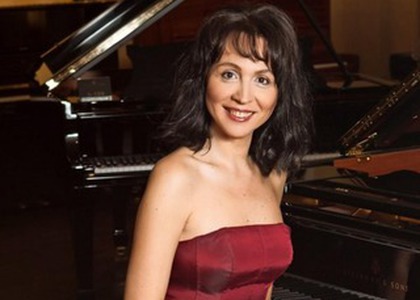 RM 25 - Interview with pianist Luiza Borac
Wednesday, 25 May 2022 , ora 8.40

In the context of a significant anniversary, a quarter of a century, Radio România Muzical offers you some surprises, I would say, of proportions - interviews with great personalities who marked with their presence our broadcasting spaces and gave us, through neighboring, a dimension of excellence, we, as witnesses and promoters of good news. I have the joy to present in this context Luiza Borac - also in Hanover, always in front of the piano, not only a great performer, refined presence, internationally recognized with appearances on three continents, but also a strong voice, researcher on the line of musicology, thinker, mentor, dream maker.

After this immobility, after these two pandemic years, I think there is a need for an intensification, of a return to the tumult of career action, with those close to you, even on the radio waves, isn't it?
Of course, that's the way it is and I thank from the bottom of my heart radio station Radio România Muzical because it is always there and broadcasts so beautifully, musical events. I listen as often as I can and it's a very important part of my world.

Indeed, Radio Romania Musical is honored to present you over the years, the peak moments of your career, the important concerts, either held on our stages, or from the international broadcasts or from the "George Enescu" International Festival, the discographic appearances, also the projects. How do you perceive your collaboration with this radio station?
First of all, I want to thank you that, on this occasion, on this beautiful anniversary, I am included in the series of your interviews. Radio România Muzical was with me in all the relevant moments and thank you for the loyalty and for the professionalism with which it broadcast on the station, musical events that you mentioned, concerts and recordings, events that represented me.

Of course, we want a focus on these special moments, such as the recital of 2017 organized by our station, on the occasion of our 20th anniversary, at the Cotroceni National Museum. They were then called "Radio Romania Muzical Evenings 20". How do you keep that event in your memory?
That recital had a special emotional resonance for me. It was about a double anniversary, the 20th anniversary - Radio România Muzical and the 100th anniversary of the birth to the great pianist and composer, Dinu Lipatti. That recital at the Cotroceni Palace was part of a longer tour, of about 30 concerts that we held in Germany, Romania, Italy and Switzerland, and the concert at Cotroceni Palace was a moment of great joy, both musical and personal. In the audience there were personalities of the Romanian cultural world. There were both the Radio România Muzical team and my parents, whom I have not seen so often in recent years. That's why the family was complete and it was a unique moment.

There are in our archive some shows that represent you, "Success stories of music", "Encounter with masterpiece", "Beyond the backstage", "Music box". Even though we should go back years, have some memories or impressions left of these presences of yours on the wave path?
Yes, sure. That's why this radio station is so important, because it keeps these moments special. It's a bridge between art, artists and the public. When I was a student and I heard my concerts on the radio I felt - and it's still the same situation, I feel very close to the listeners and very encouraged. I remember on the wave path I had my first musical inspirations. For example, the first time I listened to Grieg's Concerto for Piano and Orchestra was on the radio, in the performance of our great pianist, Valentin Gheorghiu. This interpretation remained deeply imprinted in my mind and was a source of inspiration for my own interpretations. All these shows were related to certain moments and I thank those who interviewed me with great patience and who evoked these important moments related to discographic appearances or concerts.

Indeed, we are deeply grateful for the role you have in promoting the Romanian musical culture internationally. You are the first pianist in the history of disc recordings who made the integrals of the piano works of the George Enescu - Constantin Silvestri - Dinu Lipatti triad, beyond the huge repertoire you master. Every discographic appearance, of course, has received praise from critics, great awards. I remember the BBC Music Award for the Enescu integral, the nominations for the ICMA Awards and opus classic. Each new album was found, as is natural in our programs for the Romanian public. Were the echoes of this approach of yours stronger from the Romanian side or did those predominate internationally?
Romanian music, and especially of the composers you have listed, is part of the universal heritage and for me it has an extraordinary value, starting with Enescu and continuing with Lipatti and Silvestri. Working on this repertoire, for me, was very important, both repertoire and pianistic.That is why I was very happy for the echoes internationally, but also in the country and in this context, Radio România Muzical has done so much to make known these steps of mine and I thank it on this occasion as well.

I also remember your appearance in the show "Perpetuum mobile" on May 8, 2019, on your birthday, when you gave an interview to our colleague Gabriel Marica. The subject was the premiere presentation of the Concerto for Piano and Orchestra by George Enescu, together with the National Radio Orchestra, a great event. What memories do you keep in this regard?
Of course, full of emotion, because after many years of Enescu's passion, after the Enescu integral, the integral of the works for piano, I had the opportunity to record this Concerto for Piano and Orchestra, an unfinished concert, recently discovered, together with the wonderful National Radio Orchestra and it was a special moment that coincided with the 8th of May and your evocation gives me the opportunity to say that this year too, approximately on the same date, the official date is May 6th, 2022, my next album will be officially released by Hänssler, a double disc with the Concertos for Piano and Orchestra by Grieg and Enescu, along with other works for solo piano. So, again, the Enescu Concerto, but another version, together with the National Radio Orchestra, but this time under the direction of conductor Nicolae Moldoveanu.

Talent is a miracle, it transforms a dull reality into something much higher, it does good to those around you, not just to the person who possesses it. I notice that you have extended this aureole of fulfilled talent into the sphere of social as well. You are involved in countless humanitarian projects. You were called in the publication "Fanfare" in the United States of America, and I quote: "a social force with a vision that heals". A radio station is a good tool to make your projects known in this direction as well. Can you elaborate a little?
I am convinced that musicians have the opportunity, through their music, to get involved in as many humanitarian projects as possible and over the years I have had the chance to meet special and very generous people with whom I have been able to collaborate in charity concerts in England, in Austria, in Germany and thanks to these very special collaborations,with special people we were able to carry out such projects.

Something special, especially in this period that we are going through?
There are always new and new projects. Because the interview takes place on this March day, I can say that from my concerts held this month from the entrance tickets, a large part was donated to the Society "Doctors Without Border", to help in the current situation in Ukraine.

If this interview were seconded by music, what would you choose? Or to ask otherwise, if you were to make a gift to our listeners, what would it be?
I think, as you said, it's such a difficult time and after these hard years of the pandemic, I think we're all enjoying the coming of spring, and that's why I think it would fit a work that's especially dear to me. It is about "Frühlingsglaube" - "The Hope of Spring" by Schubert-Liszt.

A recommendation that you would also address to our listeners from your vast musical experience. A book that has marked you lately, an event?
Yes, an event is also related to George Enescu, because this year I have the privilege of publishing three discs, but I am still under the influence of the first discographic appearance this year. It is about a disc that was presented by Mrs. Cristina Comandașu, under the heading "Discs of the Year 2022". It is also a world premiere recording of a very beautiful work, Fantasy for piano and orchestra by George Enescu, which I recorded with the Radio Orchestra from Hanover and Peter Ruzicka, a conductor very well known to the Romanian public for his appearances in the George Enescu Festival, a great promoter of Enescu music at international level. I listen as often as I can and the transmission is so clear and I am very glad that you can listen all over the world to Radio România Musical. I wish him at this anniversary moment to keep his energy to continue giving to the listeners, as many hours of joy as possible, as many wonderful musical shows as possible, and for me it will always be a great honor and pleasure to collaborate with Radio România Muzical.
Interview by Marina Nedelcu
Translated by Beatrice-Andreea Porumb,
University of Bucharest, Faculty of Foreign Languages and Literatures, MTTLC, year I
Corrected by Silvia Petrescu