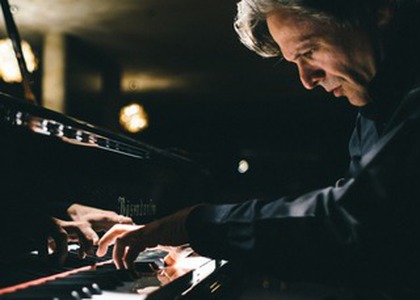 The director of the Romanian Cultural Institute in Berlin, pianist Cristian Niculescu, in dialogue with Gabriel Marica at Perpetuum Mobile
Thursday, 9 June 2022 , ora 9.55

My guest this week is the pianist Cristian Niculescu, who recently became the director of the Romanian Cultural Institute in Berlin. Thank you for this interview!
And I thank you!

Cristian Niculescu, congratulations on this appointment. Can I ask you what this challenge means for you?
I received with joy, but also with great responsibility, the directorship of the Romanian Cultural Institute in Berlin. For me it is only a continuation of what for over 20 years I have done here, in Berlin and in Germany - through the well-known Niculescu Studio, founded in 2000, which I had in an important cultural area of Berlin - that of artistic management. Romanian and international artists were invited to the Niculescu Studio who presented shows, exhibitions and participated in cultural interference.
Now, I was given the opportunity to be able to offer to all those who are interested in Romanian culture, in an officialized framework of the Romanian state, the most important landmarks between which the Romanian cultural life unfolds. It is necessary that all cultural fields are presented - literature, music, fine art, theater and film.
I want the Romanian Cultural Institute in Berlin to become a living and vibrant place again, a meeting place for all those interested in Romanian culture. It is a place I want to be reborn after the pandemic period that, for all of us, has meant an aside in our main activities. For artists - myself included in particular - mainly, a recovery of our work must follow, something that the art-loving public expects as a confirmation of the return to normality.

Your pianistic activity is well known in Germany, but also in Romania where you practically started your career and I can't help but remember the fact that you debuted in 1986 here, on the stage of the Radio Hall; if I'm not mistaken, in a concert of the National Radio Orchestra conducted by Iosif Conta. What memories connect you to that moment?
Of course it is a particularly emotional moment, which I keep alive in my memory. It is about a concert within the Mozart Integral that master Iosif Conta performed at that time with the National Radio Orchestra and it was a special concert in which I debuted with Dan Dediu and Aladar Racz, my school and college colleagues, namely in the Concerto in F major for three pianos and orchestra by Mozart. It was a very good debut that I think propelled all three of us to the moment on our career path.

You went to Germany after the revolution, but as far as I know, you did not plan to settle there. How did you happen to choose Germany though?
That's right, I did not plan and I can say that I did not choose Germany myself. After the Revolution, there were many possibilities and a lot of roads were opened. I think that, in the end, Germany chose me, if I may say so, namely through the pianist and professor Hans Leygraf, whom I met in Brussels and who invited me to continue my studies in Berlin, in his class.

You are a concertist and recital pianist, but also the founder of chamber bands in Paris and Berlin, made up, if I'm not mistaken, of Romanian artists. Isn't it?
Yes, in Paris, I founded in 2000 the Contempo Paris Ensemble, together with my colleagues from high school year - violinist Mihaela Smolean, cellist Radu Nagy, violist Teodor Coman. Mrs. Smolean and Mr. Coman live in Paris, they are both soloists in the national orchestras Radio France and the Radio France Philharmonic Orchestra. Radu Nagy was also a member of the Lipatti string quartet, which in America had a very beautiful career; have been winners in major competitions. And, returning to Europe, I founded with him not only the Ensemble Contempo, but also the Trio Dinu Lipatti - this time in Berlin. And the violinist of our trio was from the very beginning the famous Florin Paul.

You told us a little earlier about the Niculescu Studio, which has since become a true cultural hub, where several arts are currently meeting. But, you're also the artistic director of a festival, aren't you?
Yes, we are already at the XII edition of the Chamber Music Festival - Kammermusiktage Ahrenshoop - at the Baltic Sea, a festival that also in these years has become a reference point in the North German region. It takes place on the shores of the Baltic Sea, in a former colony of artists, which has existed for over 130 years, of plastic artists, of painters, and it is a very special place. This festival was also attended by renowned Romanian musicians, but also internationally known musicians such as, for example, my former teacher and mentor Dimitri Bashkirov, the great conductor Gerd Albrecht, also Elena Bashkirova and Mihaela Martin and cellists such as Franz Helmerson and conductor Lior Shambadal. just a few names to remember.

Going back to pianist Cristian Niculescu, are you passionate about a particular composer?
Passionate... I can say that I have always been of Bach's music, first of all, but also of Brahms and Schumann. But I feel the closest to Schumann musically and even personally. I can say that Schumann is my favorite composer.

But also explore the territory of contemporary music and we talk about this sound field during this period when the International Week of New Music is taking place in Romania - an event that you have participated in in the past years. We have evidence in the Radio archive, recordings of yours with works by Nicolae Brânduș and Pascal Bentoiu, among others. What are the arguments for approaching this area?
I approached contemporary music since my school years, my high school years. I think that, first of all, the influence of my teacher, Cristina Georgescu, one of the most famous teachers in Romania of that period, also a concert pianist, was important. Through Mrs. Georgescu I personally met composers such as, for example, Nicolae Brânduș or Cornel Țăranu, Dan Voiculescu and Octavian Nemescu (who was also my teacher), or Adrian Iorgulescu (who was also my teacher). Having access to a personal contact with these personalities of Romanian music and having the opportunity to work with these masters, I think it helped me a lot. I can say that there are even a few reference records. For example, concertul de Nicolae Brandus nr. 2, Dialogs, which I presented exactly at the International New Music Week in Bucharest in 2000, under the baton of master Corneliu Dumbrăveanu. This concert was recorded on the Radio with the National Orchestra under the baton of conductor Cristian Brancusi and I think it is a recording of great value for us, for the radio and for the Romanian culture.

You have mentioned several important names of Romanian music. You have a close connection with Romanian music, which you frequently promote in your recitals. I have in mind a project from two years ago, "Silvestri-Lipatti-Enescu", which you presented both in Germany and in Romania. How is Romanian music seen and heard in Germany?
Of course George Enescu is the most famous composer, but even Enescu was not so often in concert programs 30 years ago, when I came here. In recent years, it is much more sung. Outside the opera Oedipe, which was staged here by the great Gerd Friedrich by the Deutsche Oper Berlin. It was a decisive moment to bring Enescu on the big stages. Meanwhile, Enescu's work is being staged much more often. For example, just a few months ago he presented himself at the Komische Oper Berlin and at the Paris Opera.
And chamber music is increasingly present. The byte, for example, is played almost every season of berlin's big orchestras. I, personally, have sung on several occasions the Enescu Quintet with the members of the Berlin Philharmonic Orchestra.
Regarding the "Enescu-Lipatti-Silvestri" concert, this project started from the idea of presenting 3 Romanian composers of great value, who lived a large part of their lives in exile. This project was born in Berlin and then was presented at the Bucharest Philharmonic, even in a project organized by the Romanian Cultural Institute in Bucharest.
In addition to this project, we presented together with the "Constantin Silvestri" Foundation and the master Iosif Ion Prunner several events dedicated to Silvestri, among which, the most important was the commemoration of 50 years since the disappearance of the composer and conductor Constantin Silvestri. The concert took place in Berlin, at the Konzerthaus, and was presented at a small Enescu Festival in which the Third Symphony by Enescu was presented, the wand of master Vladimir Jurowski, as well as the premiere of the opera The Undead, begun by Enescu and finished by Cornel Taranu.
Many do not know that both Constantin Silvestri and Lipatti were composers. I found it very important to show the public the works of these composers on the stages of Germany, but also in Romania.

How are Romanian artists optimal there? You have been active in the German space for over 20 years and you know the pulse of your relationship with the audience there.
Romanian artists are very loved, very appreciated. There are more and more internationally recognized Romanian artists living and working in Germany and many of them in Berlin. Among the musicians I can mention, for example, the cellists Andrei Ionita or Valentin Răduțiu - both in Berlin, or the violinist Ioana Goicea, who is now in Vienna, but who also lived in Germany. There are many musicians who work in the major orchestras here. But on top of that, we have a lot of actors. For example, Sabin Tandrea, who is of Romanian origin and has become one of the best known and most beloved actors in Germany. Or Alexandra Maria Lara, who comes from a family of actors, is also a celebrity in Germany. There are also dancing artists; I would like to mention Sergiu Matis - a dancer and choreographer recognized on all meridians of the world, who also works in Berlin.
I can be glad that many of them have crossed the threshold of the Niculescu Studio during these years, some of them even debuting in my studio.

You have been decorated by the President of Romania, Mr. Klaus Johannis, with the Order of Cultural Merit in the Rank of Knight, music category, and I will quote a little from motivation: "Appreciation for the constant promotion of Romanian music and culture, for the involvement in the Romanian-German intercultural dialogue, as well as for the support given to the events organized in the Federal Republic of Germany." What did this decoration mean to you?
I was and still am very honored, very moved. It means a recognition not only of my activity as a musician, but also of that of a promoter of Romanian music and culture, which I have always done with all my heart and conviction. I can be proud that I was able to contribute to the propagation of Romanian music and culture.

Before concluding, with the hope that the position of director of the Romanian Cultural Institute in Berlin will not stop even temporarily your pianistic activity, I want you to tell us when and where you will be able to be seen on stage and if you are considering in this respect the audience in Romania?
My concert activity is not allowed to be interrupted, but probably in the next few months I will be less on stage to be able to start here the projects we have proposed, to carry them out by the end of the year. What I can say to the Romanian public in Bucharest is that this week, on May 28th, I will be present at the Dalles Hall, in a project realized together with the Silvestri Foundation and dedicated to Ion Luca Caragiale, on which we present a new aspect, namely "Caragiale -The Music Lover". An exhibition by historian Cristina Enășescu will also be presented, which will show the aspects of Caragiale's life in exile, from Berlin, and his love and interest in classical music, but also in café-concert music. We will have as a special guest the great Valentin Albeșteanu on violin.

I congratulate you on this very interesting project, in my opinion, and I wish you success inthis mission to support the Romanian culture in Germany and I hope that you will continue to contribute, in full, to the positive image of Romania beyond its borders.
Thank you very much!
Interview by Gabriel Marica
Translated by Beatrice-Andreea Porumb,
University of Bucharest, Faculty of Foreign Languages and Literatures, MTTLC, year I
Corrected by Silvia Petrescu