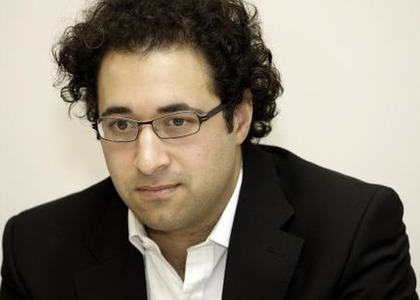 Interview with conductor Leo Hussain
Saturday, 1 October 2022 , ora 14.17

Thursday, June 2nd, and Friday, June 3rd, at 7:00 p.m., Symphony Orchestra and Philharmonic Choir "George Enescu" will perform two concerts under the baton of conductor Leo Hussain, with soloists Marta Sandu-Ofrim, Valentin Racoveanu, Iordache Basalic. The program will include the Symphony Mathis der Maler by Paul Hindemith and Carmina Burana by Carl Orff. Leo Hussain awardedan interview with Claudia Bistriceanu:

Four concerts in a week, wasn't it complicated?
I am glad to have the opportunity to work over the course of two weeks with my friends here and to create continuity.

Tell us a little about your relationship with the "George Enescu" Philharmonic Orchestra.
I was very honored to be their main guest conductor, because if I didn't like to work withthis orchestra, then I would not have accepted this position.

Tell us about your chosen program: Mozart and Sibelius, and tomorrow, June 2nd, Hindemith and Orff.
Exactly! I think these composers are doing very well together, and Vlad Stanculeasa is fantastic.
Mozart and Sibelius are often played together. Why? Because they are both composersincredibly talented, who write a beautiful music that has very deep things to say, beyondsurface. So they both work on two levels: you can listen to their beautiful, interesting musicor you can try to understand their emotional level, deeper. I love to say about Mozart, and it's the samefor Sibelius, that their music is like chess: it takes you half an hour to learn the rules, but you need a lifetime to really understand the game. So I think it's a very well-made programand that it is a pleasant challenge for the orchestra.

Then about Hindemith and Orff. Yes, it's about two major creations by composers. Germans, written in the 30s...
But these two composers couldn't be more different, in the same period of time, from a political, musical and the chosen subjectmanner. Hindemith's music was banned by the Nazis, the composer had many problems with the regime, he had to emigrate. Symphony Painter Mathis saysthe story of an artist who must remain idealistic, regardless of political constraints. Of coursethe Nazis didn't like that, it was against their ideology. It's an inspired music, it's religious nuances, but also ideological. And then we have Orff, to whom, everyone knows, it's about the pleasures of flesh, the wineand about dancing... So it's about two pieces of music that are in contrast, although they're composed in the same period of time. It's very interesting to put them in the mirror, I hope the program will workwell.

And what are the future projects?
On vacation I will take care of my little boy, then I go to London for a Tosca production at the English National Opera, then what's next? The following year is about a few more operas, America in the spring. Next... Obviously I will return to Bucharest, the date is not fixed, I hope it will be soon.

Thanks for the interview.
Interview by Claudia Bistriceanu
Translated by Beatrice-Andreea Porumb,
University of Bucharest, Faculty of Foreign Languages and Literatures, MTTLC, year I
Corrected by Silvia Petrescu