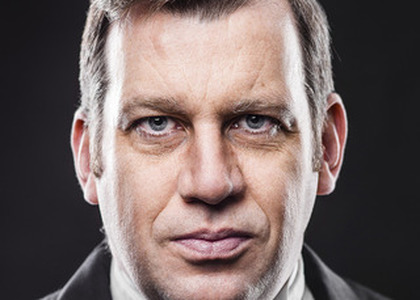 Interview with conductor Rumon Gamba
Friday, 14 October 2022 , ora 13.37

On Friday the 14th of October, the concert that opens a new season will be held on the Radio Hall's stage. Beginning from 7 pm the British conductor Rumon Gamba will lead the National Radio Orchestra, soloist of the night being cellist Răzvan Suma. The Cello Concert in B minor by Antonin Dvorak, and 'The Rite of Spring' by Igor Stravinski constitute the evening's program, about which we will find more from the orchestra's conductor, Rumon Gamba, in an interview made by Petre Fugaciu:

First of all, how did the rehearsals go?
It's always entertaining and captivating to rehearse The Rite of Spring, each orchestra has another feeling regarding the piece, and it's very pleasant to put my own stamp on this piece, which I have conducted many times. When talking about this piece, unfortunately, even if a single note is misplaced, it immediately becomes noticeable, but the rehearsals are going great.

At one time, I read that one of the reasons that Stravinski was able to write such a difficult piece for orchestra is the fact that the level of professionalism of the Parisian orchestra at the moment was sufficiently high. In that respect, could we say that the professional level of orchestras has risen, globally speaking?
I would certainly say that this piece is getting easier and easier. I conduct professional orchestras for 25 years, and during this time I noticed that this particular piece is performed better and better. There are some orchestras where you go and you barely have to rehearse this piece, because everything is already in its place. Therefore the battle from the old days is gone. I think that that's a pity, because music benefits from the sentiment that people fight in order to play it. It has this internal energy that can be released in this way.

Do you consider that the audience's perception has also changed?
I don't know. There was a time when I felt that it was played weekly, somewhere. I believe that too much familiarity it's not actually such a great thing, because it loses its power to shock and surprise. And this is what I try to do when conducting, to make it sound refreshing and new, as if it comes from the ground and sprouts something new. I think that the audience should still be very surprised by this work, even though it's over 100 years old. I'm sure that it was a challenge even for the conductor, but now all of them know this work very well, the students rehearse it, but this is not a substitute for the real deal. You have to be there with the orchestra; you can conduct it really well on your own or with the aid of the piano, but in order to make the orchestra dance on the right rhythm you don't use the same tactics as when you're alone in the room. And every orchestra has a distinct feeling to it. Then, from where I'm standing, on rehearsals you just have to find that common ground in which we can all move and dance together.

In addition to this work, the audience will be able to listen to the Cello Concert by Antonin Dvorak, with soloist Răzvan Suma. How do you feel about this approach?
I actually find it fascinating, but to be completely honest, I'm not really sure. I think that it's highly appealing to play a very romantic piece and then, after the break, maybe this song has an even bigger impact,crossing into another world, from this beautiful and heroic Cello Concert, to something completely different. So yes, in this respect, I see how it can work.



Translated by Georgiana Morozii,
University of Bucharest, Faculty of Foreign Languages and Literatures, MTTLC, year I
Corrected by Silvia Petrescu