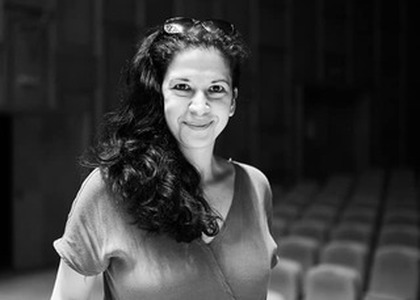 Interview with soprano Laura Tătulescu
Friday, 14 October 2022 , ora 13.40

Between October 14th - 24th, soprano Laura Tătulescu and the pianist and composer Ana Iulia Giurgiu-Bondue are holding the International Tour "Silence. Anatomy of the lied >9 perspectives". A tour organized by the Opus Association, within which the album recorded recently by the two musicians in the Radio România studios will be presented.
We learn more details from soprano Laura Tătulescu:

The time has come for the "Silence. Lied anatomy >9 perspectives" project to move to a new stage. In August, you recorded a disc with Romanian lieds together with the pianist and composer Ana Iulia Giurgiu-Bondue. These are works that, in general, have not been performed before - whether we are talking about older creations or works composed just for this project. The theme of these songs is silence, serenity.
Starting on Friday, October 14th, you will perform a tour that includes 4 recitals in which you will perform lieds found on this disc, as well as works in absolute first audition.
First of all, please tell us when and where the 4 recitals will take place?
Our tour starts on Friday, October 14th at 20:00 in Paris at the Théâtre Byzantine de l'Hôtel de Béhague, as part of the Rencontres Musicales Enesco Festival.
Then we travel to Germany, to Oldenburg; the next concert is at the Carl von Ossietzky University where, at the same time, we will also honor the composer Violeta Dinescu whose lied we recorded on disc, but we will also present other pieces for solo piano, and for voice and piano by her. We are happy to honor her.
Then, on October 19th, we will be in Iasi, at the "Henri Coandă" Hall of the Palace of Culture, from 5:00 p.m., as part of the Romanian Music Festival.
We end the tour in Bucharest, at the National University of Music, "George Enescu" hall, where it will be full of emotions because I was a student there and I haven't performed on that stage for many years - 17-18 years since I graduated ...

A recital that will take place on October 24th, at 7:00 p.m.
Exact.
As you said, we will present works from the disc, but also works composed especially for our tour, signed by Adina Dumitrescu and Cătălin Crețu, in addition to the lieds of George Enescu and Myriam Marbe, Theodor Grigoriu, Paul Constantinescu, Felicia Donceanu and so on - less known works, works for which we have done a lot of research, which we are happy to bring to the public.

It will be an unique program, except for the one in Germany, in which the composer Violeta Dinescu will also be celebrated? In the other recitals will you play the same program?
No. In each city we have a different program. There are many pieces that we have at each recital, but we will present Adina Dumitrescu's piece for the absolute premiere in Iași, Cătălin Crețu's piece we present for the absolute premiere in Paris. We also added a piece by the composer Ana Iulia Giurgiu-Bondue, Une voix de silence, and in Oldenburg there will be another piece by Mrs. Violeta Dinescu, Die Stille. We also added the song by Mrs. Carmen Petra Basacopol, Doamne, spune-mi! in Iași and Bucharest.
It's quite a diverse program in all the concerts.

There was a selection criterion so that when you decided together with Ana Iulia Giurgiu-Bondue what to sing each night you thought about the audience you would have, the fact that there could be a difference in perception between the public in France, Germany and Romania, respectively?
Not necessarily. We also took into account the fact that the beginning of the tour is right in Paris, since it is the Rencontres Musicales Enesco Festival, we wanted to bring Enescu's pieces, to highlight them. It was a general idea, from where the idea of ​​the album started, to highlight the Romanian music of well-known and, perhaps, less well-known composers, but less well-known music. We had an experience in Lille, me and Ana, where we had a recital at the opera and saw how beautiful and how well Romanian music in particular was received.

Photo credit: Andra Aron
Interview by Florica Jalbă
Translated by Denisa-Elena Cincă,
University of Bucharest, Faculty of Foreign Languages and Literatures, MTTLC, year I
Corrected by Silvia Petrescu