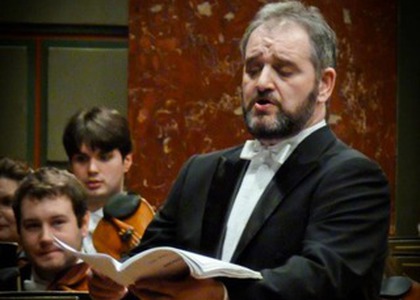 Interview with baritone Răzvan Georgescu
Monday, 17 October 2022 , ora 10.39

Wednesday, October 19th, starting with 7:00 P.M., a recital will take place at the Small Hall of the Romanian Athenaeum entitled "Arrested Art", dedicated to the music of the composers who suffered greatly during the communist period. The baritone Răzvan Georgescu will provide us more details, the one to whom the artistic concept belongs, in an interview offered for our colleague, Ioana Țintea.

Răzvan Georgescu, first of all I would like you to tell us about the idea of this artistic concept. Why "Arrested Art"?
This is an older project and it appeared at a time when I was very unhappy with the country's cultural life, the ignorance in which we have plunged and, sometimes, you feel the need to get some light from where it was. And as the light overcomes darkness and darkness didn't overcome it, then I decided that we have to reorient our preferences towards the ones who brought light to Romanian culture. And we decided for four composers - of course, ones of the greatest - who put in an extreme amount of work into Romanian culture and were persecuted by the security.
We feel it's our duty, as professional performers, to bring them back in the memory of the spectators because we have a lot to learn from them, they laid the foundations of Romanian music, that's where we need to get our inspiration from.

How is the music program structured and what are the criteria on the basis of which you have selected the works?
We focused on four composers persecuted by the security, as I said - George Enescu, Paul Constantinescu, Mihail Jora and Dan Mizrahi. We searched for works which were less performed before and in our opinion we came up with one very attractive program. We will have lieds, arias from operas, romances… a very varied program.

Who are the protagonists of the recital and how did you choose them?
This recital, in fact, is part of a series recently inaugurated by the new manager of the philharmonic, in which the philharmonic musicians present themselves to the public. So the four performers are the soprano Cristina Vasilache, mezzo soprano Geanina Munteanu, bass Ștefan Lamatic and me, baritone Răzvan Georgescu and we are accompanied by our friend, Iulia Olteanu.

How do you see the importance of involving the institution's artists in this new project?
I consider it to be a welcomed project because in recent years the "George Enescu" Philharmonic was overshadowed in Bucharest's cultural world and now we are slowly starting to come out into the light. These concerts are very much welcomed because we can perform in front of our public and maybe this way the philharmonic will be placed in a better cultural spot.
Interview by Ioana Țintea
Translated by Ioana Negrea,
University of Bucharest, Faculty of Foreign Languages and Literatures, MTTLC, year II
Corrected by Silvia Petrescu