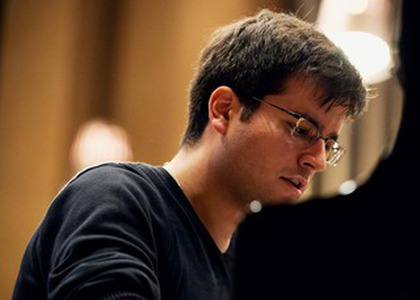 Interview with pianist Florian Mitrea
Tuesday, 25 October 2022 , ora 12.16

On October 23rd, the Romanian Athenaeum will host the piano duo recital that closes the third edition of the "Majura" Duo Festival.We''ll find out details about the evening's programme from pianist Florian Mitrea.

Mr Florian Mitrea, on October 23rd you will perform the recital with pianist Alexandra Văduva. What new elements are included in the chosen programme?
We proposed a thematic program.
In the first part of the concert we proposed works from the national school repertoire, in fact. We start, somewhat without a starting point, with Gershwin - a Ukrainian Jew who emigrated to the United States and who composed in a very mixed style, inspired of course by the jazz that was echoing in the streets of America. We then continue in Eastern Europe - somehow Gershwin makes a link across the ocean between America and Eastern Europe - with Constantin Silvestri and his Dances from Transylvania for piano 4 hands. (For us, Silvestri is a very important figure, because he, as we well know, has had an important career right here in England, where Alexandra and I have been based for a very long time.) And we end this national school repertoire with Ravel's Spanish Rhapsody - a French composer, but of Spanish origin. He says himself that his parents met in Madrid and that he owes Madrid his very life.
We open part two with a work also from British culture. This is Jupiter from Gustav Golst's Suite of Planets, which we certainly know in orchestral form, but it was originally composed for 2 pianos. And we finish with probably the best work for 2 pianos and certainly our favourite work - Rahmaninov's 2nd Suite for 2 pianos.

What were the most important aspects you had in mind during rehearsals?
The rehearsals went very smoothly. We've been playing together for a long time, we've known each other for a long time, and when you match in personality with your partner the rehearsal is a pleasure. I can't say that we focused on one particular aspect; we just focused on the music. It's like working on a solo piece, except, as I like to say, when you play as a duo you basically have a double capacity to make music the right way and... it was a pleasure.

The piano duo is not such a common chamber formula on Romanian stages. So, what are attraction points that recommend a piano duo formula?
First of all, the fantastic repertoire that has been dedicated to this group. Let's start with Rahmaninov, whom we've told you we like very much: he loved to put two pianists together, if we think of the first works for piano 4 hands, the pieces op.11, for example. Later, when Tchaikovsky had composed the ''Sleeping Beauty'' and the ''Nutcracker'', he was dissatisfied with the orchestral works and somehow, in order to be commercially successful, he thought of transposing them to 4-hand piano and asked the young Rahmaninov - who was a student and had a cult of Tchaikovsky - to compose them for piano duets. So there you have it, an example of fantastic transcriptions for piano duets. And the repertoire list goes on with both original works and fantastic transcriptions. It's a great world that's basically at everyone's fingertips when you have this piano duet ensemble, 4 hands or 2 pianos. Of course, another aspect that makes this band very appealing is the very interaction between two pianists. It's the same as the interaction between two sopranos or the interaction between two violinists. What's more, if you think of the piano as a mini-orchestra in itself, you practically have two orchestras on stage at the same time, and the result is fantastic both aurally and emotionally.
Interview by Norela Liviana Costea
Translated by Andreea-Iulia Ciucă,
University of Bucharest, Faculty of Foreign Languages and Literatures, MTTLC, year I
Corrected by Silvia Petrescu