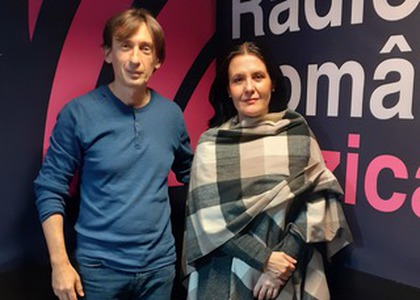 Pianist Raluca Știrbăț, the guest of the week at Perpetuum Mobile, in dialogue with Gabriel Marica
Monday, 31 October 2022 , ora 10.31

My guest tonight is the pianist Raluca Știrbăț. Good evening! Thank you for being here!
Good evening and thank you for the invitation!

Raluca Știrbăț, you tied your name- honored, I would say, to George Enescu's. In your work, there are several arguments that can justify this statement, and one of the newest is the recently released book, dedicated to the pianistic work of George Enescu. Can you tell us what it is about?
With great pleasure. This book too, as my other Enescian creations, arose absolutely natural, emerged from a personal necessity, an interior one, and from the wish to help, to offer support to my pianist colleagues, musicians and not only, younger or not, because this collosus is still not enough, still not completely discovered- George Enescu- he requires a great deal of time, a great amount of energy and plenty of acquired experience. I was thinking that I could probably share some of what I've lived through my Enescian journy.
Can this book be considered the complete end of a project started in 2015?
My first Enescian disks were recorded since 2011, 2013 at Gramola House from Viena. After that, of course, I have always wanted to realize this concerto; and I have done it in 2015, on a disk, in Germany at Hanssler Classic, on three disks, with unique works that have never been played and with some very interesting discoveries. And the book that was just published is, in fact, a revised version, with reviews and additions that were logical after eight years, given the fcat that the my first version was my Ph. D thesis from 2014.

After this book, some of the interpretations from 2015 would be performed in the same way?
Even after a months some changes may occur and Thank Gog they do, because if it wasn't the case, it would mean that there is no progress made and, after all, there should be no stagnation in music, there is a way up and a way down... far as I'm concerned. I continued next, speaking of the circularity of the projects, since work never ends when it comes to Enescu and a life may not be enough, especially in the case of pianists. I realized in 2019-2020- the disk was printed in 2019, but i was not out until 2022 because of the pandemic- the cello and piano concerto, with the Austrian violonist Rudolf Leopold and... I hope other will come. He wrote enough for the piano, thankfully.

I have to remember all that your propensity to Enescu has other implications too. I am thinking about"George Enescu" International Society from Vienna, whose founder you are. And, not least, about this tenacious cultural activism…
How beautiful it sounds. It reminds me of the old times…

I don't know, I think it is a very important thing, you were part of the project trying to restore Enescu's house in Mihăileni...
I triggered it, actually, if I may say this. I triggered it and it was a long-term project, it was difficult, because it was done exclusionary with the help of people and private organizations. Unfortunately, the state did not support us. But we are talking about a happy end, about masterclasses and concerts that are being organized for the third year in a row and thing will continue and develop, I hope.

That means Mihăileni is a lively, cultural place, not only a preservation of a building.
Indeed, it is not juns an old, dusty mujseum, as we have plenty of them in Romania. And, allow me to add, Radio România Muzical played an important role in this campaign, because it was among the first, if not the first radio station that has constantly supported us from the beginning, from 2013.

And since we are talking about Enescu, we cannot forget about Pascal Bentoiu, the maestro who is considered to have understood the best the creation of George Enescu, which he thoroughly analysed and, in the light of it, he has contributed to some opposites that have not been finished by the composer. You translated a book by Pascal Bentoiu in German.What is it about and how was it embraced abroad?
It is not a book, it is the Book, with capital B. It is about "Capodoperele Enesciene" which have been my dream and my fish since forever, because a the time, in the german space-Austria, Germany, Switzerland- there was not a single or at least not a single literery work abput George Enescu. Maestro Bentoiu did not really believe me when I told him what I intend to do. I still managed and it was a titanic effort, especially given the fact that these projects overlapped: the concerto on the disk, the translation and the editing og Enescu's scores. But somehow I made it and it is a starting point, it is a dictory every foreign musician needs. For Enescu and not only for him, for every great composer of the 2oth century, you need some help, some support and I am very glad I did it. This was not long before, even one month or two before thephysical disappearance of maestro Bentoiu and, when I showed it to him, he was very happy, particularly since he was a great German speaker and this translantion ment a lot for him.

I propose we close the subject regardin Enescu with maestro Bentoiu's words.
It couldn't have been better1?
" Bearing all its features, the creation of George Enescu radically resits the restless, anxious, hysterical rush that has engulfed humanity, especially in the second part of the 2oth century. The work of the great Romanian composer seems to be a patient, but imperious call for the regaining of a more natural, humanizing time of our inner life. Nothing from Enescu fits with crowding,withthe stedily dirt, with the sordid and promiscuity of out tomes. He calld for something else, for the regaining of the serenity, for the sacrement for beauty. And if our rushing and hysterical contemporaneity hardly understands the Enescian message, it is maybe because it has chosen the path of annihilation, the path of immersion into nothingness." -Pascal Bentoiu

These words are covered in Enescian knowledge!
It is very touching for me that I had the great chance... even though I am not a composer, however, I still could be around the maestro and untagle togheter the "enescian haze", as he liked to say. My biggest regret, speaking of the concert this Friday, when I will perfom Concerto No. 1 by Pascal Bentoiu, is that he is no longer pshysically with us.
I wished to play the concerto a few yeqars ago, but, again, some project overlapped and back then, somehow, I had a choice. For me it was more important to have him around while I was translating the book. And... yes... I hope now that from somewhere, from up there, he is pleased with my work.
It a completey exceptional concert. Basically, it is the second concert from romanian musical literature- the first was around '52-'53, the one of Paul Constantinescu, which I love, it is brilliant, wonderful, but a bit too quietly, a bit too traditional...
This concert, written in '54 by young Bentoiu, only 27 at that time, is a fantastic melange of a modern writting, yet not intimidating. Even the audience less acquainted with moder music can enjoy it. It is a brilliant concert, that combines modalism from the Romanian folklore with jazz sonorities, jazz and jazz band culours... an excellent music.
We invite the audience to join us and to be curious, because they will have an extraordinary surprise. The orchestra was admirable! We had today our first rehearsal. I am very gald that we had maestro Gheorghe Costin, with who we haven't played before, as a conductor, and I am gald that we recconected within this costellation, because he is the ideal partener for this kind of music and not only.
This concert hasn't been performed in Romania for centuries, for reasons completely incomprehensible for me, and it is simply a pity. I hope other pianists will be interested in this concert and will incorporate it in their repertoire.

And you will performe it for a special occasion. It a concert dedicated to Radio Romania Day, a concert with National Radio Orchestra and we must say, and remeber the audience, that Pascal Bentoiu studied the composition of Mihail Jora, and Mihail Jora was, actually, the founder of the Radio Symphony Orchestra, now called National Radio Orchestra.
And something else! Yesterday, on 25th of October, we have celebrated 137 years from the first audition of Symphony No. 4 by Johannes Brahms, whic will be performed in the second part of the concert.
That's right. So, the audience will have both something new and something old.... during the cooncert by Bentoiu, and even regardin Brahms, there are several "lue hearts"... something for everyone.

Raluca Știrbăț, what project you have in mind after the concert on Friday?
After the concert on Friday, I am going back to Vienna, after which I will come back to Romania, because, meanwhile, I am happy and honored to say that I work as Ph.D Associate professor at the University of Arts "George Enescu" from Iași.

Congratulations!
I am very proud! Because, again, it's working with young people, which fulfills me very much and I hope to make good thigs in this direction. Afterwards, on the International Day of Romania, I will perform againg with maestro Costin, in Timișoara, this time- The Concerto by Bentoiu. Thay saying... now we know it! (laughing). I have performed it already a few years ago in Iași with Moldova Philharmonic. There's more to come. Unfortunately, a tour in Japan and the masterclasses have been canceled because Covid. It seems that there were bigger concerns, but they will be rescheduled.

So, ladies and gentlemen, we invite you, on 28th of October, from 7 p.m., at the Radio Hall, to a special concert devoted to Radio România Day. The soloist will be Raluca Știrbăț, in a Bentoiu-Brahms programme.
Raluca Știrbăț, I wish you the best of luck for Friday and I hope you will further have artistic project that will delioght as many melomans as possible.
Thank you and it was a great pelasure to be here!
Interview by Gabriel Marica
Translated by Andreea-Cristiana Petrescu,
University of Bucharest, Faculty of Foreign Languages and Literatures, MTTLC, year I
Corrected by Silvia Petrescu