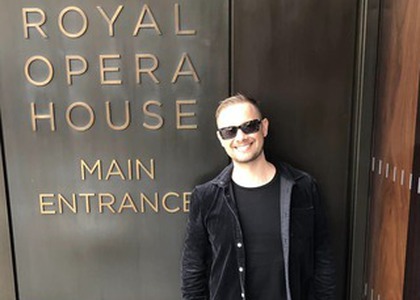 Interview with bass-baritone Zoltan Nagy
Wednesday, 2 November 2022 , ora 9.38

On Wednesday the 2nd of November 2022, on the stage of the Covent Garden Royal Opera House in London, there will be a performance of Giacomo Puccini's work "Boema", with four Romanian vocalists - tenor Ștefan Pop, baritone Bogdan Baciu, soprano Simona Mihai and bass-baritone Zoltan Nagy. In the same formula, the Romanian musicians will also be performing on the 7th, 13th, 15th and 17th of November.
This is his first collaboration with the London Royal Opera, and bass-baritone Zoltan Nagy has given us more details:
Four Romanian vocalists, three of whom are graduates of the Gheorghe Dima National Music Academy in Cluj-Napoca, are part of the cast of Giacomo Puccini's "Boema" on Wednesday evening at Covent Garden. Ștefan Pop as Rodolfo, Bogdan Baciu as Marcello, Simona Mihai as Musetta and you as Schaunard.

This is going to be a special moment for you, as it's your first collaboration with London opera. How do you feel about this debut?
I'm surrounded by the same emotions I've felt singing at the Sala Radio in Bucharest, for example, or in other theatres around the world. However, this debut is very special not only because the Royal Opera House is one of the most prestigious theatres in the world. I've been training in a familiar cast, among former college colleagues, friends with whom I've often appeared on stage. Out of a cast of six vocalists, four are from Romania; not unusual in Europe, but indeed unheard of in London. I feel very comfortable in this group of friends. From Vienna to Bolshoi, I have performed in many prestigious theatres over the last 15 years, but I'm going to dedicate this debut to my mentors, the people who believed in me and supported me. I would like to start with Mariana Nicolesco, whose recent death has left a deep impression on me. Then Boris Bakow, Virginia Zeani - who celebrated her beautiful 97th birthday on the 21st of October. Last but not least, I dedicate this debut to my first teacher at the Gheorghe Dima Music Academy in Cluj, the late Gheorghe Roșu.
I hope that the Romanian public will also watch this ensemble of vocalists at home - in Cluj, in Bucharest, on other stages in the country.

What are rehearsals like? From what I've seen on the opera's website, you are going to have 5 performances, but not all with the same conductor.
Schaunard is a role I have performed in about 10 different productions - Robert Carsen's in Antwerp, Peter Konwitschny's in Leipzig, Maurizio Scaparro's in Nice and Damiano Michieletto's famous Salzburg production. So I came to London with a lot of experience regarding this opera, this role that I've performed over 100 times.
Rehearsals are intense, although Richard Jones' staging is a quasi-traditional one. It's full of movement, the choreography is very precise, and it all happens in a relatively tight space, the set rendering that attic - the turn-of-the-century Parisian attic where the action of Act I and Act IV, respectively, takes place.
With respect to music, Kevin John Edusei is a blessing for this debut. He is a fine, flexible musician who has the ability and willingness even to breathe with us. The final performance will be conducted by Paul Wynne Griffiths, who is practically a permanent house conductor, and a musician of vast experience himself.

Please also let us know who the vocalists who complete the cast are.
Mimi will be played by Anna Princeva - a Russian-born soprano with a round and very sonorous voice who has sung in this production before, and Colline is the younger Slovak bass Peter Kellner, whom I have known for many years, a pupil of my former teacher at the Mozarteum University in Salzburg, the late Boris Bakow. He is also a friend; we have known each other from Salzburg, and then spent a lot of time together in Vienna.

After this period, what does your agenda for the current season include?
After London, there will be to be a production of Prokofiev's "The Love of Three Oranges in Berlin", where I'll stay until February. After that, I've got a secular work by Schumann, "Das Paradies und die Peri" with the Robert Schumann Philharmonic, happenning in Germany as well. Then I will debut as Fritz Kothner in the Wagnerian masterpiece "Die Meistersinger von Nürnberg" in Budapest.
So I won't be bored this season either, thankfully!
Interview by Florica Jalbă
Translated by Oana Ionescu,
University of Bucharest, Faculty of Foreign Languages and Literatures, MTTLC, year I
Corrected by Silvia Petrescu