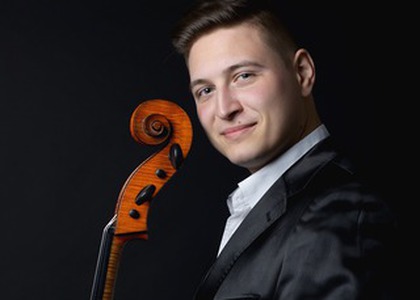 Interview with cellist Ștefan Cazacu
Monday, 7 November 2022 , ora 10.11

On Friday, November 4th, the Radio streams a concert whose soloist is cellist Ștefan Cazacu. Here's more information given by the young cellist in an interview with Ioana Țintea.

Dear Ștefan Cazacu, how did you personally receive the invitation to play this Radio season?
It was a privilege for me to receive a phone call from leadership to invite me to play alongside the Radio National Orchestra, and I hope we have an amazing time. We would like the public to go through an authentic experience, with real emotions, as we will play some of my favorite concerts of Tchaikovsky's works. I hope everythingg goes incredibly well.

I know this is not your first collaboration with the Radio National Orchestra. What memories do you have of the ensemble?
Taking into account that there will be the National as well as the Chamber concerts, I think my first concert was in collaboration with the Chamber Orchestra in 2017, and we've kept our collaboration ever since; its progress as an orchestra has been incredible and they're performance has always been at a high level.

On November 4th, you will play Variations on a Rococo Theme by Pyotr Ilyich Tchaikovsky. What's the significance of this contrasting aspect and how does it fit within your repertoire?
It's the concert I love the most. I've played it more than 70 times, I can't even keep the score anymore, and I believe I've reached a maturity which allows me to say that I very much enjoy my interpretation of this concert. I've played it in various locations (at the Radio, Athenaeum, in Romania, abroad) and each time I start to prepare for it, I discover new things and come up with new ideas.

Have you collaborated before with British conductor Rumon Gamba?
No, I haven't. This will be my first. I met him three weeks ago when he conducted Răzvan Suma at the Radio Hall. From the 5 minutes we interacted back then, he seemed to me like a very determined man.

After your concert on November 4th, what will your agenda look like?
I won't have a lot of free time. On the 6th I sing alongside Arcadia Quartet and its guests at the Romanian Athenaeum; we will play Mendelssohn's Octet and George Enescu's Octet. After that I will go on tour with Alexandra Tomescu and Sânziana Mircea across Romania, and we will play Dan Popescu's works. I will perform at two other orchestra concerts in December: the first will take place on the 8th in Oradea, where my father will join me on the stage, and the second one on the 17th in Craiova.
Interview by Ioana Țintea
Translated by Denisa Stanciu,
University of Bucharest, Faculty of Foreign Languages and Literatures, MTTLC, year I
Corrected by Silvia Petrescu