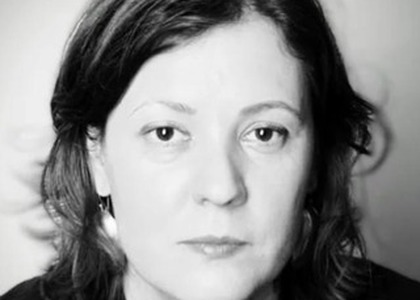 Interview with pianist Adriana Toacsen
Tuesday, 8 November 2022 , ora 14.12

For the first time, the "Meridian" Festival also reaches the public in Ploiești. Besides the surprise of discovering things never heard before, what "filters" should a listener come "equipped" with to your recital on November 13th, from the "Paul Constantinescu" Philharmonic, Adriana Toacsen?
Yes, you are right. It is a wonderful surprise that the "Paul Constantinescu" Philharmonic decided tobe part of the Atlas Map of the "Meridian" International Festival. It is an open door to the inhabitants of a city that has a sought-after philharmonic, with an arts high school that has always had graduates who later became renowned professionals, an important music competition and a jazz festival that has already reached its 17th edition! This expansion into contemporary music was clearly only a matter of time before it came to fruition! I think the first filter is lack preconceptions! Contemporary music is a free spirit that needs unconditional support and trust in everyone involved: composer, performer and listener! Secondly, I think another necessary filter is the courage to look towards us and to recognize the feelings and reactions generated by the contemporary and to accept and analyse them with interest. There are no right or wrong impressions, only the response of each intellect to the stimuli to which it has been exposed. Contemporary art must be tasted! I invite the audience to take a journey through time, through many eras. All they need to have is curiosity and enjoyment.

The songs you have chosen fall into the "New Music" category, but have the "classical" element in common. Of course, we can think about the criteria for their choice, but what do these works look like from your "laboratory" of interpretation?
I'm so happy for this question! Yes, obviously, the program was built in such a way as to give pleasure to those who have never been to the concert hall and to those who may not have had the opportunity to hear contemporary music, but also to those who are passionate about new times. The fact that there are works that quote "famous" compositions pushes me to do something that gives me more and more pleasure in recent years, to talk to the public! I thought of the recital as a performance. You won't trick me into revealing too much, but I assure you that we will talk, that not only through music I will embody several characters and that some people from the audience will even reach the stage at some point! Besides, at the end I'm waiting for an epilogue where we can talk, whether they're musicians or not. Let's get to know each other! I promise to answer any question and keep any point of view in mind to see how it can be translated into positive energy on stage. Otherwise, musically speaking it's such a nice challenge to look into such pieces, works that have (all) obvious origins in music created several hundred years ago and yet are contemporary! It is a mission perhaps even more difficult than in the case of those not inspired by themes already composed, because you are unwittingly influenced by the work that is the basis of the scaffolding! To be honest, I think that's what it isdesired. For reasons I cannot yet articulate, the contemporary creator is more relaxed and less virulent about the past and more focused on the present and the future. What's most endearing, in my opinion, is that at least in these compositions the creators look fondly on the respective quotes. Perhaps it is about a hand extended to the past, a valorisation of it and an attempt to demonstrate that true values ​​are not antagonistic either at least hundreds of years away!

It is no secret that you are one of those performers who, being always around the music written by our contemporary composers, have come to love it and want to make it understood by audiences of all ages. Is the piano - so familiar to all music lovers - an instrument that facilitates the transmission of new music? Do we find in his stamp the elements that facilitate the transition from classic to contemporary?
I don't know if the piano is the ultimate instrument or not…For me it is, yes! It is not easy either to compose new music for him or to perform it! But yes, I think it has some undeniable advantages: a range greater than 7 octaves, the physical robustness of the instrument (if you come on Sunday you will understand what I'm talking about) and the fact that over time I think it has become the instrument of scene with the widest repertoire makes him to advertisements rightfully present on the stages concert.

And also next weekend, on November 12th and 13th, you will resume a show for children who know you are very dear of. The story of "Babar", the little elephant to music by Francis Poulenc, at the Romanian Order of Architects. The tickets are already sold out, but I can't help but ask you what is the history and what is the future of this show, as far as you are concerned?
I discovered Babar's Story, in its musical version, on the occasion of Poulenc's birthday in 2013. I was invited to give a Poulenc recital. Unfortunately in our country it is not often performed in recitals, so I had to do some research work for the repertoire. And I noticed that there was this story in Poulenc's list of compositions and listened to it. I fell in love instantly! Then it was even easier. The following year I became a mother and as time went on I started to map out my children's musical needs. That's how I ended up having the Musical Stories on my "short list". Children have fantastic potential because they don't have preconceived ideas and I think we need to allow them access to culture and art as early as possible. I don't think it's tragic if a child doesn't manage to stay until the end of a cultural event. However short it was, I am convinced that next time it will be longer. I also think that it is important not to try to trick them, not to "sell" their art with/in any packaging... I believe that quality, trust and truth should never be discounted.
Interview by Monica Isacescu
Translated by Beatrice Porumb,
University of Bucharest, Faculty of Foreign Languages and Literatures, MTTLC, year II
Corrected by Silvia Petrescu