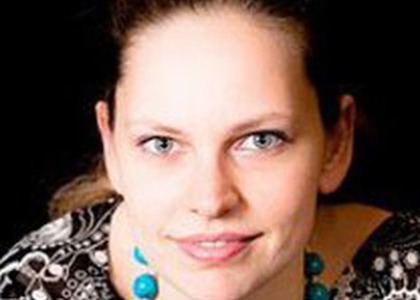 Interview with Simona Strungaru, Radio Big Band conductor
Wednesday, 9 November 2022 , ora 16.04

Unique concert on the Radio Hall stage. Radio Big Band and special guest Alice Francis will perform through music, dancing and video projections on Thursday at 7 pm. More details given by Radio Big Band conductor, Simona Strungaru, in an interview lead by Viorel Grecu.

To begin with, please tell me a little bit about Thursday night's special guest, Alice Francis, who's coming here from Germany.
Alice Francis is a singer with great musical skills, half-Romanian, half-Tanzanian, who lives in Germany and sings regularly with her band, named after her. She is both a singer and an actress. This year she has even been nominated for an important music award in Germany, for having signed the soundtracks of a major series aired in Germany. At this concert that we will hold in collaboration, she will advertise her third album, released this year, which is called Club Noir and finds its inspiration in the Hollywood black and white movies.

As far as I know, she will bring her band on Thursday night. There will be unique arrangements, basically an electro-swing concert.
Yes, this is a unique concert because there has never been such a combination of electro and Big Band music in our country, and on top of that, Alice and her band are coming, as well as Martin Gruca, Chul-Min Yoo and Alexander Bisch. The arrangements for Big Band have been signed by myself and trombonist Florian Radu, who is a member of the Radio National Orchestra and collaborator of Radio Big Band.

The concert will be a combination of electronic beasts and orchestral jazz in Big Band style.
Yes. Beside this musical combination, there will also be dancers from the Jazz Roots dance company in Bucharest, who follow the style of Lindy Hop and swing and who will hold a great, unique concert and show.

It will be a much more complex concert as usually, which will include not only music, but also dancing.
And video mapping, conducted by sketcher Ioana Halunga.

More concisely, a multimedia experience. This will be your second concert alongside Radio Big Band. What is your feedback after your first experience at The Magic of Chick Corea show. How did you connect with the audience and your orchestra colleagues?
Connecting with my colleagues was an enriching experience, very pleasant; it was something I felt since our first rehearsal. It is a great joy to be working with such professionists, nonconformists; you have something to learn from each of them. They not only interpret written music sheets, but they also improvise, and the soloist contribution and the vision that has taken shape im each of them is vital to the entire Big Band sound.

You had a great audience, the Hall was full.
Yes. We were overjoyed to see so many attendees in the room and how the audience reacted to the concert, to this tribute given to the great Chick Corea. It matched our spiritual and musical investment. We are very happy to have held this concert and especially to have had the audience listen to maestro George Natsis, the main soloist of the concert, whose dedication was shown by his singing.
Interview by Viorel Grecu
Translated by Denisa Stanciu,
University of Bucharest, Faculty of Foreign Languages and Literatures, MTTLC, year I
Corrected by Silvia Petrescu