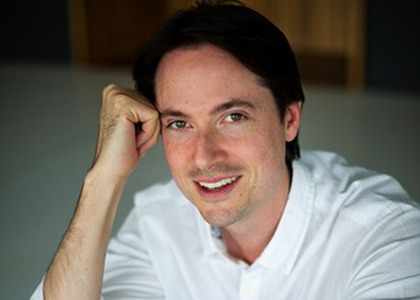 Interview with conductor Leo McFall
Monday, 14 November 2022 , ora 10.39

On Wednesday, November 9th, Alexandra Silocea and the Radio Chamber Orchestra perform under Leo McFall's baton in a concert with a program by Wolfgang Amadeus Mozart and Ludwig van Beethoven. We learn more details about it from the conductor of the evening.

How have the rehearsals been so far?
They've been really lovely, there's a lot of energy and we have a great schedule, so it's amazing to be able to work on the music that we have. There is immense energy and will to perform.

Today is the first rehearsal with the soloist?
Indeed, we played this concert together in Finland so we are acquainted, but that was four years ago already. It was a very spectacular concert, I like working with her, she is an amazing artist!

Tell us a little bit more about the program.
We had, as you know, a change of program. Now we will have a Mozart concert instead of a Schumann concert, so the first part is entirely dedicated to Mozart and the second one is dedicated to Beethoven. These two are always connected songwriters and they go well together.

You also have ballet music at Idomeneo. How will it fit with the concert performance?
It is, in a way, a performance piece by Mozart, which is 11-12 minutes long, like an artifice. This piece is not usually performed in full opera representations simply because of lack of time. Nevertheless, it works as a separate orchestral piece of virtuosity. It's very difficult, extraordinary, like a rocket, towards the end.

Translated by Ioana Negrea,
University of Bucharest, Faculty of Foreign Languages and Literatures, MTTLC, year II
Corrected by Silvia Petrescu