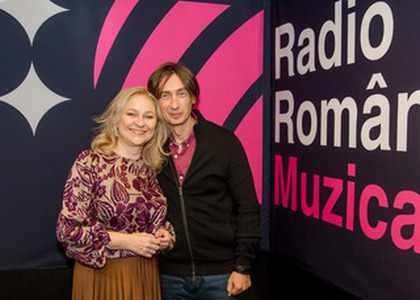 The guest of the week at Perpetuum Mobile, mezzosoprano Ruxandra Donose talking with Gabriel Marica
Tuesday, 15 November 2022 , ora 15.04

Today we're having a great show, first of all because I'm joined in the studio by a very beautiful lady, an admired artist not only on the prestigious stages of the world, but also on the Romanian ones, mezzosoprano Ruxandra Donose. Welcome, thank you for coming.
It's good to see you and thank you for inviting me.

I don't know if you've ever been in this studio before, but I know that you have performed multiple times at the Radio Hall. I'd like to ask you what memories you have of Radio România and, consequently, of Radio România Muzical.
I first set foot in this institution when I was a small child, because my father, Vasile Donose, was chief editor at the Music Department and the Cultural Department, and I've also been a spectator at the concert hall of the radio station from an early age. I made my debut as pianist. I was a piano student at the George Enescu National College of Music and I played the piano in a Perpetuum Mobile concert conducted by Iosif Conta. So, I am absolutely delighted by this perpetuation, this sequel. I've performed in a whole lot of concerts here; I've made a lot of recordings and I've given interviews. Without any exaggeration on my part, to me it is one of the closest and dearest institutions from Romania.

You have recently performed at the Romanian Athenaeum during the "Duo Majura" International Festival and this week you are coming back to the Romanian National Opera, Bucharest for an opera. How does it feel performing on a Romanian stage?
I've said this countless times. When I come back to Romania, first of all I feel very happy and second of all very nervous, because the home audience is the most special one, the audience I care the most about. I am not a foreigner here, I am surrounded by my friends, my former teachers, the world I grew up in and I am hard on myself when I have to perform in front of the Romanian audience.

Is excitement high?
Yes, without a doubt.

On Saturday, November 12th, you've been invited by the Romanian National Opera in Bucharest, as I said earlier, in order to be part of the cast of the Aida opera by Verdi, a sold-out performance in which you will play the part of princess Amneris. How do you see or feel this character?
I think that I always find a small way into my heart, my personality, my temperament for every character, because this seems to me the only way in which I can portray a credible character. I think that, in general, with very few exceptions that I won't get into right now, there is no wholly bad person or character in this world. Although Amneris could pass as an antagonist in Aida, same as princess Eboli from the Don Carlo opera that I've also sung, they are both people who make mistakes that they afterwards really regret. I'd like to play a humane Amneris, with fits of jealousy, one who suffers and regrets, is proud, even impatient, impulsive, but humane at the same time. In short, I want to stay away from cliches.

Speaking of roles, overall, what would be the role that is closest to your heart?
I usually answer this question with the name of the character I'm currently playing, because there are a lot of roles I really love. Let me just quickly say two or three: apart from Carmen, that I've performed countless times, there's Charlotte from Werther by Massenet, the composer from Ariadna auf Naxos by Richard Strauss, and, of course, Eboli from Don Carlo and now there's also Amneris.

What roles would you have liked to play and haven't had the chance to yet? I know there are some roles you would have liked to play and I say play, not sing, because the latter seems incomplete. I'm thinking they must be Violetta, Tosca or Salome, but they are not written for your voice.
Yes, yes. You've named the very three amazing roles that I honestly regret not being able to sing. Violetta Valery from Traviata is the role that brought me closer to the opera by listening to a wonderful recording that, to this day, I consider the most beautiful one from the Deutsche Grammophon conducted by Claus Kleiber, with Ileana Cotrubaș playing Violetta Valery, Placido Domingo and Sherrill Milnes. That recording taught me, as it was, on a big LP, what opera meant, how much emotion it could bring and how important the words were. I would sit and cry while listening to it and I realized that there was so much more to opera than its music. This is why I like it when you say "play" and there's nothing false in this expression.

The staging of the Saturday show was done by the Bulgarian director Plamen Kartalov, the kind of staging that comes close to the great traditional staging of opera. I want to ask you whether the traditional staging is more up your alley or do you feel just as comfortable in those experimental performances that try to modernize the plot of the opera?
I feel comfortable in all the productions that attempt to honor that particular opera, the music and its subject in a delicate and respectful way. I don't have anything against those productions which attempt to find a new way of reading a particular score of operas in general, with the exception of historical operas, which strictly speaking, you cannot alter, but even in those, history repeats itself, there are great truths being shown, general accepted truths, and what is essential is to grasp them, understand and represent them. If for this purpose we need to bring the plot closer to our times, I don't have anything against that, but we must do it with this idea in mind, with this purpose, and not out of the petty vanity of finding something new to do, something that hasn't been done before, by any means.

A reunion with the team of the Romanian National Opera from Bucharest. I know that you performed with them at the beginning of the year at the Dubai World Expo, didn't you?
Yes, indeed.

If I'm not mistaken, you were also in the audience on Saturday, at A Lost Letter by Dan Dediu, weren't you? I would like to ask you if you often go to the opera as spectator.
Unfortunately, I don't go often to the opera as spectator, because I don't live in the country. But I do go to the opera in general. If I am in a city for a performance, I enjoy going to see my colleagues and to see the performances, but I can't say that I go very regularly and that's because, for me, going to the opera means working most of the time. I go to learn something, discover something, experiment something. I rarely happen to go as I did now, to The Lost Letter, simply out of joy and because I wanted to see the performance, the opera written by my former high school and Conservatory classmate, Dan Dediu. I am really happy that I got to see it, because it was indeed a full performance and this is a rare thing.

What is next on the agenda for Ruxandra Donose after playing Amneris on Saturday?
What is next is a deep dive into the didactic world, because, in the meantime, I have accepted a teaching position at the Linz Music School in Austria.

Congratulations.
Thank you. So, I am going to work a little bit with my students whom I've abandoned these last two weeks and after than there are going to be other projects and concerts, at the Oslo Philharmonic as well, recitals. Another opera that I always fondly come back to is "L'heure espagnole" by Ravel, which I also performed here at the Radio Hall at some point, a few years ago, in concert format. So, I am going to continue to combine the stage appearances with my now official teaching activity and I am going to keep travelling. I think I was born this way, with suitcase in hand.

Ruxandra Donose, I wish you the best of luck on Saturday and an early return to the Romanian stages, but also at the Radio Hall, because you are well loved and appreciated here.
I would love to come to Radio Hall and I'm looking forward to the right occasion. I will surely say yes.
Interview by Gabriel Marica
Translated by Raluca Daniela Miloș,
University of Bucharest, Faculty of Foreign Languages and Literatures, MTTLC, year I
Corrected by Silvia Petrescu