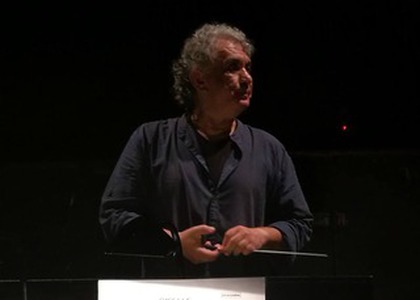 Interview with conductor Nicolae Moldoveanu
Monday, 21 November 2022 , ora 9.59

The conductor Nicolae Moldoveanu is nominated for ICMA awards regarding the disk he recorded at the Radion Hall along witgh the pianist Luisza Borac and the National Radio Orchestra, a album which contains Concerto op. 16 by Edvard Grieg and the unfinished Concerto for piano and orchestra by George Enescu.

Mr. Nicolae Moldoveanu, the nominations for the International Classical Music Awards have been announced, and your disk recorded with the pianist Luiza Borac and the National Radio Orchestra has been nominated for this awards. How important is this nomination for you?
First of all, I am very glad that this disk has been internationally recognized, regardless of the award it will be granted. Second of all, I am very happy that a work not so known by Enescu was recorded on this disk, we are talking about the Concerto for piano played by Luiza Borac. As well, what makes me happy, of course, is the collaboration with the National Radio Orchestra. I had this chance to start this collaboration in 2015, there are already 7 years of partnership and creativity togheter.
Without the team of sound engineers from the studio, this recording would noy have occured. The technical qualuity they are responsible for is very relevamt in the process of this disck beeing internationally recognized.
What I have done with great interesc is the fact that George Enescu's score needed some logical corrections. Therefore, I did not recompose the work, but there have been some places in the score that I believed needed some adjustements, some improvements and this thing, of course, gives me some type of a composer responsability, in addition to my role of conducting the orchestra.
Regardless of the trainning of those who are listening to this music, it is very lovely to hear.

Maestro Nicolae Moldoveanu, we would like to talk about your activity in the coming perios, because I know you will have concerts in Romania. Please, offer us some details.
This season which started immediately after two years of pandemic restrictions is, probably, one of the richest in activities I have had by now in Romania.
I will attend the National Day, musically, which is on the first of December. I will conduct o concert in Iași, with "Moldova" Philharmonic, with a program dedicated to the Romania's National Day. It will include the Second Rhapsody by Enescu, followed by the Symphonic variations of piano by Cesar Franck, with the soloist Alexandra Dinescu. After that, I will close the program with tge first work written by Enescu, Romanian Poema.
Afterwards, I have an important concert at the Philharmonic in Craiova. There, on 17th of December 1904, took place the first public concert with the orchestra and the choir of thePhilharmonic Society from Craioba, which has beacome, meanwhile, by a royal decree, "Oltenia" Philharmonic. This year marks 118 years since this evetn. I will conduct a concert exactly on 17th of December, and it will close the 49th edition of the International Music Festival in Craiova.
Next I have a concert- I have three concerts before Christmas- whic I fully enjoy. It will be Thursday,22 December, in Târgu Mureș. There I ll put down my conductor wand and I will move on to the harpsichord, correspondingly to the organ. The program will be consistent of three coryphaei of the German baroque: Johann Sebastian Bach, Handel and Telemann.
Interview by Larisa Clempuș
Translated by Andreea Petrescu,
University of Bucharest, Faculty of Foreign Languages and Literatures, MTTLC, year I
Corrected by Silvia Petrescu