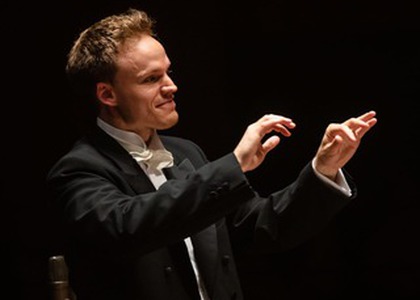 Interview with conductor Finnegan Downie Dear
Monday, 21 November 2022 , ora 10.17

The young conductor Finnegan Downie Dear, winner of the 2020 edition of the "Mahler" International Competition, takes the stage of the Radio Hall on Friday, November 18th, with the National Radio Orchestra. The musicians will perform Concert no. 4 for piano and orchestra by Ludwig van Beethoven, with Horia Mihail soloist, the second part being dedicated to Franz Schubert's Ninth Symphony.

First of all, how was the rehearsals?
Very good. Musicians care a lot about music and have a lot of energy in their performance. I was also very pleased with the way he always tries to make everything better, which for me is very very important, in a work like this great Schubert symphony, it makes the difference between a performance that has a lot of life and one that is more subdued.

You are the winner of the 2020 edition of the International Mahler Competition. How do you remember your career going afterwards?
It was a slightly strange time to win a competition due to the pandemic. I was definitely incredibly lucky, not only because this competition insured me against the pandemic, but also because I had this experience in the middle of the pandemic, with the musicians from Bamberg; it was special, even on a spiritual level, to be surrounded by such good musicians, after four months of not playing at all... to have the chance to work with an orchestra of such high quality, in those times, was in itself a delight. So both in the short term and in the medium term it was a wonderful experience.

Would you recommend young conductors to participate in competitions?
They are a way to start your career. I don't think they're the only way, by any means, and I also think they often prioritize certain talents or abilities - certainly some, but not all, of the qualifications a conductor should possess. I would say that conducting is a mix, a long-term game and a very, very short-term game. Contests favor short-term skills, and long-term ones are more valuable.

Can you give us some examples?
I honestly believe that you have to know the musicians, the more you know them, the more special the relationship will be and the more special the concerts will be. And as a conductor, your job is to teach the musicians playing the music, not just to learn the music, because ultimately you have to know how the musicians respond, what they need to perform well, and, without being too grandiose, you have to know how to inspire them. Musicians are very different because they are people, and this idea of ​​the orchestra as one thing is silly. Individuals matter, and your job is to shepherd them like an orchestra. In a competition you have little time, at the "Mahler" Competition it was wonderful because there you have 45 minutes or an hour for rehearsal. Of course, though, it's a tiny snapshot. These works are, however, big things. We must remember that when a composer chooses to write a piece it is a huge undertaking. A piano teacher told me at one point - I was playing the first movement of Ravel's 'Gaspard de la Nuit' - and he said: 'Remember that Ravel wrote all these notes, one by one. And he wants to hear them all." This idea stuck with me because it's a big deal to live with these pieces. I for one consider that everything went well for me at this competition partly because it involves a lot of contemporary music, which is very important to me, but also because already when I got to conduct Mahler's 4th Symphony in Bamberg , I had already played all the Mahler songs on the piano repeatedly, played the piano in the chamber arrangement of the Symphony, played the horn in the Symphony, and conducted two different chamber versions of the Symphony. So I already had about 5 years of experience with the piece. And I kept thinking "I'm just beginning to understand this work." If it was another piece, for example Dvorak's 7th Symphony or Brahms' 1st Symphony, I wouldn't have stood a chance. It just happened like that, I had this great luck.

When do you find time to study?
You have to be disciplined and you have to really love music. The more time you give to a thing, and the further away you are from last minute stress, in my experience the more fulfilled you will be with that project. I know it's a cliché that conductors should always be studying, but there's a lot of truth to this. At the same time, you can never know them all. We must always remember that the audience comes to listen to us. How many times today do you have someone's undivided attention? No phones, no talking... So it better be successful. It would be nice to repay this gift of time and attention with something magnificent. What is wonderful this week with this orchestra is that I have no doubt: the musicians will give the audience something they will not forget, and the musicians cherish this gift of attention, focus and time, which they generously give us. When I'm studying or when I'm learning a piece I try to remember that, because we're incredibly lucky. Sure there are a lot of stresses and there are days when you have to travel a lot, but to be in the company of these pieces of music, with musicians who care so much... it doesn't really get any better than that, right?
Interview by Petre Fugaciu
Translated by Medeea Alexandra Stan,
University of Bucharest, Faculty of Foreign Languages and Literatures, MTTLC, year II
Corrected by Silvia Petrescu