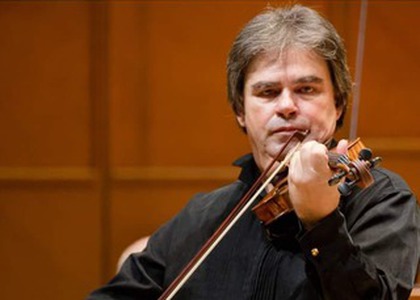 Interview with violonist Gabriel Croitoru
Monday, 21 November 2022 , ora 10.20

Mr. Gabriel Croitoru, I'd like you to tell us about what the project "Enescu's Violin in the Countryside" means to you and what do you think its impact has been in the 10 years since its first edition?
For me, it's a project close to my heart, given that I've been playing George Enescu's violin for more than 10 years. We are only at the 10th anniversary edition of this tour, which was originally entitled, and has stayed mostly the same, "Violin in the Countryside", with small changes over time...We've played in high schools, in parks, we've played in places where our music doesn't usually reach out and we've had very pleasant surprises from people. They really enjoyed a musicgenre they didn't know, and now they have the opportunity to listen to it at home, with a little guidance from us.Over the years, I have performed with HoriaMihail in all of the previous nine editions and, look, in the tenth, only at the Athenaeum. This year, I played with my daughter Simina. I think this tour is achieving its purpose, and that is stated at first instance, to bring classical music closer to people who otherwise have no access to it.

This year, you changed the concert formula for the tour, choosing to take classical music to the villages and towns of Romania with your daughter SiminaCroitoru. What do you think was the audience's reaction to the music for two violins as opposed to the original formula, violin and piano?
I don't think there was a difference. Musically speaking, sure, the formula is different, but, to be honest, it was a little harder for us in previous years to carry that piano around. It's clear that in the villages, especially in the community centres, even refurbished ones, there are no pianos. And then, we used to carry the piano every day... it was quite complicated. And so we wanted to try a two-violin version at least once, which worked just as well as the piano version. So from that point of view, there was no difference.

At the end of the tour, you will perform on Saturday, 19th of November 2022, together with SiminaCroitoru and Horia Mihail, at the Romanian Athenaeum. What is your relationship with pianist Horia Mihail?
My relationship with Horia is a long-standing one, it is one of friendship and partnership on stage most of the times and I hope, I mean I am convinced, that it will not change over the coming years. We can have a great time off stage and on, and it shows.
As for my relationship with Simina, we are father and daughter, so there's no doubt about it.

How did you put together the program for the recital at the Athenaeum?
As usual, the program we have designed for this "Violin in the Countryside" tour was easily accessible to the public, with some changes where we had the opportunity to play in cities - this year in Bistrita, Arad and Bucharest. There, of course, the changes are a kind of selection from previous years' programmes. Since we are at an anniversary edition, we thought of doing a kind of musical retrospective, with songs that we also liked and that the audience liked as well.

Photo credit: Alexandru Dolea
Interview by Ana Sireteanu
Translated by Andreea Zofotă,
University of Bucharest, Faculty of Foreign Languages and Literatures, MTTLC, year II
Corrected by Silvia Petrescu