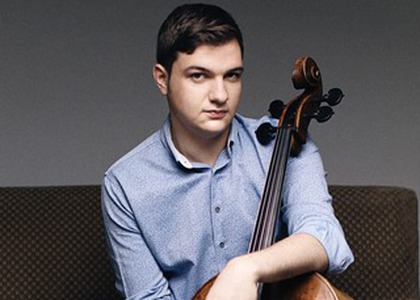 Interview with cellist Andrei Ioniță
Thursday, 24 November 2022 , ora 10.43

On the 30th of November, cellist Andrei Ioniță, together with violinist Ioana Goicea and pianist Daria Tudor are going to perform an amazing chamber concert in Brussels, to celebrate the National Day of Romania. This event is organized by the Romanian Cultural Institute in Brussels and initiated by Radio România Muzical. We're getting more details from the young cellist, in his interview with Ioana Țintea.

About the concert on the 30th of November in Brussels. What do you think about its relevance for the National Day of Romania?
It's a great pleasure to me every time I get to participate in an event dedicated to the National Day of Romania. I also performed in Bucharest last year, accompanied by the Radio Chamber Orchestra, in a similarly remarkable event. What's even nicer is that we can celebrate National Day abroad, in the European capital Brussels. We can't wait, and by we, I mean myself, Daria and Ioana Cristina.

The concert is part of the "Heirs of Musical Romania" project, dedicated to promoting young Romanian artists. What does Romania mean to you as heir of Musical Romania?
For me, Romania has been and will always be my home, given our international jobs. We consider every stage to be our home, but it's always a great pleasure to come back here and I'm also happy to represent the country I grew up in, the country where I made my debut in music and the cultural space from which I can still soak up and get so much inspiration.

During the Brussels concert you are also going to be releasing an album at the Casa Radio publishing house, which includes a Beethoven opus recorded early this year at the Radio România studios. Would you like to give us a few details about this CD?
As you've mentioned, this CD contains Ludwig van Beethoven's masterpieces. I've recorded not only his Piano Trio in D major, Op. 70, No.1, "Ghost", but also Sonata No. 5 in C minor, Op. 10, No.1, together with pianist Daria Tudor. It's perhaps a more abstract sonata than the well-known major, a later, but extremely interesting opus. The recording process went smoothly. I could communicate organically with both the sound engineers and the whole production crew of Radio România Muzical.

Are there any other special recordings coming up?
There is a project coming at the end of December, but I'm guessing we have to keep everything a secret for now.

I would like us to also talk a little bit about the recital that you will be performing with pianist Naoko Sonoda on November 28th at Wigmore Hall in London, an event which will be broadcasted live by Radio România Muzical. Which works did you include on the list and what do they mean to you?
I've been working together with pianist Naoko Sonoda for such a long time. We even performed on the Radio Hall stage a few years ago, during the "Heirs of Musical Romania" project. I've chosen a special program. I wanted to focus mostly on 20th century music. Aside from Beethoven's Sonata No. 4 in C major, Op. 102, No.1, which is quite a compressed sonata, I will turn towards some shorter, also compressed works, by Anton Webern. He wrote an opus with three already atonal, dodecaphonic compositions, which I wanted to combine with a short cycle made out of another two Romantic works, which he had written before 1911 and the emergence of atonality. And then I'm going to end the recital with one of the most popular British works from our repertoire as cellists, which is Sonata in C major, Op. 65 by Britten. The concert will be an hour long. This is the lunchtime concert system which the BBC3 radio station provides and I am also grateful to Radio România Muzical for choosing to live broadcast this recital.

Looking back, how did your career take shape, starting with winning first prize at the Tchaikovsky competition in 2015, the first Romanian to ever achieve such a performance?
There's so much to tell. What I can say is that this prize has become my calling card wherever I go in the world. It has also been a real joy to truly be the first Romanian awarded the gold medal at such a high-profile international competition. I know that I've managed to inspire other young Romanian musicians, students or pupils from music schools and I want to keep doing this.

What other defining moments have helped shape your artistic career?
I would mention the efforts and support of my professors, Mrs. Ani Marie Paladi from Bucharest and professor Jens Peter Maintz from Berlin University of Arts. There is also the young talents program called "BBC New Generation Artist", which has given me a lot of opportunities, also outside U.K. For example, this recital that I will perform at Wigmore Hall has obviously come as a result of my participation at this program a few years ago, also my encounter with conductors such as Herbert Blomstedt, whom I am going to be working with next March in Chicago among other things.

What is your artistic creed and how does it fit into this competitive world?
I believe that truth can be found in beauty. I believe that I'm bringing my contribution to the musical world and life, to the music scene. Dreams are my passion for music and I hope to continue this way, to have a genuine approach. There is also the belief in divinity. This awareness that everything we do is also watched by a superior power.

An artist's career is built around an artistic ideal or a milestone that they aim at. Which are these in your case?
When I was still in Romania, my milestone was to come to master the instrument of my choice, the cello, the best I could and to get to use it as a way of expressing the inner world. As the time passed, I obviously still had the cello as my main passion, but, at the same time, I started looking for new ways of expressing myself musically, like the piano. At this point, I am happy to still be in the world of sounds and I want to keep acquiring a larger repertoire.
Interview by Ioana Țintea
Translated by Raluca Daniela Miloș,
University of Bucharest, Faculty of Foreign Languages and Literatures, MTTLC, year I
Corrected by Silvia Petrescu