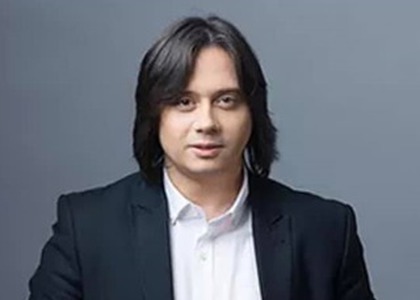 Interview with conductor Gabriel Bebeselea - concert with the "Transilvania" Philharmonic Orchestra in Warsaw
Monday, 28 November 2022 , ora 9.56

The 4th edition of theEufonia International Music Festival of Central and Eastern Europe takes place in Warsaw between the 18th and the 26th of November 2022. Romanian music has been included in the concert programs since the first edition (George Enescu, Marțian Negrea, Béla Bartók, György Ligeti), and this year also saw the first attendance of Romanian artists, with the presence of the Transylvania Philharmonic Orchestra, conducted by Gabriel Bebeșelea.
We found out more details from conductor Gabriel Bebeșelea immediately after the Warsaw concert:

Gabriel Bebeșelea, we are in Warsaw, at the end of the concert held by the Transylvania Philharmonic Orchestra of Cluj-Napoca, which you conducted during the Eufonia Festival. This is the 4th edition of this Polish festival, which includes for the first time the performance of Romanian artists. In the previous editions we noticed that Romanian works were included, but this time Romanian artists were also brought on the stage.
We were very happy to be invited to the Eufonie Festival in Warsaw, because we were able to promote Romanian music, and not only music by Romanian composers, but music composed in Romania that would represent all aspects of multiculturalism in our country. The program includedRomanian Concerto by GyorgyLigeti, whose centenary we celebrate in 2023, a piece that was composed after Ligeti completed his scholarship at the Institute of Folklore in Bucharest and through which he paid homage to Romanian folklore. Then we continued with the piano concerto by W³adys³aw¯eleñski, a Polish composer who was a revelation to me. I didn't know him and I was very happy to perform his music, a piano concerto composed at the same time as Rahmaninov's Concerto No. 2, also post-romantic, and somehow with crumbs of Chopin, but brought to the beginning of the 20th century, performed extraordinarily by the Polish pianist Piotr Salajczyk.

As for the Polish pianist, have you collaborated with him before?
No. This is the first time we met on stage and I must admit that if it wasn't for Piotr Salajczyk's knowledge, who also researched this concert and recorded it, it would have been difficult to carry out a lot of musical structures that belong to Polish folklore, that belong to mazurka, to krakowiak, to everything Polish in general.My greatest joy would have been if we had performed the original program, with George Enescu's Romanian poem, but for objective reasons this could not take place, and I would like to congratulate the orchestra for the fact that in just two days we managed to change the program and present works of remarkable difficulty, which brought the hall to a standing ovation in Warsaw. Namely: Rogalski - Three Romanian Dances, Enescu - Pastorale-fantaisie, for the first time in Warsaw (probably Rogalski, Three Romanian Dances was also performed here for the first time), and at the end, a work by a Polish composer, but actually inspired by George Enescu, Mieczyslaw Weinberg - Rhapsody on Moldovan Themes, which he composed after meeting Enescu in 1948, and the third part, the finale of Rhapsody on Moldovan Themes by this composer is actually based on one of the songs that George Enescu also quotes in Rhapsody I.

And if the other two pieces are still part of the repertoire of the Cluj orchestra, Weinberg was really a first for the Cluj orchestra.
Yes and no, I might say, because Rogalski hasn't been performed for many, many years. The last time we performed Pastorale-faintaisie was atthe Musikverein in 2017. So it's been years since we have performed these pieces.It was a remarkable feat, in just two days to pull this off at such a high level. But indeed Weinberg was performed for the first time by the Cluj Philharmonic Orchestra just this week.

At the end, you surprised the audience with an encore, also a Romanian work: Cristian Lolea - Romanian composer, based in Warsaw.
I thought that if there are so many connections between Romanian music and Polish music, then we can make a contemporary connection between the school of songwriting, let's call it Romanian, and musical life in Warsaw. And since Cristian Lolea, an absolutely outstanding composer, has been living in Warsaw for many years and writes music here, we played an encore of a piece he composed for a film.I have to mention that it was a surprise even for him, he didn't expect us to perform the piece, so I'm glad it was a surprise for everyone at the concert in the Warsaw Philharmonic Hall.
Interview by Florica Jalbã
Translated by Andreea Zofotã,
University of Bucharest, Faculty of Foreign Languages and Literatures, MTTLC, year II
Corrected by Silvia Petrescu