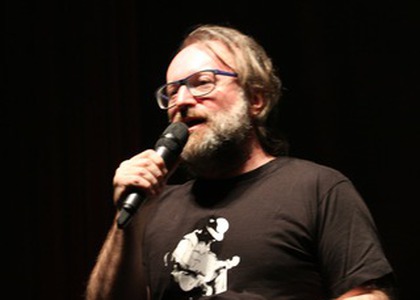 Berti Barbera, Guest of the Week at Perpetuum mobile in dialogue with Gabriel Marica
Monday, 28 November 2022 , ora 10.46

Tonight's guest is Berti Barbera - first and foremost an artist, and last but not least a radio and television producer. As you know, he is a Radio România Muzical, the Jazzy Hour. Good evening, Berti Barbera!
Good evening! I believe that programme producers are also artists.

That' s right. How long have you been working with Radio Romania Muzical?
The first time Moțu Pittiș received me at România Tineret, when it wasn't broadcasting online yet and... then came the collaboration with Radio România Muzical... I think it's been 20 years since then... we had CD Man, a classical music show, and after that I had Jazzy Hour and I still have it... at collaboration as natural as possible, on a good level of communication.And it' s a real pleasure to work with Cristina Comandașu and the whole team! It's a pleasure to do a show, in fact, to share from music collection the news that you receive, listen to and select for the audience that already is selective to România Muzical. So, from that point of view, I'm very excited that my show, Jazzy Hour, has already been around for 12-13 years.
And we'll pass into the year 2023 alongside you, as far as I know, on a New Year's Eve show, won't we?
This is the third time I've been offered this pleasure. I'll be selecting from the shows and not only, I'll be selecting an hour of Brazilian music with selections from Aquarela do Brasil - a show I do in the summer, sharing my passion for Brazilian music. I still have to do an Indian music show and a progressive rock show and I'm relaxed, becasuse it covers all my interests, besides rock and others.For me there is music, there is good music, there are very good artists in all genres and that's why I reject any pious look, any superior attitude of any representative of a particular genre than another.Such a thing is immature. I just see a fascinating musical world that, every year, offers so much more than you can listen to, and I' m talking about the quality, not everything that is released. I encourage anyone to make music, not necessarily for the purpose of earning money or success... Simply, exercising yourself musically, melodically, rhythmically in what is at hand is beneficial, not least in the direction that you understand the musical phenomenon from the inside and are much closer to what you are listening to.

The people who will be at the Sala Radio tomorrow night, in a concert you will perform with the Radio Big Band, will find out how you understand the musical phenomenon. What can you tell us about this event?
This is another professional superlative in my life.I don't think you can go much higher than to play with a superpower, with the most perfect mechanism that man has given through music - I mean the orchestra. It's a collaboration, too...'ve been working with this big band for about 20 years.The last time something happened, it was a once-in-a-lifetime thing, but I really enjoyed it. that I got the invitation to play on my birthday, the 27th of January, when I turned 50. What better party you can have than when you have the best musicians around and the best audience in front of you. You don't need anything else at 50; to realize that in 30 years, if people smile when you play, you've done your job and you feel fulfilled.
This concert sounded good, was well recorded, I listened to it and thought it was worth putting on CD; not just an mp3 that I send to friends or in the radio archive, but a CD, a product in a tangible format, that will remain in my memory and in the collection of anyone who wants to have it.
Tomorrow I will perform another concert to launch this CD, celebrate this moment and offer the audience the opportunity to take us home as a record.

I don't know if you already collaborated with Simona Strungaru, the new conductor of the Big Band Radio, but I know you were at rehearsals today. How do you get along?
I have worked with Simona before, I have a very good communication with her. She is an accomplished musician, a complex musician, with vision, with education, with attitude and we always got along very well. The orchestra ended up in good hands - not that it wasn't, God forbid! I'm thinking just continuity. There is no contest - the one that was better or worse than the one that next.I really believe in continuity and I very much hope for this orchestra because I am attached to them, they are close to me. I feel privileged by this collaboration. I'm not indifferent what happens there and I think Simona's presence is appropriate. The rehearsals are going very well. There is and discipline and relaxation. There's the attitude that I see in such an environment and the mutual respect... absolutely everything that's needed to make this show as good as it can be. And I want to thank to everyone who brings out the best in me.

Will there be a book signing? Because tomorrow you're releasing this 50&Swingin' album.
Yes. We can also call it a book signing. I don't want to call it that, like the first lady comes to the plebs and starts handing out signatures among the sycophants. I always want to eliminate as much as possible this artificial boundary between artist and audience. So long as the limits of decency and so long
as long as there is a mutual respect and a right to mutual space offered to each other, I consider that going after the concert in the audience to share impressions, hugs, photos and autographs is a gesture as natural for those who want to do so.It's not just a performance, people applaud you, and then you disappear into your ivory tower where no one can reach... that's a story. Okay, you don't even
pat yourself on the belly, because it's a different kind of audience; I don't have a problem with someone grabbing me by the throat and screaming in my ear drunk. Those things don't happen here. I'm thrilled the idea of getting in touch with the audience, feeling what's going on and afterwards and, whenever I have possibility, I do so because, again, I find it immature the tendency of some people to look with superior to another category of people who are different; of the artist who thinks he is doing good by lowering himself among the spectators... these are things that don't belong in a respectable concert.
I remember meeting Frank Gambale, a sensational guitarist who I thanked for having me over and we had lunch together and he said, "Usually, those who fuss, play badly!" I've remembered this ever since, and it confirmed that if you have nothing to prove and you feel close to the audience, there's always this normality of direct connection.Maybe someone really wants it, maybe someone comes from another city, maybe there's a parent who wants to give their child the chance to shake hands with an artist, get an autograph, have their picture taken, maybe those people value that. Why not do it when it costs you a few steps.
That's why I'm very happy to go to the foyer after the concert and meet the audience.

After tomorrow's concert, what's next for you, Berti Barbera, stage-wise?
This year also brings another important event. On the 5th of December, I'll be singing with Alexandru Andrieș. I'm part of his group of friends, his band... and they' ve been with him for about 10 years.
We just did a "culinary" tour in October. We jokingly said that in every city we go to, we get treated very well... and from now on it's all about the meals, and, if we have time, we'll sing (laughs). But still, the concerts are treated very seriously; the group is great - Sorin Romanescu, Maria Ioana Mântulescu, Călin Grigoriu and Alexandru Andrieș. We play in this formula, we have created our own sound, and on December 5th we will play at the Auditorium Hall of the Art Museum.
After that, I'll probably focus on radio shows, New Year's Eve programming, articles that I want to write about various albums that I consider inevitable albums, for they're so good that it's impossible, as a music lover, not to come across them once in your life and it would be a shame not to.And...a break, with a few more trips away. Then 2023... in which my I want to see a lot of gigs, play gigs, remix an album, maybe make another album with Nicu Patoi... may we all be healthy, because there's a lot of work to do and I'm still very excited and I feel great doing this.

Berti Barbera, good luck in tomorrow's concert, good luck with the Jazzy Hour on Radio România Muzical and, obviously, with the special New Year's Eve show and... personally, I'm waiting for an autograph on your album!
Interview by Gabriel Marica
Translated by Cosmina Florentina Ciobanu,
University of Bucharest, Faculty of Foreign Languages and Literatures, MTTLC, year I
Corrected by Silvia Petrescu