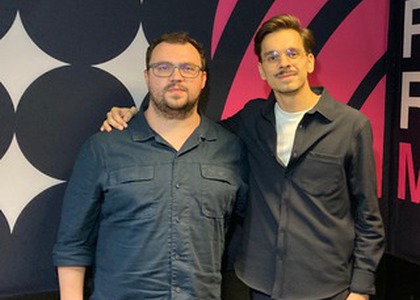 Interview with cellist Cornelius Zirbo, the week's guest at Perpetuum mobile
Wednesday, 7 December 2022 , ora 11.27

Sala Radio helds the concert dedicated to Romania's National Day on Thursday December 1st. Cristian Madea conducts the Orchestra Națională Radio in a programme comprised of Ion Dumitrescu's Symphonic Prelude, Edward Elgar's Cello Concerto in E minor, Op.85 and Camille Saint-Saëns's Symphony No. 3 (Organ). Organist Eduard Antal is competing. The soloist of the night has talked about Elgar's Concerto- cello player Cornelius Zirbo, scholar of "Heirs of Musical Romania" program.

Cellist Cornelius Zirbo live in Radio România Muzical's studio. Welcome!
Thank you!

Tomorrow you'll be celebrating Romania's National Day on Sala Radio's stage, together with the National Radio Orchestra and conductor Cristian Mandeal. You have chosen Edward Elgar's Cello Concerto in E minor. Why this piece?
Because it is a utterly and completely special, a concert that I keep very close to my soul. It is a very complex piece, extremely captivating. I have to mention the fact that it is not frequently interpreted and I thought it would be good for me as well as for tomorrow's audience to perform this Concerto.

You have been working with conductor Cristian Mandeal for many years now, but, if I'm not mistaken, this is the first time for you being soloist for conductor's Mandeal orchestra. What do you think about this position?
As you said, I've been working with conductor Cristian Mandeal for a long time now, as a member of Romanian Youth Orchestra and I can say that he is someone that I appreciate, for whom I have a deep admiration, he is a mentor and an example for me. The fact that I have the opportunity to perform as a soloist tomorrow and my collaboration to be a soloist-conductor partnership is something to dream of for me. It's incredible to have this opportunity and I'm glad that I can work with him and learn from him. Today we had the chance to work together a bit, he shared his vision about the concert, we talked about Elgar's Concerto and I feel amazing.

After tomorrow night's concert, you'll go back to the orchestra. Starting from this fall, you're a member of the Radio Chamber Orchestra. How did you manage to fit in?
I'm really glad that I am a part of the Radio Chamber Orchestra. They are a very welcoming team, extremely warm. I already feel part of the family. I like it a lot. I have to say that for a long period of time I was very reserved in terms of performing in an orchestra and I applied for the position with the same reservation, not knowing exactly how I would fit, if I liked it. But I really like it that the team is not so large and I feel that I can considerably bring in my contribution in creating music. I'm very pleased with this fact. I'm looking forward to the next concerts and what follows in the orchestra.

After a short break occasioned by the winter holidays and then, from the 13th of January a project together with violonist Maria Marica and piano player Cadmiel Boțac. You're preparing Beethoven's Triple Concerto in C minor. How was this project born, in which way did you decide to approach this concert?
The story began a few years ago. I, Maria and Cadmiel had grown up together in "Sigismund Toduță" Music College of Cluj, our home town- there's where we all come from, except for Cadmiel, who was born in Sighetu Marmației, but he thinks of himself as a local because he has spend the vast majority of his life in Cluj. We have been very good friends in high school and we still are. A very ambitious project has taken place when we were in the 9th grade. We decided to perform together Beethoven's Triple Concerto in C minor along with the high school's orchestra. Naturally, the piece has a complex orchestration and it was maybe far above our then level, but I can say that it was a rather successful concert and that with how much he could understand from it, we managed to take the piece to a decent level. And from then on, we've been saying that we have to find the next opportunity to perform Beethoven's Concerto now that we had grown up and we have a different understanding of music. The circumstances were that the past of June we had all participated in the New Hope Competition, organized by cellist Octavian Lup and the coincidence was that both me, Maria and Cadmiel were each winner of the sections that we've participated in. The great prize was made up of 10 concerts as a soloist with top-notch Philharmonics from the country. And given the fact that we were the three winners, we had decided that for the majority of them we'll be performing Beethoven's Triple Concerto in C minor. We are very happy and looking forward to it!

The first concert with Beethoven's Triple Concerto in C minor will take place on January 13th, as we said. If I'm not mistaken, there will be 4 or 5 Philharmonics from the country and one of the concerts will take place at Sala Radio along the Radio Chamber Orchestra. Can you please tell us, briefly, the dates for those who want to attend these concerts?
If I'm not mistaken, the concert held along with Radio Chamber Orchestra will take place on the 4th of April. But if I'm wrong, I kindly ask you to visit my Facebook page, where you'll find all the concerts from this season. There's a good chance that I'm mistaken, but on my page all the concerts are mentioned exactly as they will be performed.

And until those at home will acces your Facebook page, out last question from this interview. How does the finale of the 2022-2023 season look like for you, as a soloist? What other works will you be performing until the season's finale?
We're about to have a very busy season. This season I will be performing 7 concerts, and towards the end of it I will perform Brahm's Double Concerto in E minor together with Maria Marica, at "Transylvania" State Philharmonic Orchestra. I will be performing Shostakovich's Concerto along with Târgu Mureș State Philharmonic Orchestra. At Sibiu, towards the end of the season we will be performing Beethoven's Triple Concerto in C minor. And beside those, I will be performing Dvorák's Cello Concerto, Tchaikovsky's Variations on a Rococo Theme, Haydn's Cello Concerto in C major and there are a few more. As I said…

Those from home can find all the information on your artist Facebook page. Until then I want to invite you all to the concert dedicated to Romania's National Day, tomorrow night, with soloist of the Romanian Radio National Orchestra Cornelius Zibro. The conductor will be Cristian Mandeal.
Interview by Lucian Haralambie
Translated by Georgiana Morozii,
University of Bucharest, Faculty of Foreign Languages and Literatures, MTTLC, year I
Corrected by Silvia Petrescu