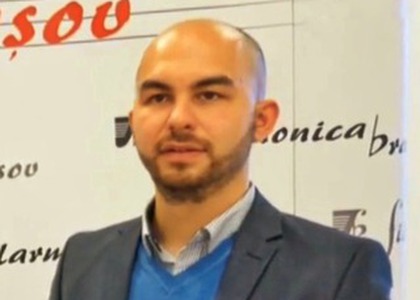 Interview with the manager of Brașov Philharmonic, Ioan Dragoș Dimitriu
Monday, 12 December 2022 , ora 11.13

Between November 22nd and December 6th, members of the Brașov Philharmonic Orchestra accompanied the acclaimed violinist Maxim Vengerov on his tour of cities in the UK. We learn details about the whole experience from the manager of the institution, Ioan Dragoș Dimitriu.

Mr. IoanDragoș Dimitriu, how and when did the prospect of this collaboration with the violinist Maxim Vengerov arise?
We talked several months before with the organizers IMG Artist and CDMI Group, who were looking for an orchestra. It was a choice between the Warsaw Philharmonic Orchestra and the Brașov Philharmonic Orchestra, and fortunately we managed to prevail with our arguments and go on this 11-concert tour.

How was the whole experience received by the musicians in the orchestra, perhaps less accustomed to this fast pace of life specific to a tour?
It is very true what you say indeed; I think it was a lack of habit, maybe also due to the COVID period when most orchestras stopped touring, and now we gave a pretty strong boost, our first tour being of such a level. I think they adapted pretty quickly and felt really good. I want to say that in the last few weeks I received several dozen messages from my colleagues in the orchestra, expressing their delight that they could participate, that they were inspired by this tour in their work. Yes, it's really a different rhythm, but I think it can give us a good impetus to change the mentality, the approach, a little at the local level.

Is this tour part of a larger plan to expand the activities of the institution you lead? If so, what other perspectives are there in this direction?
I have also said in past years: yes, it is a vision for these five years of mandate that I hope will extend for several years. Not necessarily that I have to be in this institution or lead these activities myself, but I want an impulse of this kind to be just the beginning for the Brașov Philharmonic. And yes, we have foreseen some involvements in terms of recording for films, we want to work with production houses from abroad especially, but also from home. In fact, we have already prepared the ground in this regard, and by the fact that we started a first-class tournament with Maxim Vengerov, we also sent a signal to other organizers that we are ready and willing. There are some discussions, but I don't want to go into detail at this point until it's done.
Interview by Norela Costea
Translated by Cosmin-Ionuț Petriea,
University of Bucharest, Faculty of Foreign Languages and Literatures, MTTLC, year I
Corrected by Silvia Petrescu