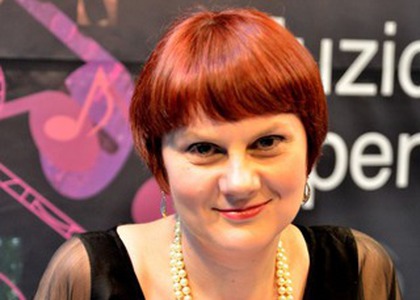 Interview with Cristina Comandașu, Radio România Muzical manager
Monday, 19 December 2022 , ora 11.09

Sunday, December 18th, starting with 7 pm, violinist Ioana Cristina Goicea, cellist Andrei Ioniță and pianist Daria Tudor will hold a chamber concert as part of the Heirs of Musical Romania, transmitted by Radio România Muzical and Rotary Club Pipera. Cristina Comandașu, initiator of the project and Radio România Muzical manager, offers information about this final event of 2022.
Cristina Comandașu, Radio România Muzical manager, speaking from the Perpetuum mobile studio. Welcome, Cristina.
Thank you.

The last concert of 2022, the Heirs of Musical Romania Project, will take place on Sunday, December 18th, at the Radio Hall. It is a remake of the concert that took place on November 30th in Brussels. Before we dive into what our audience will listen to on December 18th, can you tell us what it was like on November 30th?
It was amazing on November 30th. It was very emotional for us as event planners, and I mean for the Romanian Cultural Institute in Brussels, the Rotary Club Pipera's support (Bucharest), project initiated by Radio România Muzical. It was the first event in an international setting for the Heirs of Musical Romania project because we thought it was important to have this event right in the heart of Europe on Romanian National Day. The concert hall was full, there was no free seat left and you could feel something special because there were many Romanians, who had come to the event either from Romania, some having lived here for decades, but there were also foreign guests or simply Belgians, who attended and understood very clearly our message: that Romanian values are shared within a universal context and that Romania has an obvious European vocation, especially through George Enescu's personality. The concert agenda wasn't chosen randomly; George Enescu's and Ludwig van Beethoven's works were carefully chosen, and this is just what hearers will listen to this Sunday on the Radio Hall stage.

So we will hear Enescu and Beethoven. Beethoven also appears on the CD released by the three musicians: Daria Tudor, Ioana Cristina Goicea and Andrei Ioniță. The CD will be released by Casa Radio publishing house after their concert.
Exactly. There will be an autograph session. To be honest, this trio project recording a repertoire based on Beethoven was born at the beginning of this year. We started our year at Radio România Muzical with Beethoven and we're also ending it with Beethoven. If I were to think back on how much Beethoven meant this year, I would say that he meant a lot, just like I said in Brussels. I thought this message was important since 2022 was influenced by Beethoven also due to the Ukrainian war and the solidarity shown on March 10th by the Radio to the Ukrainian people, across the European Union, when Beethoven's Ninth Symphony played on 59 classical and cultural radio stations across Europe, the United States, New Zealand and Australia, due to Radio România Muzical's initiative. Basically, the entire world took this message of solidarity to the Ukrainian people, through Beethoven's Ode to Joy and Ninth Symphony in their entirety.
Beethoven's works carry a lot of meaning, and he actually communicates a lot about what culture means in general. All in all, culture refers to what represents us, what makes us wonder what exactly is worth living or dying for. These are questions that I believe those across our border have asked this year and that we have also asked in turn, so this is how our year started - with Beethoven. Of course, nothing predicted what would come in the following months after it all started in February. Now Beethoven's message is even stronger. This CD is the first one in the series. I would like to mention something else also important: this CD has been released thanks to the financial support offered by our sponsor, the Constance and Andrei Rhoe Foundation in France, which covered the fees owed to the musicians and which decided to support the trio with such a project for the next five years, meaning that a CD would be recorded at the Casa Radio house. This is very kind of a nonpublic person, who acts through the Foundation and wishes to support Romanian musicians. It is a very kind deed and it's not the only one that has been shown to Radio România Muzical this year; there were many people who believed they could and had to contribute to our projects.
So this is the first CD of Beethoven's works. Tomorrow at 10 am you will hear Ioana Cristina Goicea interpret Beethoven's Kreutzer Sonata, which also appears on the CD. What the programme includes right now, that is, George Enescu's two sonatas, the one for violin and the one for cello and piano, as well as Sonata No. 2 for piano will be included on the second CD, which will be recorded right after Christmas and New Year's Eve. A new tradition is being built, having the trio at the end and the beginning of the year. It is a beautiful tradition featuring three great Romanian musicians, who feel privileged to represent our country internationally. I would like to mention Andrei Ioniță, who has played George Enescu's Symphony by now, alongside the BBC Symphony Orchestra. Daria Tudor should be in the studio with us, but she performs at a concert tonight at the Bucharest Hoinar Festival, alongside Florian Mitrea. It will be a beautiful concert for two pianos at the National College of Music George Enescu in Bucharest, starting at 7 pm. Ioana Cristina Goicea will perform at a concert on Friday in Craiova, but she's still not in the country, which is why I represent them live right now.
I would like to discuss the Heirs of Musical Romania project and this year's scholarship, attained by Kira Frolu. What are Kira Frolu's 2023 projects?
Scholarship beneficiaries are very important to this project. The scholarship is addressed to musicians between 16-24 years old. In 2022, it reached its third edition, and if at the beginning of this year, in January 2022, we organized a tour only for the first two winners - Cornelius Zirbo and Cadmiel Boțac - because the pandemic didn't allow us to do otherwise, at the beginning of 2023 we're preparing a national tour, with three stops for Kira Frolu. She will perform at a cultural center in Brașov on January 14th, which has recently opened on December 16th - the Apollonia Culture Bank - right in the old town. Kira will hold a solo concert on January 14th, then on January 17th we will be back here, at the Radio Hall, streaming live from Radio România Muzical, and on January 26th a special edition will be held this year at Banatul Philharmonic of Timișoara, the European Capital of Culture. Kira Frolu is a young and valuable pianist.
She also competed for the 2020 scholarship and as prize she played at a concert alongside Chamber Radio Orchestra, a very successful concert, followed by others at the Musical Autumn festival this October in Cluj. Immediately after the concert in Bucharest, she will leave for Cluj to perform at a concert alongside the Philharmonic Orchestra of Cluj, which is still part of her scholarship. I think that it is very important that Radio România Muzical supports these young musicians as a public radio station. Basically, in our country only we can do this and I'm very happy that Rotary Club Pipera considered it very important to offer financial support because without this financial contribution, the project wouldn't have existed and nobody would've supported them. They are truly role models; being a musician and studying to be a good musician today has become something very difficult to attain.

What are the other projects of Heirs of Musical Romania at the beginning of 2023 after Kira Frolu's tour?
After this tour on February 7th, we will hold a concert at the Radio Hall, where violinist Valentin Șerban will play accompanied by Daria Tudor; he won first place at the previous edition of the Enescu contest. In this project, we partner with the George Enescu Festival and the George Enescu Contest. They will have a different repertoire, so to say, with a special notion on love, revolving around Brahms's, Klara Schumann's and Robert Schumann's works. It will be special also because at the same time, they will record this repertoire for another CD, which will be released through Casa Radio publishing house.

So there will be another CD with Heirs of Musical Romania.
Yes. It is very important. For a young musician or for a musician who already has good results and wants to take off in his career, recording and doing such a CD is very important and everybody appreciated this initiative; here at Radio Romania we can do this for them, and I'm glad that we managed to do it in good conditions with the help of our colleagues, musical directors and sound engineers, who work very hard; I believe their effort truly matters because these things will be remembered in our archive, they will be on the shelves of those who buy our CDs and create this immaterial heritage, which actually represent us all as a people.

Radio România Muzical will have another project at the beginning of 2023 in Iași.
Yes, we will be streaming from Iași. This has been one of the greatest news of 2022. The frequency was obtained in May and I already know that my colleagues working on the technical side are nearing the end of their technical activity, so at the beginning of 2023 this frequency will be in action; we desire to celebrate this official opening. We've prepared a small festival in Iași, with musicians from Iași, even musicians born in Iași, who have a special connection with Radio România Muzical. Therefore, between March 2-25, we will be streaming live from there. The concert will include a solo by Raluca Știrbăț, another by Alexandru Tomescu, the Radio soloist, and a concert by The Moldova Philharmonic Orchestra in Iași. I hope that everything goes as we planned, and you will hear the complete concert from Iași. Iași is an important, cultural city and I'm very glad that we are opening this door to Moldova. It was about time that after 20 years since our last frequency for Radio România Muzical we open in a great cultural center and I'm really grateful for all those who made this possible.

So Radio România Muzical will be present in Iași starting in March. Now I would like to go back to Sunday's concert. This time I would like you to invite those from home to come to the Radio Hall.
To be honest, when I scheduled this concert, I had no idea that the Champions League Final was scheduled on the same day, so I am even more grateful to those who choose to be with us at the Radio Hall considering this; I can promise you an extraordinary concert, just like the three young people from Brussels said. Between the concert in Brussels and this day, I read a book called The Music Man, which I recommend to all those who love music. I would like to leave you with something that I found at the end of the book, which is the idea that music actually represents the human side in all of us. I kind of agree with that, so if you'd like to discover the human side in yourself in the most beautiful form, you'll find it on Sunday through Enescu's and Beethoven's music at the Radio Hall.
Interview by Lucian Haralambie
Translated by Denisa Stanciu,
University of Bucharest, Faculty of Foreign Languages and Literatures, MTTLC, year I
Corrected by Silvia Petrescu