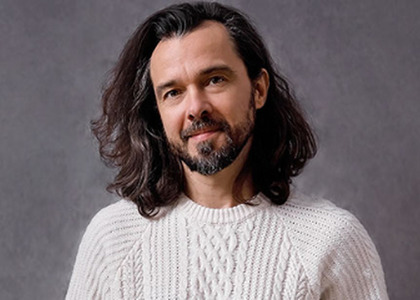 Musician Cătălin Milea, this week's guest at Perpetuum Mobile, in conversation with Gabriel Marica
Tuesday, 31 January 2023 , ora 14.00

My guest is a well-known musician in the world of jazz and not only. The saxophonist, composer, teacher and show creator for children, Cătălin Milea, is joining us through the telephone. Good evening.
Good evening.

Cătălin Milea, first and foremost, I would like you totell us about the shows you are hosting for children, that haveemerged in your life, and if I'm not mistaken, alongside becoming a parent.
Indeed, I have recently become a father, I am truly happy to find myself in this, let's say, beneficial and divine posture and, naturally, I will carry on with these projects for children that I have set in motion some time ago through certain musical shows, workshops and lesson-shows, which have taken place at the Comic Opera for Children and, yes, I now find myself more connected to this world of children.

In a few words, how was Cătălin Milea's journey, starting with the John Coltrane and Duke Ellington cassette that you listened to during high school, and ending with Tetrismatic, your very latest album.
That is a very good question, thank you. I will try to cut this short, since it is about quite an extended period of time. During my high school days, I would listen to cassettes or exchange them, and that's pretty much when I first came to listen to jazz. The moment I listened to John Coltrane and Duke Ellington together had a strong impact on me. They were two great, significant artists that reached maturity at the time and they impressed me so much that I ended up wanting to try the saxophone. It was a difficult period, since, you too know it well, there was no internet.

…the internet was at its start in Romania.
Exactly. Information was deeply tied to this subject, it wasn't as vast as it is today and after all these years of concerts and studying, and the things that I managed to do until now, I got to a point when I can say that I wish or wished to create another type of jazz, not only for musicians, since nowadays jazz has become very technical and mental, and it somehow represents joy to the musicians who sing it because it is very complex and has a lot of structures that are hard to comprehend for an ordinary listener,and I wanted to direct myself towards a jazz that can be easily accessible to the general public as well and I have created this game that is called Tetrismatic, which is linked to Tetris since it is based on simple structures, which follow each other pretty fast. There are a lot of surprise elements in this game. I wouldn't say that it is a commercial genre, because it is not. It is made up of many elements from free jazz, hard bop and bebop, and other music styles, yet somehow, in this game, let's say we're getting to another approach, it is also some kind of cinematic worldview. The ones who listen to the music are able to imagine that they are jumping from a décor to another, or that they are living from a dimension to another, constantly travelling, when there is always something happening around a corner.

I am aware that this evening (Wednesday, 25th of January), you will be publicly testing this album's music in a quartet formula, and this is why you find yourself in our studio. I would kindly ask you to tell us who you are going to sing with.
In this very moment we find ourselves at soundcheck. We have another concert tonight that precedes the one at Radio Hall. The Tetrismatic group is made up of Adrian Flautistu at contrabass, Liviu Negru at guitar, Iulian Nicolau at drums, and we also invited Ana Maria Roșu for two songs, as it is on the album. We have performed this concert on other occasions and it was so fascinating that we decided to go to the studio and record this music, and release an album that you can find online, either on bandcamp or even on my website, www.catalinmilea.com. It will also be available on vinyl, in case some of you would like to preorder it, it is very helpful for us, and after some months we will be having another launch, when the vinyl would be ready.

What is going to happen tomorrow night on the stage of Radio Hall? I know that Florian Lungu, the one who hosted many jazz tv shows at Radio Romania, will be joining you on stage.
Florian Lungu and I have known each other for quite some time. We are good friends and I am glad that he ended upbeing a part of this launch at Radio Hall. He actually wrote a very, very beautiful and extensive review about the Tetrismatic album. As it happens, we will be having a discussion about how this album came to be tomorrow night. We will be telling, let's say, artistic backstage stories about the emergence and development of this project, and this conversation will also include musical moments from the album. Moreover, we will have the fabulous trumpetist Silviu Groază and Ana Maria Roșu as our guests. Ana Maria Roșu is a youthful vocalist and an unique presence, you will immediately fall in love with her, I'm certain of it. We will be waiting at Radio Hall. I noticed that the tickets are almost sold out, so the ones who want to participate should make haste, and I hope that we will be seeing each other and spend this time together.

Thank you, Cătălin Milea. I wish you all the best tonight with the quartet, and also tomorrow with the Big Band Radio at Radio Hall. I wish you creativity in all that you want to achieve.
Interview by Gabriel Marica
Translated by Adelina-Maria Mănăilescu,
University of Bucharest, Faculty of Foreign Languages and Literatures, MTTLC, year I
Corrected by Silvia Petrescu