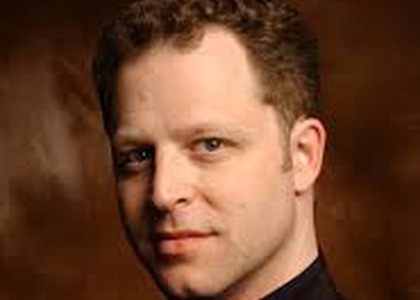 Interview with conductor John Axelrod
Friday, 3 February 2023 , ora 13.11

On Friday, February 3rd, the National Radio Orchestra will perform under the baton of conductor John Axelrod, who offered an interview to our colleague, Ioana Țintea.

Maestro John Axelrod, I know that this is not your first visit to Romania, you have several times been present on different stages in Bucharest, but you are now for the first time on the stage of the Radio Hall, along with the National Radio Orchestra. How would you describe your collaboration with the musicians and how are the rehearsals going so far?
As you well know, I am in love with your city, I have worked with many orchestras here and I am the principal conductor of Bucharest Symphony Orchestra. It is a great pleasure to continue my collaboration with world-class musicians from Romania. There are many instrumentalists from the National Radio Orchestra who are also members of the Bucharest Symphony Orchestra. It is wonderful to be reunited with my colleagues after the pleasant experience we had on the occasion of the Traditional New Year's Concert. Rehearsals are going very well. Of course, Tchaikovsky's Symphony No. 6 "Pathétique" is a work present in the repertoire of all orchestras in the world. The National Radio Orchestra has also countless times performed it wonderfully and still does. I just offered them some ideas, concepts, metaphors to help them understand the different phrasings, dynamics, temperaments, characters, colours that are specific to the atmosphere and drama of Tchaikovsky's symphony. In just two days we managed to reach a very high level of understanding. I think it will be a wonderful concert and the audience will enjoy it.

The soloists who will perform in the Sinfonia Concertante by Wolfgang Amadeus Mozart are the violinist Alexandru Tomescu and the violist Răzvan Popovici. How do you look at the dialogue between these two instruments?
We have two Romanian soloists who are wonderful. The protagonists are like in a dialogue, the violin in the high register and the viola in the low register. The orchestra's accompaniment is fluid, luminous, specific to Mozart. The size of the orchestra is reduced, we do not use the same timbre structure as in Tchaikovsky's symphony. Part II is the most beautiful, unforgettable, it moves you strongly, to the same extent as the "Pathétique" by Tchaikovsky does. The music doesn't only reach the ears, it touches the soul. I assure the audience that it will be a concert of a high artistic level.

Translated by Ecaterina Bucovanu,
University of Bucharest, Faculty of Foreign Languages and Literatures, MTTLC, year II
Corrected by Silvia Petrescu