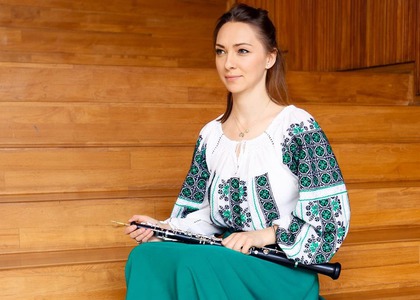 Interview with the oboist Felicia-Gabriela Greciuc
Monday, 6 February 2023 , ora 9.53

Felicia Gabriela Greciuc - first oboist of the Royal Danish Opera Orchestra and member of the Romanian-Danish brass selection quintet V Coloris collaborated with the Danish National Symphony Orchestra, also as a first oboist, at the concert held on Thursday, February 2nd 2023 in Copenhagen, led by the conductor Leonidas Kavakos. The program included creations of Johann Sebastian Bach, Joseph Haydn and Johannes Brahms. Felicia-Gabriela Greciuc was kind enough to accept the invitation of offering us an interview, live, during the concert break.

Felicia Gabriela Greciuc, good evening!
Good evening!

Thank you for taking the time to join us for a few minutes during the concert break. You act as the main oboist of the Royal Danish Opera Orchestra, but for this two-concert series performed by the Danish National Symphony Orchestra you were invited to collaborate, also as a first oboist, since the bearer of this ensemble was the soloist of the Bach concerto. Have you collaborated with this orchestra before?
I'm glad we can see each other tonight. Yes, I have collaborated with this orchestra before, unfortunately, lately for short-term projects, due to the fact that I have a quite busy schedule at the Royal Opera, the extracurricular and personal activities because of which there is very little free time left to participate in a longer project with the Radio Orchestra. So I'm very happy that this time I joined the Radio Orchestra, especially in this special context, when Eva, their oboist, is the soloist.

How did the rehearsals led by Leonidas Kavakos go?
The rehearsals went very, very well. The conductor came with great attention to the harmonic details of the phrase, the structure, the articulation, the mood. That's why I'm glad I had the opportunity to work with you and perceive music from his perspective as a renowned musician, instrumentalist and conductor. It was indeed an inspiring week.

I would like to know what is the atmosphere like in Copenhagen? Radio Romania Muzical is the only station in the European Union network that broadcasts this concert live, and I'm curious to know how you think the public received this first part of the concert?
I'm used to the Danish music-loving public, of course. It's usually very, very welcoming, but especially so tonight. It is certainly an extraordinary event for them, to see the extraordinary oboist Eva Steinaa (to see and hear her) in the soloist position, performing the Bach concerto - double for violin and oboe, especially alongside the renowned violinist and conductor Kavakos and of course by the colleagues in the orchestra. So the atmosphere is relaxing and welcoming.

From your perspective, how do you view the three titles that make up the concert program tonight?
Maybe I'm a bit biased … of course I'm very fond of Johann Sebastian Bach's Double Concerto for Oboe and Violin. It is an extraordinary concert, especially because the solo instruments have a very vocal character, and for me I would say that it opens the concert with a noble and very calm atmosphere. Next, Mr. Kavakos chose to perform Haydn's Symphony 64. I think he wants to introduce us to a symphonic world of the orchestra, because as we know, Haydn is the father of the symphony, and this symphony comes with a change. From its title we can deduce that everything is changeable. While he changes and we change, although everything changes and we have moments of nostalgia - as Haydn beautifully renders in the second part, he remains always positive and energetic, with the desire that whatever happens, everything will be well. I believe that by introducing Haydn't Symphony he introduces a larger symphony orchestra and slowly, slowly we move on to Brahms, we enter a romantic world. Brahms comes with many colors, many instruments, lots and lots of different solos and combinations of instruments, probably also from his chamber music period. I think that this symphony represented a great challenge for Brahms because he had a great respect for Beethoven's symphonies and he didn't think that he could write more beautifully and more noblely than Beethoven. But, it turns out that this symphony is one of the most special symphonies of that time, and I could say that I think it was inspired by Beethoven's symphonies. Although he worked thoroughly…

… 21 years until he completed this symphony, he thoroughly analyzed Beethoven's…
..exactly. When he recomposed it, rewrote it, it was sung, resung, he reached a final formula and we can even admit that in the last part of his symphony everything ends positively as in the 9h Symphony of Beethoven, with an ode to happiness and all ends well again.

Let's not forget that Hans von Bulow considered this Brahms's first symphony to be Beethoven's 10th, in a positive way, by no means a negative assessment.
Exactly. I somehow see a connection to this concert concept. And indeed, it is also a challenge for the orchestra to play from baroque to romantic and to go through all the periods of music history, and so I think it works very well and the concert is extraordinary.

Of course. We would also like to know what your agenda looks like for the next period of time? And moreover when will you return to Romania?
In the next period of time I will focus much more on my chamber music projects, together with the ensemble of which I take part, the V Coloris Quintet. We are based in Copenhagen. We plan to make recordings, have concerts, and we are working for the second edition of the festival that will take place in Copenhagen, in the fall. I am much more involved in the pedagogical subject in the next period and especially in the cultural part of the concerts and everything that means music and education in Germany. That would be it for now. Lots of chamber music concerts and less orchestra for the next few months, but I'm positively charged and looking forward to seeing my colleagues and playing together.

Thank you very much for your time. We are waiting to listen to the second part of the concert as well, so I wish you the best of luck in everything you do and we hope to hear from you again soon!
Thank you as well! And yes, we will see you in Romania together with the quintet at the "George Enescu '' Festival, which will probably be our first big opportunity to perform in Romania with more visibility and we are working very hard in this matter. We have some very busy months ahead, but I can't wait to see you in Romania and we look forward to seeing you at the concert!

Gladly! Thank you very much for the invitation and once again, thank you for this wonderful discussion and good luck in the future!
Thank you.
Interview by Florica Jalbă
Translated by Ioana Negrea,
University of Bucharest, Faculty of Foreign Languages and Literatures, MTTLC, year II
Corrected by Silvia Petrescu