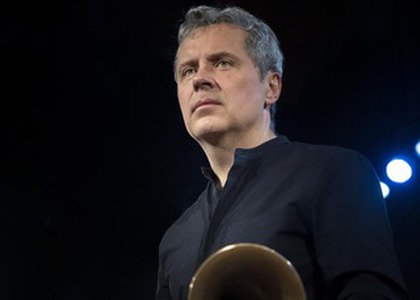 Interview with the trumpeter Alex Sipiagin
Friday, 10 February 2023 , ora 13.22

Jazz of the highest quality on Thursday, at Sala Radio, starting with 7 pm. The trumpet player Alex Sipiagin will be the guest of the Radio Big Band, conducted by Simona Strungaru, in a unique concert. One of the most acclaimed improvisers in contemporary jazz, Alex Sipiagin has released 15 albums as a leader and he has collaborated with Michael Brecker, Dave Holland and the Mingus Big Band, among others. We will learn from the following interview what surprises he is preparing together with the Radio Big Band.

How did the collaboration with the Radio Big Band start?
I met Sebastian Burneci in 2009, because he was my student at the Prince Claus Conservatoire in Groningen. We became very close friends over time. After a few years, we started dreaming: it would be nice to start a band together and record some music.
After a few more years he married Simona Strungaru. We have kept in touch all this time; we are talking about a period of 15 years.
Finally, in 2020, we had plans to record something, but the pandemic came and we had to postpone this project until later.
Now we are in 2023, Simona became the conductor of the Radio Big Band, and Sebastian the head of the trumpet players, and so we resume our old project. That's what we're doing now.

Are you working on an album?
Yes. We are basically rehearsing my pieces now, and tomorrow we start recording the album. It will probably be ready by the fall of 2023.

What can you tell us about the program of the concert that will take place at Sala Radio?
We will perform the same works that will be featured on the album. They are all my original compositions, which I previously wrote for smaller groups - quintet, sextet, octet - and now re-orchestrated for the big band.
In addition, my friend, the amazing pianist MishaTsiganov, who also came from New York, contributed to this project with three new arrangements of my compositions.
All these compositions are connected, reflecting different periods of my life in New York.
That's why the project is complicated. Difficult music, with complex measures, but with beautiful harmonies and a lot of freedom.
It's a combination of classical music, folklore, Russian music, because I was born in Russia and I have been living in America since 1990.
So, with all of these mixed up, the percentage is 80% American jazz, New York style.

Describe your album a little bit. There will also be a Ukrainian piece.
Sure. My new album is entitled "Mel's Vision", and it's dedicated to my wife. I recorded a Ukrainian folk song, orchestrated by MishaTsiganov. We dedicate it to everyone who is suffering.
I have a lot of Ukrainian friends who are almost like family to me. I used to go to Ukraine, perform at festivals, and what's happening right now is incredibly sad. I am completely against this war. I wish I could play a small part in stopping it by putting this track on my album.

You performed alongside many great musicians and you have a vast experience with big bands. What does this collaboration with Romanian artists, some of them very young, mean to you?
I found them to be very experienced. They are young but very experienced, their performance is at a good level. That's what I was looking for.
Of course, before starting the project I discussed with Sebastian Burneci about the musicians we will be working with. He sent me some samples and I was convinced that the proposed musicians are of a high level. For me, this is very important. Otherwise I wouldn't have worked on this project.
Interview by Viorel Grecu
Translated by Cristina-Bianca Ion,
University of Bucharest, Faculty of Foreign Languages and Literatures, MTTLC, year II
Corrected by Silvia Petrescu