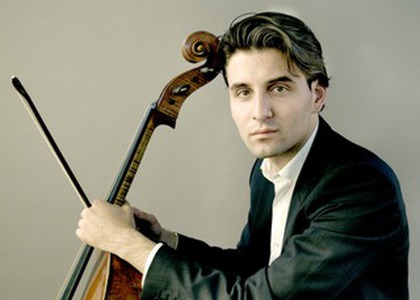 Interview with cellist Valentin Rădutiu
Monday, 6 March 2023 , ora 10.22

How did the collaboration with the violinist Mihaela Martin, the violinist Răzvan Popovici and the pianist Mara Dobrescu begin?
To be honest, the Mărțișor concert, which will take place in a few days, would have been our first collaboration, meaning mine with Mihaela Martin and Mara Dobrescu. I have known Răzvan Popovici for many years, of course, and from his SoNoRo festival and from many other contexts. I performed together with Mrs. Martin and Mara Dobrescu for the first time a few days ago when Frans Helmerson, Mrs Martin's husband, had to cancel two concerts with a piano quintet also by Dvorak because he had fallen ill. The good news is that he is already on the mend, but the other day we replaced Helmerson at the Beethoven-Haus in Bonn together, and before that in Potsdam. This way, we got acquainted on a musical level as well and we are already set for the concert at the Radio Hall.

How does the chosen repertoire illustrate the Mărțișor celebration?
It is a particularly beautiful repertoire and full of joyful, harmonious nuances. The Dvorak Quartet is one of the most extraordinary piano quartets compared to other works. It's indeed a masterpiece. Dvorak always has this vitality and a certain naivety that we can somehow associate with spring, with this early freshness. And so are the songs we'll perform, each individually played on piano, they are pieces that bring smiles and optimism. For example, I perform a work by Fauré entitled Papillon, which means Butterflies, so we already hint almost too literally at the coming of spring, the blooming of flowers, the rebirth of joy, of nature and the freedom from the darkness of winter. I think this idea and a certain nostalgia can be felt in each piece. Music in general is concerned with the circle of life and the aspect of growth, of the beginning, and, like everything has its opposite side and its end, II think music, especially of all art forms, describes or manifests this circle of life in the best way possible.
It is chamber music and the character of this music is that of the moment or the soloist perspective, but overall of the whole. Of course, each instrument has its own moments in which it stands out from the others. The cello accompanies and is the lowest instrument. It supports the architectural foundation of the piece, and in the slow part, for example, it also offers a melody of great sweetness. I think this work is a wonderful meeting point, where four individuals, who always bring their individual note, come together to achieve a greater goal.
Interview by Ana Sireteanu
Translated by Ioana Negrea,
University of Bucharest, Faculty of Foreign Languages and Literatures, MTTLC, year II
Corrected by Silvia Petrescu